Celebration VI Weekend Recap
After Friday night, I thought the first two days of the convention would be pretty difficult to top. But the weekend was amazing too, again thanks in large part to fans and friends who made the experience one I'll never forget.
Saturday started off with breakfast with Skuldren from Roqoo Depot, then I sat down with James Luceno for an interview. We talked about characters, storytelling, and how world travel experiences impact our writing. He was a pleasure to talk to,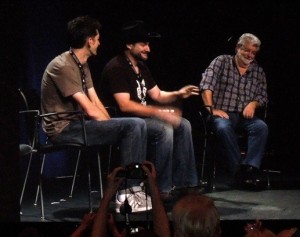 and had some really insightful thoughts to share about creating characters. At the same time, Lex was attending the Season Five panel on The Clone Wars with Dave Filoni and Joel Aron and texted me that George Lucas had crashed the panel. As cool as that was, it was even cooler to share the news with James and see him geek out just as much as I did. Those moments when we see that the authors are just as big of fan as the rest of us are priceless.
Later in the day I had the chance to meet Aaron Goins, who was working as a fan correspondent for the Star Wars Blog. We both got to preview the Essential Guide to Warfare ebook with Erich Schoeneweiss from Del Rey. I finally got to meet Jonathan Wilkins from Star Wars Insider in person. We talked about potential articles for future issues and then pondered the rise of Dr. Who in the United States. Also on Saturday afternoon, Linda sat down with Drew Karphyshyn and Mary had a long conversation with Troy Denning. Look for both of those interviews in the next few weeks on the blog.
After getting Aaron Allston's autograph on our Insider interview and a copy of Mercy Kill, I headed off to get in line for the double-bill evening spectacular: James Arnold Taylor's "Talking to Myself" show followed by "Date with a Princess" with Carrie Fisher. James' voice talent was astounding as always, and Carrie was everything I expected her to be: witty, a bit raunchy, and very memorable. I was literally laughing so hard my sides hurt. Here are a few of my tweets from the event: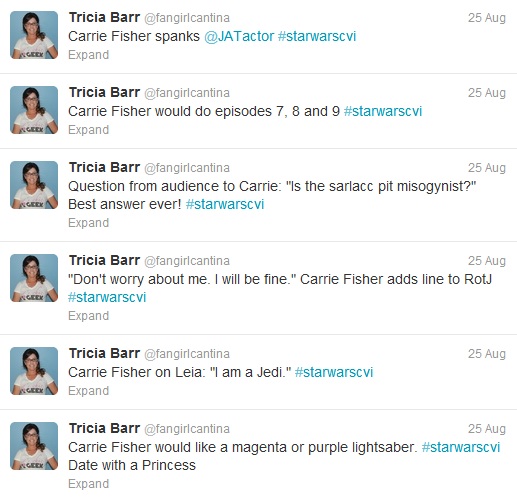 Saturday night brought more opportunities to mingle with some incredible VIPs. I learned a bit about the Holocron from Leland Chee. Linda and I shared our praise of the Season Five preview trailer with Dave Filoni and received Wolfpack pins. I had a chance to chat with the ladies of Team Unicorn and take a picture with Seth Green.
Randy Stradley and Ryder Windham ended up converting Linda and I into the Pithettes, and to cap off the evening off I got to meet Jason and Jimmy Mac from the ForceCast in person, too. (And yes, I delivered my promised hug to Jason, full of SWEU Cooties.)
Sunday is typically a slower day at Celebration, as the convention winds down and travelers begin to depart. But that didn't mean the day was any less eventful. I had the chance to chat briefly with Troy Denning at the Del Rey booth, and hurried up to the Digital Stage in time to catch The Clone Wars panel and see all the great Season Five spoilers for myself. They're incredible, and I can't wait for the season to start. After lunch I arrived to the ForceCast's live broadcast just in time to see their extended interview with Dave Filoni – and the first minutes of Jimmy Mac sitting down to have the Wolfpack logo tattooed on his shoulder. I made a quick run to the Celebration Store to grab a few items I wanted, then returned to the Behind the Scenes Stage for the Essential panel with Erich, Pablo Hidalgo, Jason Fry, Doug Wheatley, Chris Trevas, and Jeff Carlisle. They shared some new art from the Readers Companion, and it looked amazing. I can't wait to see the rest of it when the book comes out in October.
What an amazing whirlwind four days it has been. Check back over the next week or two for some follow up posts about Celebration VI, and beyond that FANgirl has lined up a great string of post-Celebration interviews.
---
Tricia Barr took her understanding of brand management and marketing, mixed it with a love of genre storytelling, and added a dash of social media flare to create FANgirl Blog, where she discusses Star Wars, fandom, and strong female characters. She also writes about Star Wars for Random House's science fiction and fantasy blog Suvudu.com. Her interview with X-Wing: Mercy Kill author Aaron Allston can be found in this month's Star Wars Insider Issue 135.
In her spare time, Tricia puts the finishing touches on her first novel, Wynde. For excerpts and tales of her adventures in creating a fictional universe, hop over to TriciaBarr.com.
For updates on all things FANgirl follow @FANgirlcantina on Twitter or like FANgirl Zone on Facebook.