Star Wars Weekends 2012: Weeks 3 and 4 Report
As much as I love Star Wars Weekends, you weren't going to catch me at Disney over Memorial Day weekend. But that's okay, because the last two weeks of this year's event were fantastic. Here are some of the highlights from the third and fourth weeks.
Week 3 – Walking on the Uberfandom Side
Expanded Universe author Jason Fry and Random House editor Erich Schoeneweiss hopped Star Tours Flight 1401 to Disney's Hollywood Studios to promote the recently published The Essential Guide to Warfare. Jason held lunchtime book signings each day, autographing copies of Warfare and the updated The Expanded Visual Dictionary for Episode I, as well as his young-reader book for Scholastic, The Secret Life of Droids.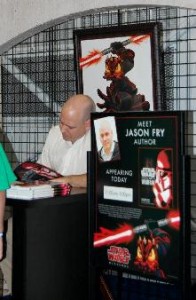 On Friday, they discovered the joys of early summer Florida afternoon downpours, yet earned their fan cred by hitting Star Tours soaked. Erich proclaimed that he had the perfect version the first time through: Falcon-Hoth-Ackbar-Geonosis, plus he was the Rebel spy! Not quite what my pop quiz had generated, but pretty close.
The lines were consistently long, and Jason stayed well past his scheduled time on Saturday and Sunday. It was great to see so many Star Wars fans interested in the books. Between the fan enthusiasm and the first-ever New York Mets no-hitter, I think Jason had a weekend to remember. Erich braved the Florida heat to stand in line with me on Saturday so I could get my copy of Warfare signed; we talked all things Star Wars, ranging from a serious discussion about how Han's hands get up beside his face when he's frozen in carbonite to having a laugh over Zekk eating the centerpiece in the Young Jedi Knights series.
With assists from Erich, the weekend also provided a chance to meet other EU fans for the first time. At the Saturday signing we got to meet Nanci Schwartz from the Tosche Station blog and podcast. Later Saturday we caught up with Chris Wyman, co-host of the ForceCast's Jedi Journals podcast. On Sunday, we met the Lady Rogues and geeked (spazzed) out over the X-Wing novels, Jaina Solo, and cosplay.
And this is just a little taste compared to all the Star Wars fandom fun we'll see at Celebration VI in August. I can't wait!
Week 4 – Dragging Some Noobies Over to the Star Wars Side
The final weekend had been in the family vacation plan for a while. As it turned out, quite a few friends of the family showed up. In the end we had eight in our party running around the park. One of my friends, Kelly, wore a FANgirl t-shirt to enjoy the festivities. While not a big Star Wars fan, she is a fan of good storytelling and has been one of my readers on Wynde. Also in the group was a young lady, Rebecca, who is majoring in communications and hopes to work for the NHL. Rebecca was excited about Pixar's Brave and is also an avid Hunger Games fan. We talked about strong female characters, and she noted how it was so exciting that heroines were finally getting lead roles in movies. After a day at the park quizzing me about all the Star Wars female characters, Rebecca flew home and excitedly put in her Star Wars DVDs. (I think she found some new heroines, and I have some books I will be passing along to her.)
Celebrity Guest Appearances and Autographs
One of the most publicized parts of Star Wars Weekends is each weekend's Star Wars celebrity guests. This year was no exception, and it made for some great fun.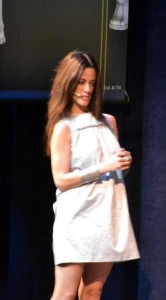 As with opening day, the Behind the Force show in the Premier Theater was a joy to watch the last two weekends, too. Ashley Eckstein did a fantastic job hosting, and Cat Taber and Nika Futterman really hammed it up with the audience participation and voice-over segments of the show. Although Dee Bradley Baker was absent, he recorded a short clip demonstrating how to make alien voices that was hysterical. (Now I just have to figure out how to work the phrase "dial in the uvula" into a regular conversation.) Some of the audience members brought onto the stage for the dialogue recording proved very talented, including a great Anakin Skywalker, an hysterical rabbit droid, and a spot-on Bossk with the perfect sibilant S's. The Bossk impersonation apparently lured a lizard onto the stage – in Florida you learn to love the wildlife – which James kindly pointed out to Ashley and Nika.
I only made it to one more of the Stars of the Saga shows, but it was certainly memorable. On Sunday the 10th, it featured Daniel Logan, who played young Boba Fett in Episode II and voices him on The Clone Wars, and Michonne Bourriague, who played Aurra Sing in Episode I, joined after a few minutes by Jeremy Bulloch, who played Boba Fett in the Original Trilogy. The conversation with host James Arnold Taylor was literally laugh out loud funny. At the same time, it's always great to see Star Wars celebrities feeding off the excitement of the fans and showing that they love the characters and the franchise as much as we do.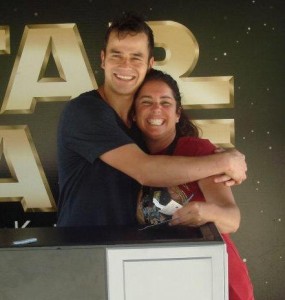 Dave Filoni definitely fits into that group, too. He may be the supervising director of The Clone Wars, but his passion for Star Wars and its characters is just as big as any of ours. Lex was able to make it down to Orlando for Dave's brief appearance, which he reported in Monday's post.
Finally, although I'm not usually much of an autograph hound, I couldn't pass up the chance to use the wristbands and FastPasses for the autograph sessions to say hello to, and get pictures taken with, some of my favorite voice actors from The Clone Wars. In week three it was Cat Taber. Our picture with the Jaina purple lightsaber still has me smiling. In week four, I finally had the chance to catch up with Ashley, whom I have met at previous conventions. Ashley proved her fangirl cred wearing a headband with an X-wing made by the Lady Rogues. I also got to see James, and it was great to find out that he remembered my tweet to him after last year's Star Wars Weekends, when his inspirational words in his Obi-Wan and Beyond show really inspired me to push harder toward achieving my dreams.
The biggest humor value by far, though, was getting Daniel Logan's autograph. He's certainly a charmer with the ladies. But just as he was going in for the farewell handshake, I mentioned that I participate in the ForceCast's Clone Wars Roundtables – and he pulled me into a big hug to make sure that I'll have kind words for him and Boba Fett in Season Five.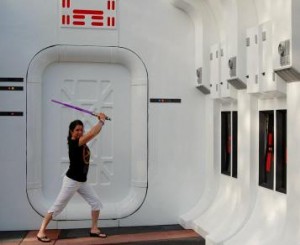 Making the Most Out of Your Fun
Missed this year's Star Wars Weekends? There is always next year. Words of wisdom – get to the park early. The stormtroopers opened the park by 7:30 a.m. and that allowed the quick-footed to get through the Droid Factory or Toy Story before 8:00 a.m. had passed! With no crowds early, the backdrops were available for fans to pose, too. Who can resist snapping a picture in the Tantive IV corridor or the streets of Naboo?
Storybook Ending
Not quite perfect, my friends and I scooted off to Star Tours as the Hyperspace Hoopla wrapped. After riding one time, we were informed that the skies had loosed hail and lightning on Hollywood Studios and shown the back corridor to get back in line. We ended up riding Star Tours five times – two members of our party were the Rebel spy – before calling it a night. Oh, and I spotted the Hidden Mickey in the Coruscant segment!