Fangirls Around the Web: June 6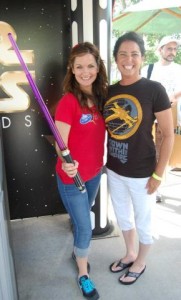 What an exciting couple of days for fangirls over this past weekend.
Friday kicked it off with the official announcement from Lucasfilm that Kathleen Kennedy will become the co-chair of the company along with George Lucas, before ultimately taking on the role herself when he moves more fully into retirement in several years. A highly regarded producer, including seven Oscar-nominated films – among them War Horse, The Curious Case of Benjamin Button, and Seabiscuit – Kennedy is lifelong friend of Lucas and frequent beneficiary of ILM's visual effects artistry. Perhaps most familiar to Star Wars fans, she has been a producer for Lucas and Steven Spielberg on the Indiana Jones franchise. Lucasfilm is going to be in great hands.
Fangirl excitement abounded at Star Wars Weekends, too. Cat Taber joined Ashley Eckstein for the Behind the Force stage show about The Clone Wars. Having already voiced Leia and Padmé, Cat gave another shout-out to her desire to play Jaina Solo, drawing whoops and cheers from the audience. Later at her autographing session, I got a great picture with Cat holding a purple lightsaber – Jaina's color.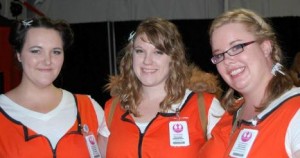 On Sunday, thanks to an assist from Del Rey editor Erich Schoeneweiss, I met three members of The Lady Rogues, a local costuming team. As their name implies, the ladies are big fans of the Rogue and Wraith pilots, the X-Wing novel series, and many of the great female characters in the Expanded Universe, including Jaina and Tahiri Veila. The fantastic artwork from Suvudu featuring Jaina with Jag and Tyria came up during the conversation; I think it's safe to say these fangirls really liked both images. I look forward to seeing these Roguish ladies again at Celebration VI at the end of August.
I also met a fellow Star Wars blogger, Nanci Schwartz. We compared Star Tours notes: I had been afraid my lot in life was to see Admiral Ackbar every time in the third segment. Nanci reassured me that the Princess Leia version still existed. I was very excited to see Leia on my next time on the ride. Nanci will be interviewing X-Wing: Mercy Kill author Aaron Allston today on Tosche Station Radio. Be sure to check it out.
Last weekend at Origins Game Fair in Columbus, Ohio, Aaron Allston was the convention's guest of honor, and Tim Zahn and Mike Stackpole also attended and presented. The panels sound like they were fantastic. I had fun keeping up with the mayhem on Club Jade's and Racheal's Twitter feeds. Racheal also has several Origins recaps posted at her blog, The Galactic Drift.
FANgirl contributor and history blogger Priya Chhaya passed along an interesting article from the Washington Post discussing the empowerment of Snow White and other fairy tale characters following on the heels of Snow White and the Huntsman. It's definitely worth a read.
Ashley Eckstein featured blogger, cosplayer, and photographer Savanna who writes for Pandas, Lightsaber and Cameras, oh my!!. The photos of the Her Universe set-up in Darth's Mall at Star Wars Weekends are incredible.
Sunday also marked the launch of the new GeekNation website. One of the contributors is Katrina Hill the ActionFlickChick, who opened with a love letter to action movies.
If you see fangirls or heroines in the news, drop me a note either on Twitter or at the FANgirl Zone on Facebook.