Star Wars Weekends 2012: Dave Filoni Special Appearance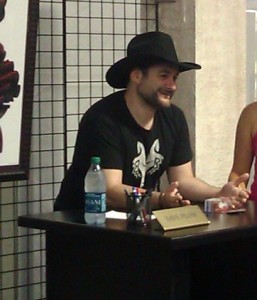 Announced less than a week in advance, a special appearance by The Clone Wars supervising director Dave Filoni made a fitting conclusion to this year's Star Wars Weekends. He always seems to enjoy putting on a good show for the fans, and this time was no exception.
On Saturday, June 9, Dave started his appearance with an autograph signing at Darth's Mall. The line was already long more than an hour ahead of time. Once it began, Dave clearly enjoyed interacting with the fans, with lots of smiles and laughs to go around. At one point – presumably not unprovoked – he even exclaimed "I hate the Flyers!"
The main event of the day, though, was A Conversation with Dave Filoni, held at the main Icon Stage under the Sorcerer's Hat. Tom Kane, who voiced the other customized Star Wars Weekends announcements throughout the park, recorded a special reminder that was broadcast in the minutes leading up to the presentation. After Ashley Eckstein introduced him, Dave made an entrance worthy of Darth Vader in the Hyperspace Hoopla, emerging from the center stage blast doors to join her at the front of the stage for the sit-down conversation.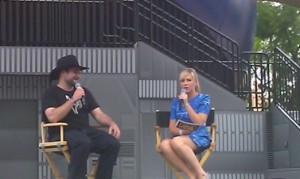 In answering both the prepared questions from Ashley and the fan questions from the crowd, Dave avoided any major plot spoilers for the upcoming Season Five, but did speak in broad terms about the thematic elements we'll see in the storylines. Unsurprisingly, for example, Season Five will build on the character and plot arcs from Season Four, including more character growth for Ahsoka Tano and Asajj Ventress, another tough year for Obi-Wan Kenobi, and Sith machinations from the brotherly duo Darth Maul and Savage Opress. Dave also explained that the Onderon episodes – seen briefly in the Season Five trailer premiered at Star Wars Weekends, as well as mentioned in the latest Star Wars Insider magazine – will feature similar themes to the Original Trilogy, with a small cell of resistance fighters trying to liberate the planet, a deliberate parallel to the motives, tactics, and struggles of the later Rebel Alliance.
Other entertaining moments from Dave's comments included:
The first fan question asked when we'll see Ben Quadrinaros in The Clone Wars – a long-running gag between Dave and Fanboys director Kyle Newman, facilitated by the ForceCast and Twitter, among others. The question drew a big laugh from Dave, and he responded by saying he might consider it as a ratings stunt to get five more people to watch the show. Good times.
When commenting on another rough season for Obi-Wan, Dave reminded everyone that Kenobi appears in Episode IV, so he'll make it through the show. On the other hand, he later ominously remarked that Duchess Satine is not seen in Kenobi's later life.
Dave considered having an imprisoned Ewok be among the captured animals in the Zygerrian slaver's cages in the Season Four arc, but couldn't bring himself to do it.
Dave chuckled at the irony that ARC trooper Fives had a bigger story arc in Season Four than he will in Season Five, but Dave assured that the clone's future is exciting.
There are currently no plans for any The Clone Wars theatrical releases, but Dave appreciates the fan interest. The team is very proud that they deliver theatrical quality stories on television.
Embo's canine companion Marrok is named for a knight from the Arthurian legends.
The conversation ended with Dave revealing a never-before-seen clip from Season Five. Apparently Embo, the alien bounty hunter for whom Dave provides the vocalizations, will have a showdown with Anakin Skywalker while the Jedi is protecting his wife Padmé and Rush Clovis, for whom Anakin did not exactly have the fondest of feelings when he was last seen during Season Two. (Dave did not mention, however, that unlike Boba Fett and Bossk, Embo is not seen among the bounty hunters in the Original Trilogy.)
Dave promised "ten times more clips" at Celebration VI, and maybe even the premiere of a full episode. If his conversation on Saturday was any indication, we're in for a treat.
---
B.J. Priester is editor of FANgirl Blog and contributes reviews and posts on a range of topics. A longtime Star Wars fandom collaborator with Tricia, he is also editing her upcoming novel Wynde. He is a law professor in Florida and a proud geek dad.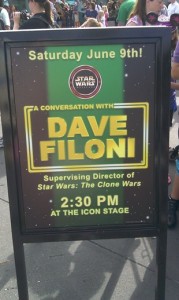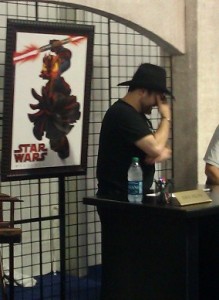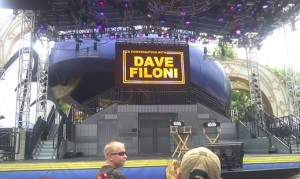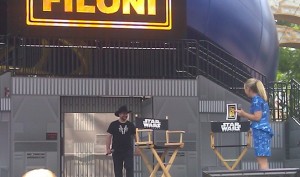 B.J. Priester has been a Star Wars fan since he played with the original Kenner action figures as a young boy. His fandom passion returned after watching Attack of the Clones in 2002 and reading the entire New Jedi Order series in 2003. He voraciously caught up on the novels and comics in the Expanded Universe in addition to writing fanfiction, frequently co-authoring with Tricia.

B.J. has served as editor of FANgirl Blog from its inception, as well as contributing reviews and posts on a range of topics. He edited Tricia's novel Wynde, and is collaborating with her on several future projects set in that original universe.

Currently a tenured law professor in Florida, B.J. has been a practicing lawyer in Washington, D.C., a law clerk to a federal appeals court judge, and a law journal editor-in-chief. He is also a proud geek dad whose son who is a big fan of Star Wars and The Clone Wars.