May kicked April's butt in terms of feedback, and unique and return visitors, since I launched FANgirl Blog.  That's in part due to the Luke Skywalker Must Die post, which generated a lot of discussion. And that was the point. The broader base of EU fans was showing a marked apathy, while the editor in charge of Star Wars revealed in an interview she doesn't do market research. Based on the general direction the books coming from Del Rey had taken, this mindset wasn't a surprise. If nothing else, proposing the death of Luke Skywalker stoked the fires of fan passion and got voices heard.
So in June, I'm going to discuss some basic principles of marketing for success and business best practices.  These are tidbits you pick up over a career of working in the corporate world – and that corporations make you relearn over and over in case someone in your division didn't get it.  Setting out on getting my first novel published, I've been reading, asking questions, and observing trends so I can best understand how I can succeed. Between Michael Stackpole and KrisWrites blogs on publishing and my own experience as a book buyer, fan, and businesswoman, it's becoming quite apparent which publishers and authors are ahead of the game and who's lagging behind.
---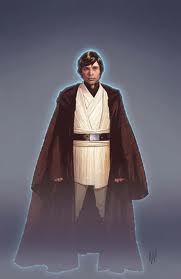 Luke, You're Our Only Hope
– Proposing Luke's death in the flagship EU books wasn't something I took lightly.  As one commenter noted, perhaps I have a little "Darth" in me. People fall on all sides of the debate, and that's how it should be. Over the course of the six months I took composing that blog, I went back and looked at comments from fans and read the books that helped form my opinion.  While he started out as a classic Everyman archetype in the movies, and started a slow evolution to a wise Wizard through the course of the NJO, the vision for Luke's character began to falter. This month I'll discuss where he needs to go to regain his mythical magic, and point to signs that these changes may be within reach.
---
REVIEWS: Fate of the Jedi: Conviction and Legacy: War
– As a reader I'm going to tell you what I liked and disliked about these two EU offerings, and let you take away my opinion, and that of other reviews, to make a decision about whether to purchase, borrow, or ignore them. That's your right as a fan. No lectures here, just critical analysis on writing craft, storytelling, and characterization. As a female reader, I also take a look at the book for parity in female characters. It's not something I want to do, but it's something that needs to be done until fangirls start feeling like Star Wars is putting out stories that serve a broader audience. 
---
Not sure I can top last month, but I will promise more quality, thoughtful discussion on topics that are timely and relevant.  Sometimes, we'll just have fun too.
---
Here are a few of the other things we're looking forward to in June:
New Movies
X-Men: First Class – June 3rd
Super 8 – June 10th
Green Lantern – June 17th
Transformers: Dark of the Moon – June 29th
New Releases on DVD
Battle Los Angeles – June 14th
Red Riding Hood – June 14th
The Adjustment Bureau – June 21st
Sucker Punch – June 28th
Warehouse 13: Season Two – June 28th
Television Premieres
White Collar – June 7th, 9:00 p.m. on USA
Covert Affairs – June 7th, 10:00 p.m. on USA
Falling Skies – June 19th, 9:00 p.m. on TNT
True Blood – June 26th, 9:00 p.m. on HBO
Latest posts by Administrator
(see all)