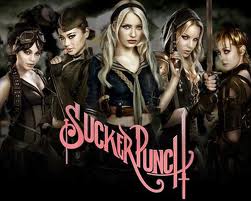 Check out FANgirl's review of the new movie Sucker Punch on the Reviews section:
A "sucker punch" by definition is a move that the recipient doesn't see coming, which ultimately leaves him defenseless. Given the ending of this movie (which I won't spoil in this review), I think it's an appropriate title. Most of the commentary on Sucker Punch, though, hasn't been about that gut-wrenching twist of fate.
It's not the best movie ever, but on the dessert scale I'd say this one is a key-lime pie, sweet, tart and something different from the standard fare.  Try it; you might like it.
---
Two Additional Reminders from FANgirl Blog:
Today marks the release of Bonnie Burton's The Star Wars Craft Book. I'm very excited to get this book, and hope to post a review within a few days.
Be sure to remember Legacy: War #4 is on sale tomorrow!