SDCC 2019: Star Wars Audiobooks: Behind the Scenes
Although print prose fiction and comics receive the most attention in the Star Wars publishing program, Penguin Random House Audio produces audiobooks of the Star Wars novels, as well. At San Diego Comic-Con, producer Nick Martorelli moderated a panel discussing the process of creating Star Wars audiobooks with three of the talented contributors behind recent projects.
Janina Gavankar was already deep into performing Iden Versio for Battlefront II, both motion capture and voice recording, when she learned about Christie Golden's backstory novel Inferno Squad starring her character. Although she had never recorded an audiobook before, she was eager to also voice Iden for this important additional part of her story. In addition to learning the different vocal performance style needed for an audiobook compared to a videogame, Gavankar also had to begin recording the book while still working on the game. Completing both tasks was a challenge, but quite an accomplishment, too.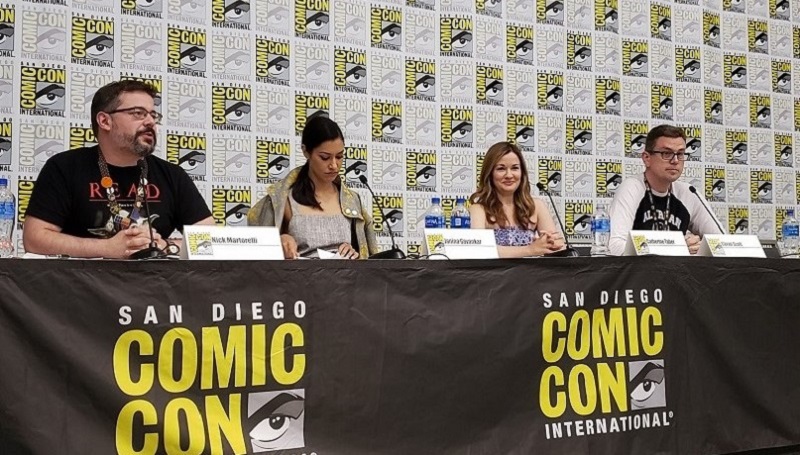 Catherine Taber, by contrast, had recorded quite a few audiobooks prior to Queen's Shadow. Like Gavanakar, though, she felt compelled to work on this one: having voiced Padmé Amidala for six seasons of The Clone Wars and in other projects, she was eager to provide the narration for the first Padmé-centric novel, as well. Although she had a bit of momentary panic when she learned about the book before having been contacted about it, fortunately the audiobook soon became hers to record. Like Gavankar, Taber noted the significant increase in stamina required to record an audiobook compared to other types of voiceover work. Instead of sharing the load with other actors and characters in an ensemble story, such as a videogame or television, the audiobook narrator does all of the talking for daily sessions that can run six hours or longer.
Cavan Scott has written audio dramas and similar audio material for over twenty years, primarily for U.K. based franchises like Doctor Who and Blake's 7. When the Dooku: Jedi Lost full-cast audiobook exclusive project was presented to him, the proposal included a number of suggestions from the Lucasfilm Story Group for their idea for the story, such as covering fifty years of Dooku's life from childhood until leaving the Jedi Order. In addition to familiar characters like Dooku and Yoda, Scott also got to provide significant development to the previously mysterious Sifo-Dyas, as well as creating several original characters. (At the Lucasfilm Publishing panel later in the day, it was revealed that a print version the script for Dooku: Jedi Lost will be published in October.)

B.J. Priester has been a Star Wars fan since he played with the original Kenner action figures as a young boy. His fandom passion returned after watching Attack of the Clones in 2002 and reading the entire New Jedi Order series in 2003. He voraciously caught up on the novels and comics in the Expanded Universe in addition to writing fanfiction, frequently co-authoring with Tricia.

B.J. has served as editor of FANgirl Blog from its inception, as well as contributing reviews and posts on a range of topics. He edited Tricia's novel Wynde, and is collaborating with her on several future projects set in that original universe.

Currently a tenured law professor in Florida, B.J. has been a practicing lawyer in Washington, D.C., a law clerk to a federal appeals court judge, and a law journal editor-in-chief. He is also a proud geek dad whose son who is a big fan of Star Wars and The Clone Wars.