Kay Discusses Disney Live Action Remakes on Nerd Lunch's Fourth Chair Army
Straightforward, prequels, sequels, or a whole new take – Disney has been running the gamut with their studio's live action re-workings of their animated films. On the latest episode of the Fourth Chair Army Invasion podcast I join my frequent fellow Star Wars panelist Michael May and Pop Culture Retrofit host Christian Nielsen to discuss our reactions to and feelings about the various live action remakes from 101 Dalmatians to Maleficent to The Sorcerer's Apprentice and more.
And then we put ourselves in the studio's shoes as we assign each other Disney animated films that they haven't yet announced any remakes for and decide how we'd like to adapt them, cast them, and who we'd want in the director's chair. Movies on the docket include: Atlantis: The Lost Empire, Hercules, The Three Caballeros, and Snow White and the Seven Dwarfs.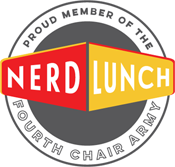 Fourth Chair Army Invasion is a new-ish show on the Nerd Lunch podcast feed where previous guests of the Nerd Lunch main show join together to discuss a topic. You can listen to Fourth Chair Army Invasion 6: Live-Action Disney Remakes right here below or on iTunes, Stitcher, Google Play, and Libsyn.
Looking for more of my Nerd Lunch episode guest spots?
Check out my appearance list on the Nerd Lunch website or the Nerd Lunch tag here.