Kay Talks Rebels' Wedge, Hera, & Thrawn on Rebel Yell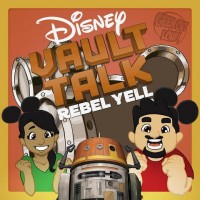 It was my pleasure to join Steve Glosson, Erich Schoenweiss, and Amy Ratcliffe as Disney Vault Talk Rebel Yell hosted a Star Wars Rebels double-episode discussion. "The Antilles Extraction" and "Hera's Heroes" were on the docket for this podcast.
We share our thoughts on the storytelling choices used while introducing fan-favorite Wedge Antilles, focusing on show leads Hera Syndulla and Sabine Wren, and getting the highly-anticipated Thrawn going. Listen in for Fulcrum theories, a brief history of Jagged Fel, and #Thrawning. Take a moment to geek out with us over "Hera's Heroes" episode writer Nicole Dubuc's career. Don't miss Erich revealing himself to be a Cylon either.
Disney Vault Talk: Rebel Yell -"The Antilles Extraction/Hera's Heroes" can be found:
on iTunes   |    on the Geek Out Loud website    |    on Android
OR right here
Looking for more?
Here's my old Fulcrum speculation that we referenced on the show. 
Particularly, check out Theory #2 in that article.