Star Wars Last Shot Book Review
Star Wars: Last Shot is a delightful balance between the feel of Star Wars' old Expanded Universe tales and the newer slate of books. Author Daniel José Older puts a lot of heart in a story that weaves through various time periods to ultimately be shared by fan favorites Lando Calrissian and Han Solo.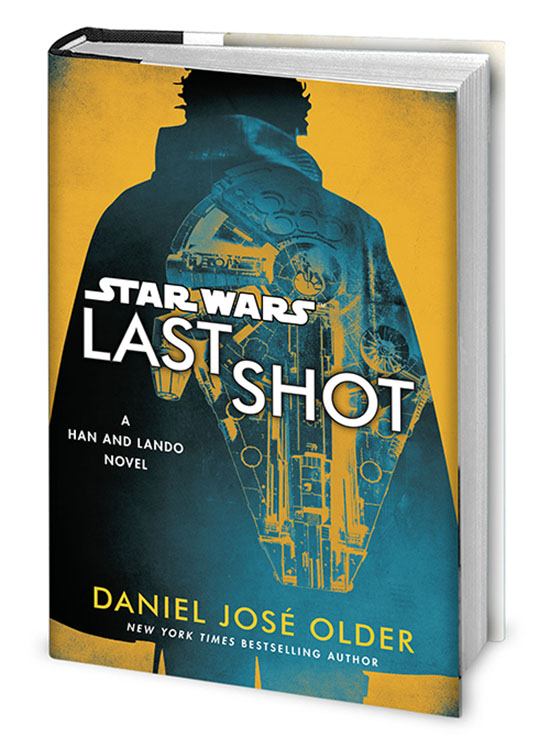 It is not, as I originally wondered, a few novellas packaged together. Instead the narrative flips between when Lando owned the Millennium Falcon before Solo: A Star Wars Story, a time after the movie when Han was the ship's captain, and the main adventure set about two years after the the formal end of the Galactic Civil War. As the threads of the past resonate in the present it's fairly easy to keep track of where and when you are in the story. Much like many books now contained in the Legacy moniker, Last Shot is a tale of the entire galaxy at stake where only a few of our regular cast of heroes know the true danger.
For a story with such high pressure and a few dips into really gritty and graphic territory, there's also a lot of humor. I lost track of how many times I found myself breaking into giggles during the 344-page read. Older really nails the characterizations of Han and Lando as they slide back into their old lifestyle while keeping it apparent how much their lives have changed. This results in an adventure through nostalgia and comfortable old ways contrasted with new challenges and unknown quantities.
Older's Leia is really great as well. Thankfully she maintains a presence throughout the story even though her page time is limited. Even the smallest glimpses into her early post-war situation is most welcome. The dialogue between her and Han feels like a natural progression post-Original Trilogy too. There's also a whole lot of tugging of the heart strings when it comes to Han's conflicting feelings about his life with her and their son – even before considering where those relationships end.
Lando has a believable emotional journey as well. The writing is practically no holds barred when it comes to Calrissian's player tendencies but he's still a three-dimensional character with an impressive entrepreneurial streak. His companion, a Twi'lek named Kaasha Bateen, is a fitting counterpart though she seems to be rather reminiscent of A New Dawn and Star Wars Rebels' Hera Syndulla.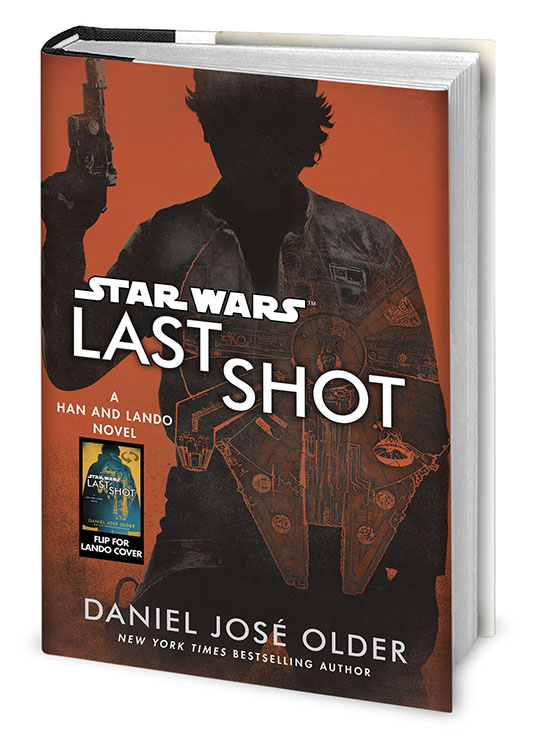 I'm more conflicted over the Ewok hacker Peekpa though. It's cool to have a hacker Ewok and she's really good at what she does but it's unfortunate she's undercut by almost no one being able to understand anything she says throughout most of the book. She's not the only character who only speaks in her native, non-Basic language, but her situation is the most frustrating. Usually no one directly translates what Chewbacca says in any media, but Han (or whomever else is around) tends to understand him and responds in a way that at least gives the audience an idea of what he's said. I do admire Peekpa's ability to push through all that and do what she knows needs to be done.
Kaasha and Peekpa are just part of Lando and Han's diverse crew of associates who definitely keep things lively. It's a testament to the author that not until the very tail-end of the novel does it seem like there's just too many of them to fit in the story anymore.
Overall Last Shot is a fun ride and an easy read. As far as the larger Star Wars universe goes, it was nice to see a few characters from other stories make an appearance and even have an EU detail or two make the official crossover into canon. I look forward to revisiting the parts with L3 after watching Solo. And I'd be happy to see Daniel José Older return with another story from a galaxy far, far away.
Star Wars: Last Shot is out now in hardcover, e-book, and audiobook formats from Del Rey. The publisher provided FANgirl a copy of the book for review purposes.