New Spring Styles for Po-Zu Star Wars Shoes
Ethical fashion footwear company Po-Zu has debuted the first two styles for their Spring/Summer 2018 line of co-branded Star Wars™ shoes.  Both are sneaker-based designs with a low-top and feature the quilted rear panel popular in previous Star Wars styles.
From Po-Zu founder Sven Segal:
I was truly inspired by the Star Wars: The Last Jedi and the new characters – and love fusing sustainable materials into some of these timeless pieces. We've had such great feedback from the Star Wars community and fashion press so far and I'm thrilled to continue our galactic ride for the second season!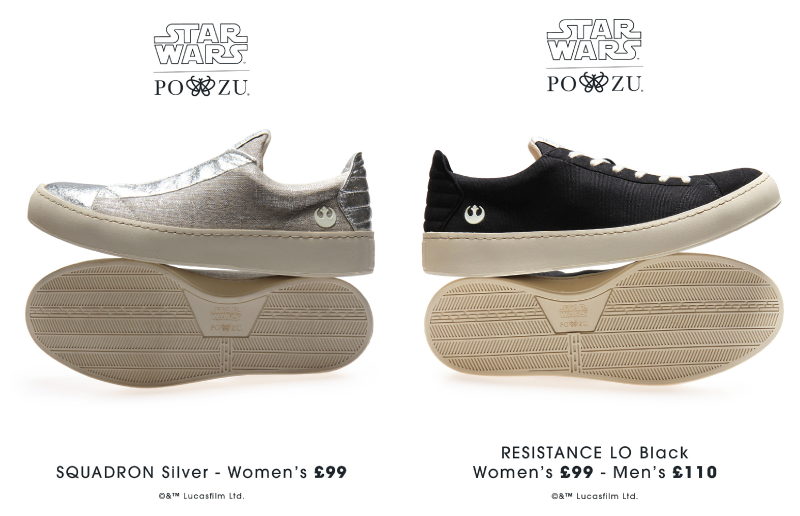 The SQUADRON slip-on also has the small Rebel Alliance badge but is a bolder silver. The elasticated top panel, and ribbed heel are in a metallic pineapple-leaf fiber called Pinatex along with metallic linen – making it also vegan-friendly. The removable natural latex and cork footbed will form to your foot for more comfort. This sneaker though is (affiliate link) only available in women's sizes.
The RESISTANCE Lo comes in black and may fit the bill for subtle geek with its small Rebel Alliance badge. It's vegan-friendly with organic cotton canvas and should be super comfy thanks to the Po-Zu Foot Mattress™. This lace-up shoe is available in both (affiliate links) men's and women's sizes.
And the best part? These shoes appear to all be in stock right now.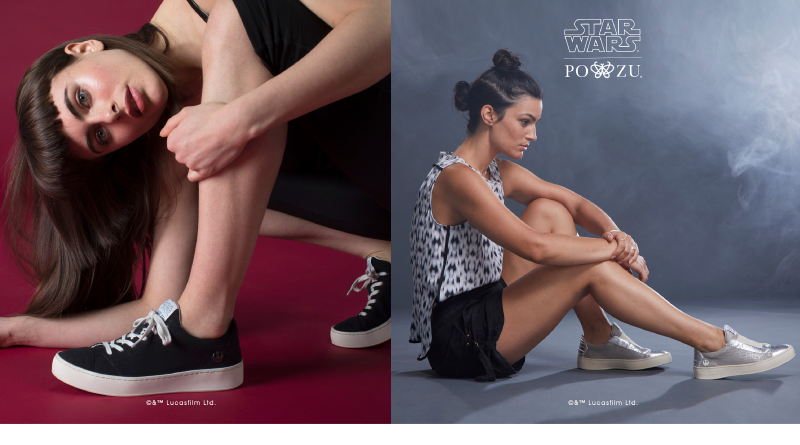 Support my ability to keep sharing more fashion content like this by clicking on the affiliate links or the ad banner below when you're ready to buy any of your new Star Wars x Po-Zu shoes. 

She grew up wanting to be an astronaut. After seeing Star Wars, she wanted to be Princess Leia, Han Solo, and an astronaut. Life's taken her on a bit of a different path, but she's okay with that.

Kay is FANgirl's resident geek fashion expert and co-host of the Hyperspace Theories podcast. She reviews books and movies for the site with a heart for storytelling and a mind that likes to analyze. Kay's been a guest on various podcasts sharing her love and knowledge of storytelling, film-making, fashion, and of course, Star Wars.

Most days are filled with her work as a creative services professional - designing websites & branding, photographing, voice acting, editing, and more. Kay spends the little bit of free time she has reading, costuming, and, of course, making pew pew noises. She would pick up more jobs and hobbies if she was a Time Lord.