The Last Jedi Novelization Review
When I finished reading the adult novelization of The Last Jedi I thought, Yes, that was pretty much the movie. Then I flipped back to the beginning and remembered that the first 25 pages or so alone are purely added content. With just a few exceptions this expansion is that seamless.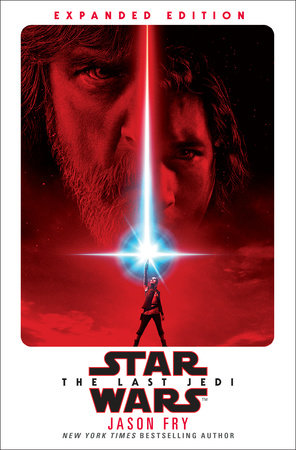 Movie novelizations are more than a transcript of a film. They're a chance to give more context and reveal inner workings. Author Jason Fry clearly crafted this novel with care and benefited from the additional time given by Del Rey as they changed things up and set the book release date months after the movie came out. Yes, it made some of us antsy to have to wait that much longer for this book, but it's worth it.
The writing of The Last Jedi: Expanded Edition is widely accessible and its third person omniscient narration remains intimate. There seems be great care from the author for all the characters in this large cast. Fry does a great job recreating the tension of the movie as well as matching its intensity.
My favorite detail of all is the paragraphs drawn directly from other related Star Wars books' plot points and character info. Each feels almost as if it was placed lovingly among the pages gently sliding helpful information to those who may not have gotten to all the other books yet. I recognized inserts from Leia: Princess of Alderaan, Phasma, and a large swath of the young reader book Cobalt Squadron to name a few. With discussion in fandom over the past few months on whether reading all the books is becoming required to fully understand the movies – these additions are especially appreciated.
I'm not going to lie – the prologue is weird. It's unexpected but I'm not sure if that's a good thing or not. It clearly is part of a larger book opening that wants to set up a bunch of the characters instead of immediately dive into the action like the movie did, which is fine. The prologue itself also has a message to set up for its focus character but overall the chapter felt like it was trying to do too much with its storytelling beyond that and was a bit too on the nose in the process.
On the other end the novel skids to a stop with even more potential ending points than the movie had – one of the book's rare cases where how much longer it takes to explain something that would happen on-screen upsets the pacing. But despite that rough start and end – everything in between in this novelization is really beautiful.
Fans of Admiral Ackbar may be happy to see Fry's functional use of the character allows them to also linger with him a bit longer. Roles like Kaydel Ko Connix and Tallie Lintra get a small spotlight too. On the other side of the battlefield we gain a few insights from officers while Snoke has some reflective time. We're fed more pieces about the First Order's formation while still leaving plenty of story still to tell.
There's more Force insight than the movie could give. And with our Force users Fry plays up Luke's bitterness and conflict. Rey's as well as Kylo Ren's expansions may not come everywhere one might have hoped but there is more to say on their own emotional turmoil as well as their connection. Not to mention Leia's memories and connection to her son taking full advantage of the written format and anyone prone to weepiness.
Speaking of the General, there are some beautiful but heartbreaking musings on Leia. But if I had to pick which character benefits the most from the expansion, it'd be a tie between General Hux and Rose Tico. For one we get to see more of his perspective on technique and his relationship to other characters as well as how he's generally regarded. For the other her thoughts reveal a deeper internal journey with grief and trust that wasn't as obvious in the film. There's also the bonus of concurrently giving the reader a better understanding of Finn through her eyes.
If you didn't like The Last Jedi, whether or not the novelization will put it in a better light for you will of course depend on why you didn't like it. But Jason Fry succeeds in providing an entertaining way to revisit the story of the film. Overall The Last Jedi: Expanded Edition takes the emotions of the film much deeper and is all the richer for it.