Kay Joins Nerd Lunch to Talk The Last Jedi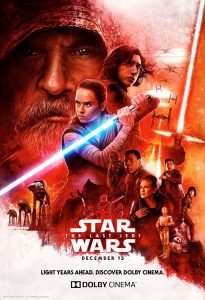 As a member of Nerd Lunch's Star Wars panel Kay has been part of the discussion on ten Star Wars movies. The Last Jedi makes number eleven and possibly the most divisive for the group so far. 5 friends enter the podcast with opinions ranging from complete hate to absolute love (and everything in between) for the latest film.
What follows are genuine attempts to understand each other in an exploration of how one movie resonated so differently with its viewers. And it wouldn't be Nerd Lunch if there wasn't laughter along the way too.
Expectations, dislikes, loves – it's all here in an extra-long podcast that probably could have gone on even longer if we kept running on little to no sleep like everyone else in The Last Jedi.
Spoilers: everyone is still on good terms at the end of the podcast because even though the internet sometimes makes it seem like it can't be – it's possible to disagree and still get along.
Listen in to Nerd Lunch Episode 296 – Star Wars The Last Jedi Drill Down on iTunes, Stitcher, Google Play, and Libsyn as well as embedded below.
Looking for more of my Nerd Lunch episodes?
Check out my appearance list on the Nerd Lunch website or the Nerd Lunch tag here.