Star Tours: New Characters and Locations Mark Narrative Shift To Ride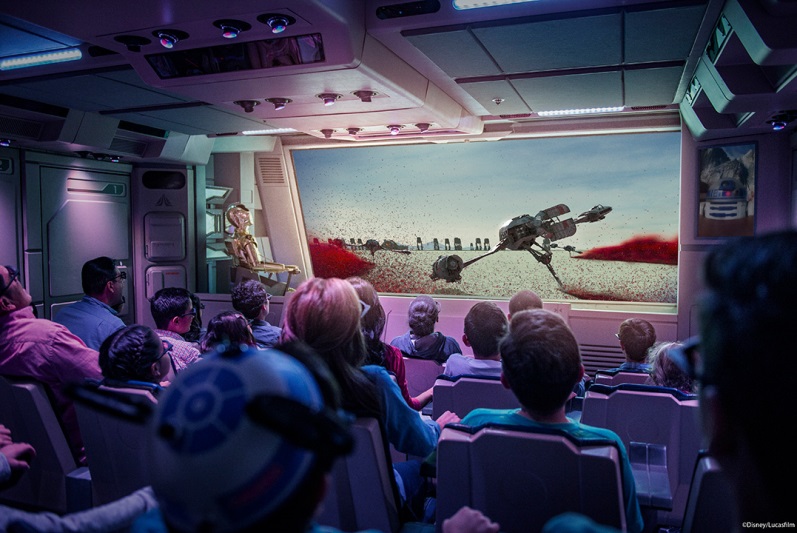 Last week, members of the media were invited to a preview of the updated Star Tours now open at Hollywood Studios and Disneyland. Disney Parks Blog first teased the Crait addition on November 17, promising that the scene inspired by The Last Jedi would not be the only change. In fact, the ride has undergone a narrative shift, with Rey and Kylo Ren appearing in the opening sequences, followed by the familiar visit to Jakku that has been part of the ride since the fall of 2015. The updates continue with new holomessages from Maz Kanata and Poe Dameron; the BB-8 message remains in the rotation, as well. From there the Starspeeder jumps to Crait, smashing through crystals in an underground cavern before emerging in the midst of a battle between the First Order and Resistance. Poe Dameron pops up on the side screen to offer encouragement, while General Hux's appearance forewarns certain doom.
The crystal foxes, previously seen in The Last Jedi trailers, scamper across the Crait landscape. Today, Entertainment Weekly revealed more information about the creatures – called vulptex in the singular or vulptices plurally. The article suggests the vulptex's crystal coat will "provide a guiding light to [the movie's] heroes."
C-3PO and R2-D2 facilitate an escape from Crait and, after rushing through hyperspace, Star Tours delivers guests to a new world, Batuu. On the Disney Parks Blog Creative Executive Scott Trowbridge gives fans insight into this new setting: it is the backdrop known as Galaxy's Edge, or more familiarly Star Wars Land.
This remote outpost on the galaxy's edge was once a busy crossroads along the old sub-lightspeed trade routes, but its prominence was bypassed by the rise of hyperspace travel. Now home to those who prefer to stay out of the mainstream, it has become a thriving port for smugglers, rogue traders and adventurers traveling between the frontier and uncharted space. It's also a convenient safe haven for those intent on avoiding the expanding reach of the First Order. While Batuu may be new to us, it is clearly already familiar to many characters from the Star Wars saga as a stepping off point for epic adventures.
At Galactic Nights, a one-night special event at Hollywood Studios, Trowbridge will join Robin Reardon, Executive Creative Producer at Walt Disney Imagineering; Chris Beatty, Executive Creative Director at Walt Disney Imagineering; and Doug Chiang, VP/Creative Director at Lucasfilm in a roundtable hosted by David Collins. They will share insights into the making of Galaxy's Edge and give attendees exclusive peeks at this ambitious project. In addition to this panel, which will be held four times during Galactic Nights, Hollywood Studios has many more surprises in store for guests who attend the red carpet event on December 16.
For more information, check out the Galactic Nights page; check back all this week for highlights of food and events.

Tricia Barr took her understanding of brand management and marketing, mixed it with a love of genre storytelling, and added a dash of social media flare to create FANgirl Blog, where she discusses Star Wars, fandom, and the intersection of women within Star Wars fandom. She is co-author of Ultimate Star Wars and Star Wars Visual Encyclopedia from DK Publishing, a featured writer for Star Wars Insider magazine with numerous articles on the Hero's Journey. Her FANgirl opinions can be heard on the podcasts Hyperspace Theories and Fangirls Going Rogue.

Tricia Barr's novel, Wynde, won the 2014 Independent Publisher Book Award Gold Medal for Best Science Fiction/Fantasy/Horror Ebook. She was also part of Silence in the Library's successful all-female creator science fiction and fantasy anthology Athena's Daughters, which is available now. For excerpts and tales of her adventures in creating a fictional universe, hop over to TriciaBarr.com.