Fandom Fashion Finds: September Picks
Since September was the month containing Force Friday II – this set of finds is going to be a bit Star Wars heavy. I'm sure most of you won't mind.
Star Wars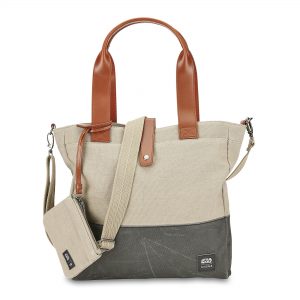 Force Friday brought along several Star Wars apparel releases – a majority of which appeared to be t-shirts in men's sizing. But there were some bright spots. Check out my Top 5 Force Friday II Picks to see my favorites.
Two more Star Wars x Po-Zu footwear pre-orders have gone up since the last roundup. In compliment to August's limited edition release, there is now a bronze set of hi-tops in men's sizes (£185). And of course I'm excited about the Rey Last Jedi-style tall boots (£225).
A lot of Star Wars purses and bags have gone on sale or up for pre-order in the past month. And as much as I love the Loungefly Canto Bight wallet from my Force Friday list, the Nixon Rey Linear Tote on the new shopDisney ($74.95) is looking real good for when there's more to carry.
Keep your pin game strong with these new finds:
Droids 3-Pack Pin Set at ThinkGeek ($12.99)
Star Wars Symbols 3-Pack Pin Set also at ThinkGeek ($12.99)
Imperial Lapel Pin at Kohl's ($18)
Rebel Alliance Lapel Pin at Bed Bath and Beyond ($17.99)
Captain Phasma – The Last Jedi pin at shopDisney ($12.99)
R2-D2 and Porgs pin w/ movable wings at shopDisney ($12.99)
Tsum Tsum Series 2 Mystery Pin Pack  ($27.99) with chances of getting characters such as Amidala, Qui-Gon, BB-8, and Rey
Also check out: this Porg Tie! ($55) and Hyperspace Tie Bar ($36) from Cufflinks.com in addition to the beautiful art of Rose Tico on customizable shirts (~$24.95) as well as the Leia sketch design at shopDisney.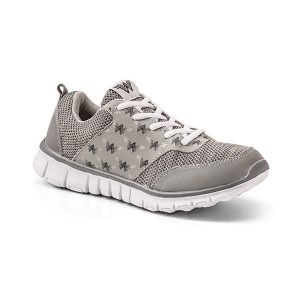 DC Comics & Marvel
Most geek activewear collections don't include footwear too. While I haven't tried them myself yet, ThinkGeek has these Wonder Woman and Harley Quinn Ladies' Athletic Sneakers ($49.99 each) that sure look good.
Also:
Her Universe has a Wonder Woman replica tiara ($19.90) in stock.
You'll also find some new Marvel apparel at Her Universe including their version of a Star-Lord jacket ($59.90). If you're looking for more detail, the ANOVOS Star-Lord jacket ($575) is up for pre-sale.
shopDisney is now carrying a Mile Morales Spider-Man sweater ($34.95) in men's sizes from Mighty Fine.
Disney
Haunted Mansion fans can now get this Madame Leota pin ($12.99) and the wallpaper-print lounge pants ($36.99) are in men's sizes but I'm pretty sure I could make it work. My favorite attraction-themed accessory this month though is this Loungefly Haunted Mansion crossbody bag ($65.00). It's a subtle win with the purple and metal gargoyle.
The Box Lunch Nightmare Before Christmas Collection includes this Jack and Sally Kimono ($39.90).
Other stylish picks this month include:
This Mouseketeer Ear Hat Pouchette Bag by Dooney & Bourke ($178) along with two other styles in this design at shopDisney.
That shop is also the place to get this simple and subtle Lilo & Stitch Ohana necklace ($74.95).
Although I have mixed feelings about the term "cosplay dress" this Megara dress ($44.90)  at Hot Topic is pretty.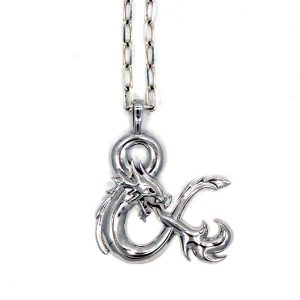 Games and Gaming
The Ampersand D&D Logo Pendant ($39.99) made by Han Cholo and sold at ThinkGeek also comes in an enamel pin version ($14.99).
Ikora's necklace ($125) by RockLove at the Bungie Store is a thing of beauty.
Musterbrand and ThinkGeek teamed up on a whole Zelda: Breath of the Wild collection. This Sheikah Ladies' Jacket ($99.99) is one of the standout pieces with its subtle details and cool lining.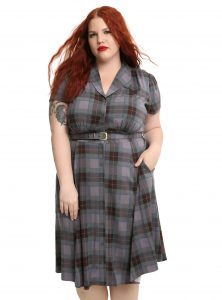 More Geek Goods
Hot Topic has a new Outlander collection. The 1940s shirt dress (more sizes) ($54.90-64.90) is a stylish, subtle addition in MacKenzie tartan.
My pick for top piece from this month's Her Universe Princess Mononoke collection is this Wolf Sweater  (more sizes) ($44.90-54.90). It is also on Hot Topic's website.
Also out this month: the Han Cholo She-Ra Helmet ring ($39.99) and Harry Potter Time-Turner earrings ($9.90).
In geek fashion news:
The jacket Taran Killam wore on the Star Wars Show was a gift from his dad when he was 16. I know, I'm sad too that that means it can't be easily bought today.
Among the promotional partners announced for The Last Jedi is Christian Louboutin. Definitely curious on that one.
Cakeworthy has posted a lookbook for their upcoming licensed Disney capsule collection.
Alistair James' first London Fashion Week collection was inspired by Sleeping Beauty.
Part of Joseph Altuzarra's inspiration for his SS18 collection shown in Paris was Princess Mononoke. The collection looks at the theme of nature versus industry.
Check out @GeekFashionGalaxy on Instagram for this kind of fashion news and findings as it happens.
Support my ability to share more fashion content like this by clicking on the corresponding ad banner below when you're ready to buy your new Star Wars x Po-Zu shoes or Star Wars x Sperry shoes.