Force Friday II Fashion: Top 5 Picks
Force Friday II marked the official merchandise launch for Star Wars: The Last Jedi. And while it's easy to associate that with the toys and figures that suddenly appeared on retail shelves and pegs, there was also quite a few apparel and accessory items that went up for sale.
Yes, there were a lot of t-shirts. Yes, the t-shirts were mostly sized/designed for men. But there were some pretty cool designs and more than shirts on offer. In no particular order here are my picks for the 5 most stylish geek fashion finds from Force Friday II: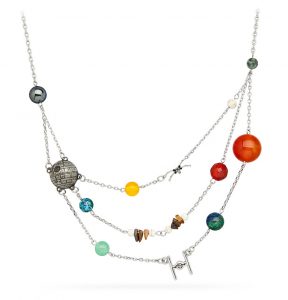 Star Wars Galactic Necklace – ThinkGeek
It's the Star Wars version of ThinkGeek's Solar Orbit Necklace and it's a site to behold.
Semi-precious stones stand in for various planets from a galaxy far, far away and its 17″ long chain comes with a 3″ extender built in.
You'll find this Star Wars accessory on ThinkGeek's website retailing for $39.99.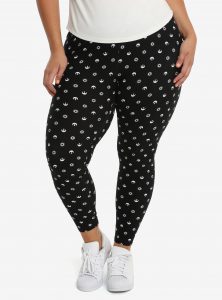 Star Wars Emblem Leggings – Her Universe
The Imperial/Rebel logo design used by previously seen on a Her Universe circle scarf and cardigan is now available on leggings.
They're fun and almost subtle at the same time.
Find them on Her Universe's website in juniors and plus sizing for $29.90-38.90.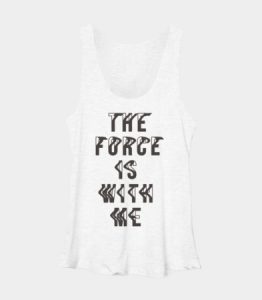 The Force is With Me Racerback Tank – Design by Humans
This typography tank is a little trippy and definitely something different than what we've seen from Star Wars shirt designs.
It's got a sense of movement plus the phrase is applicable to more than one Star Wars movie.
For $24 you can get this mantra for yourself from the Design by Humans website.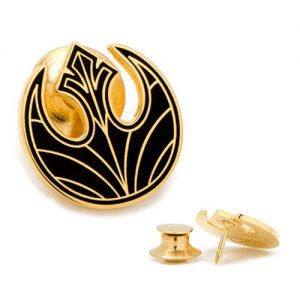 Star Wars: The Last Jedi Gold Rebel Logo Lapel Pin – Cufflinks Inc.
Black and gold can be sleek.
Combine it with the design of this pin and we may have never seen the Rebel starbird look this classy before.
As a lapel pin, it's tiny too, ideal for the geek fashion version of a secret handshake.
While it's listed as a $17.99 pre-order on Entertainment Earth slated for October, it's currently listed as available on Cufflinks.com for $18.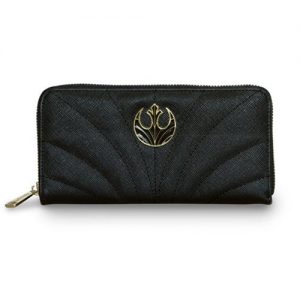 Star Wars: The Last Jedi Rebel Symbol Canto Zip Around Wallet – Loungefly
I guess we have Canto Bight to thank for the fancy factor.
The quilted shell-like design let's the small starbird shine.
We'll have to wait until November for it to arrive, but the pre-order for this wallet is now open on Entertainment Earth with a price of $40.
I'm going to keep an eye out on Loungefly's website to see if/when it appears there. (And yes, there's a purse in a similar design too.)
What's your pick for most stylish Force Friday Fashion Find?