Did Geena Davis Convince J.J. Abrams to Gender-Swap an Episode VII Character?
The conversation about "why is there only one new female actress in the Episode VII cast?" blazed across entertainment reporting and social media after the initial casting announcement. One important lesson of that discussion was the absolute certainty that there are legions who support female fans and their heroines.
Why does that April 29th picture matter so much? It's an iconic moment in pop culture history. It has an endless trickle-down effect, such as the Lego Minifig reproduction of the cast photo that won't – actually, can't – include the diversity of the more recently announced actresses joining the cast. The Disney Store statement waves, determined by Lucasfilm, excluded female characters and reflects the same mindset as the image.
On May 7th, Bad Robot tweeted an image from Geena Davis' visit to their offices "to discuss gender equality in media."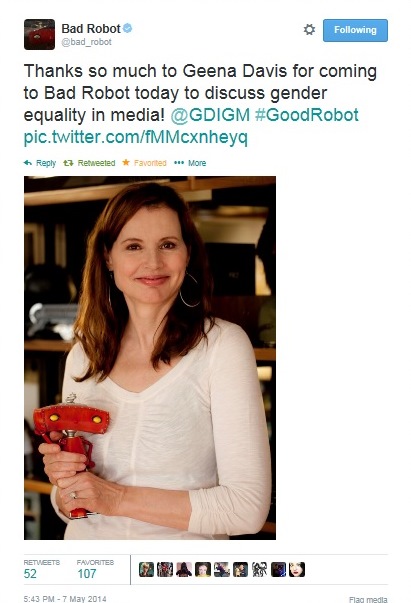 At the time I didn't see much coverage of her presentation, but her views are well known. Geena Davis has been a vocal advocate against sexism in Hollywood, tackling it with hard research data, such as studies funded by the Geena Davis Institute on Gender in the Media. In an essay in The Hollywood Reporter titled "Two Easy Steps To Make Hollywood Less Sexist" her Step One is:
Go through the projects you're already working on and change a bunch of the characters' first names to women's names. With one stroke you've created some colorful unstereotypical female characters that might turn out to be even more interesting now that they've had a gender switch.
On June 2nd, Lucasfilm announced that Oscar-winner Lupita Nyong'o and Game of Thrones favorite Gwendoline Christie had joined the Episode VII cast. Rumors of Nyong'o's casting had swirled prior to the initial cast announcement, but for as-yet-unknown reasons she wasn't included in the cast's first table read of the script. Shortly after the June 2nd announcement, film blogger discussion online reported talk in the industry about the possibility that Gwendoline Christie's role had been gender-swapped in response to the fan outcry.
When the topic of women in film turned to Star Wars in today's episode of the Schmoes Know Movie Show podcast, my interest was piqued. Here's a transcript of what they had to say about Geena Davis and Bad Robot (approx. 49-minute mark):
Tiffany: This issue came up so much with Star Wars when the Star Wars casting came out. And a lot of people got fired up about it. I was about to get fired up if we didn't get more announcements of new actresses in the movie. But the first one – I remember seeing Star Wars and feeling like, "Yes!" in my kid mind. "Yay, there's a girl I can relate to." That I want to be like her, that I can do that.

Alicia:  So J.J. recently brought on Geena Davis to help with their institute. To make sure that Star Wars and all the subsequent films that he makes very female-friendly. … She told this story at Bad Robot, which was: One of her friends has a young boy and a young girl. And the young boy said, "I'm going to go play Star Wars" with my sister. [And the mom said,] "That's great. Can I join?" And the son said, "No, there's only one woman in Star Wars." You've got to change the thinking like that. And that's why it's important for films like Star Wars. You grow up watching it. You need to have these women you can relate to.
While some of the franchise news recently – the Star Wars Rebels character reveal and merchandise rollout, brand promotion, books, the lack of diversity on the storytelling teams and the movies – has frustrated me as a fangirl, I have never seen more coverage among a broad array of media about the ways Star Wars hasn't considered the female consumer equally or treated them fairly in the storytelling. And that is a very good thing. Schmoes Knows is talking about it; the Nerdist Comics Panel talked about it. In the past week male hosts of Assembly of Geeks, Bombad Radio, and Full of Sith asked me to talk about it.
There has been much discussion, in the earliest days after the original casting announcement and since the more recent announcement of Nyong'o and Christie, about whether the response from female fans was reflexive and "premature." If fans getting fired up and speaking out got Geena Davis in the room with the Episode VII decision makers to talk about Star Wars, though, then that's an obvious sign that J.J. Abrams and his team at Bad Robot realized they needed to reconsider their approach.
The timing sure doesn't look like a coincidence to me. Hence the title of this post: Did Geena Davis convince J.J. Abrams to gender-swap an Episode VII character? Maybe someday we'll find out. Either way, though, don't stop talking, fangirls (or fanboys).
Related posts:
---
Tricia Barr took her understanding of brand management and marketing, mixed it with a love of genre storytelling, and added a dash of social media flare to create FANgirl Blog, where she discusses Star Wars, fandom, and strong female characters. Her FANgirl opinions can be heard on the podcasts Assembly of Geeks and RebelForce Radio Presents Fangirls Going Rogue. Her novel, Wynde, won the 2014 Independent Publisher Book Award Gold Medal for Best Science Fiction/Fantasy/Horror Ebook.
For updates on all things FANgirl follow @FANgirlcantina on Twitter or like FANgirl Zone on Facebook. At times she tries the Tumblr.