LEGO Star Wars: The Freemaker Adventures Returns This Summer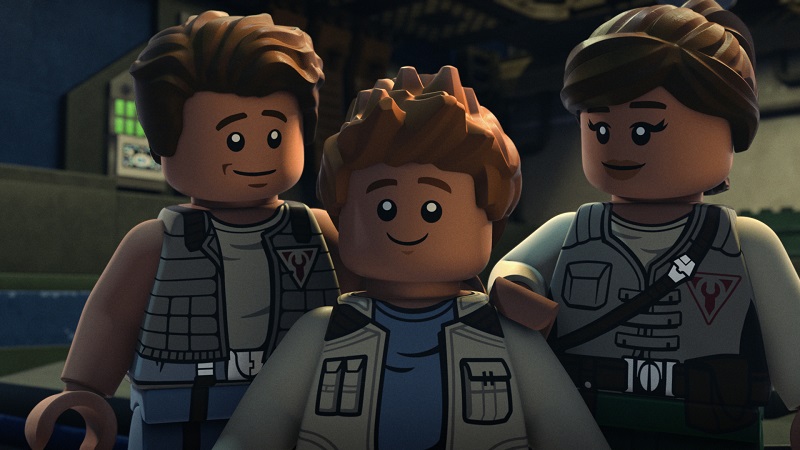 The second season of LEGO Star Wars: The Freemaker Adventures is coming soon!
On Saturday, June 17, DisneyXD airs a preview: at 10:30 a.m. ET/PT is a half-hour special collecting the five shorts that aired on May 4th, followed by the first episode, "Trouble on Tibalt," at 11:00 a.m. ET/PT.
The second season premieres on Monday, July 31. Episodes air at 7:00 a.m. ET/PT on Mondays through Thursdays, concluding on August 16.
From Lucasfilm:
At the end of the first season, the Freemaker family found a new home with the Rebel fleet. Their new circumstances bring them face to face with brutal Imperial forces, desperate Hutts, conniving Sith Lords, and the Emperor's latest plaything, M-OC, a terrifying hunter droid who continually modifies himself to fit any occasion. In response to these threats, Rowan's powers grow and strengthen until he has a vision of a sleek, invulnerable ship that can save the Rebellion and stop the Empire in its tracks – the Arrowhead. The catch is, the Arrowhead is a ship only Rowan can build. Once again, it's up to the youngest Freemaker to save the galaxy.

During 2016, "LEGO Star Wars: The Freemaker Adventures" ranked as the network's #2 animated series among Kids 2-11 and Boys 2-11 demographics, reaching over 55 million Total Viewers across the U.S., including over 21 million Kids 2-14 and more than 20 million Adults 18-49.

"LEGO® Star Wars: The Freemaker Adventures" is a production of Wil Film, the LEGO Group and Lucasfilm. Developed for television by Bill Motz and Bob Roth ("Penguins of Madagascar"), they join Torsten Jacobson ("LEGO Star Wars: Droid Tales") and Jill Wilfert ("The LEGO Movie") as executive producers alongside producers Carrie Beck (Star Wars Rebels), Jason Cosler ("LEGO Marvel Super Heroes: Avengers Reassembled!"), Jake Blais and John McCormack.

The season two voice cast includes Nicolas Cantu (Rowan), Vanessa Lengies (Kordi), Eugene Byrd (Zander), Matthew Wood (RO-GR), Trevor Devall (Emperor), Dana Snyder (Graballa), Vanessa Marshall (Hera), Yvette Nicole Brown (Lt. Valeria), Corey Burton (Quarrie), James Urbaniak (M-OC) and Matt Sloan (Darth Vader).
Check out a new promo clip, courtesy of Lucasfilm:
If you missed the shorts, they're available on DisneyXD's YouTube channel.
Eugene Byrd (Zander) and co-creators Bill Motz and Bob Roth appeared on this week's Star Wars Show.
Also check out our recap of the Freemaker panel at Celebration, and the interview with Motz and Roth on Fangirls Going Rogue.  Additionally, Fangirls Going Rogue used the animated shorts for a fun discussion of characterization on Episode 46.

B.J. Priester has been a Star Wars fan since he played with the original Kenner action figures as a young boy. His fandom passion returned after watching Attack of the Clones in 2002 and reading the entire New Jedi Order series in 2003. He voraciously caught up on the novels and comics in the Expanded Universe in addition to writing fanfiction, frequently co-authoring with Tricia.

B.J. has served as editor of FANgirl Blog from its inception, as well as contributing reviews and posts on a range of topics. He edited Tricia's novel Wynde, and is collaborating with her on several future projects set in that original universe.

Currently a tenured law professor in Florida, B.J. has been a practicing lawyer in Washington, D.C., a law clerk to a federal appeals court judge, and a law journal editor-in-chief. He is also a proud geek dad whose son who is a big fan of Star Wars and The Clone Wars.