Excellence in Diversity and Storytelling in NBC's Timeless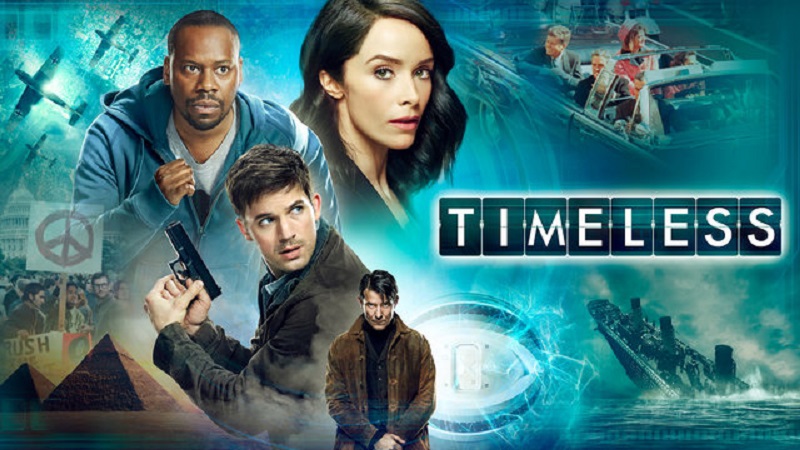 When NBC announced one of its new shows for the 2016-17 broadcast season would be the sci-fi time-travel series Timeless, the team at FANgirl took notice primarily due to two of its key participants: actor Matt Lanter, beloved for his portrayal of Anakin Skywalker on The Clone Wars, and series co-creator Eric Kripke, who created the long-running drama Supernatural and guided its characters through an epic five-season storyline. Now that Timeless has aired half of its first season episodes, though, we've found much more to love about the show.
From the beginning, FANgirl Blog's mission has emphasized strong female characters, diversity at all stages of the storytelling process, high quality writing, and praising these elements when we find them in movies, television, books and comics, and other tales. Timeless is one of those series that earns high marks across the board. And it's a lot of fun to watch, too.
The basic premise of the show is a familiar sci-fi trope: each episode sends the hero trio back in time to try to stop a rival group of time-travelers from changing the past and thereby damaging the future. But the leads of Timeless put a spin on the familiar character tropes from these sorts of stories. Sure, there's a scientist – Rufus, played by Malcolm Barrett – who helped invent the time-travel vehicle and understands the science behind their journeys. But Rufus is no socially awkward ubergeek: he's creative, confident in his abilities, and unafraid to speak his mind. Yes, there's a historian – Lucy, played by Abigail Spencer – whose knowledge of the past is crucial for their undercover missions to stay clandestine. Lucy may be a professor pulled into a secret government operation, but she's bold, assertive, and no certainly no ivory-tower egghead. She also struggles with living up to a parental legacy: but in place of the usual father-figure icon, Lucy's mother is the esteemed professor who has set a seemingly insurmountable bar for her daughter to match. And there's the muscle – Wyatt, played by Lanter – a Delta Force master sergeant with a duty to the mission. Yet for all that Wyatt is fully aware he's out of his league in academic smarts compared to his teammates, he brings important insights and tactics to the table that the trio needs to ensure their success.
The supporting cast reinforces these twists on the familiar. The genius corporate innovator, Connor Mason (Paterson Joseph), is a second black STEM character. Watching Mason mentor Rufus, instead of an older white Einstein analogue with a younger white protégé, is a delight. Rufus' colleague Jiya (Claudia Domit), another STEM character, and government overseer Agent Christopher (Sakina Jaffrey) are women of color. With perhaps unintentional echoes of The Force Awakens, their adversaries are white men: Cahill and the other agents of Rittenhouse, as well as Garcia Flynn (Goran Višnji?), his associate and erstwhile Rufus mentor Anthony Bruhl, and other members of their team striving to stop Rittenhouse.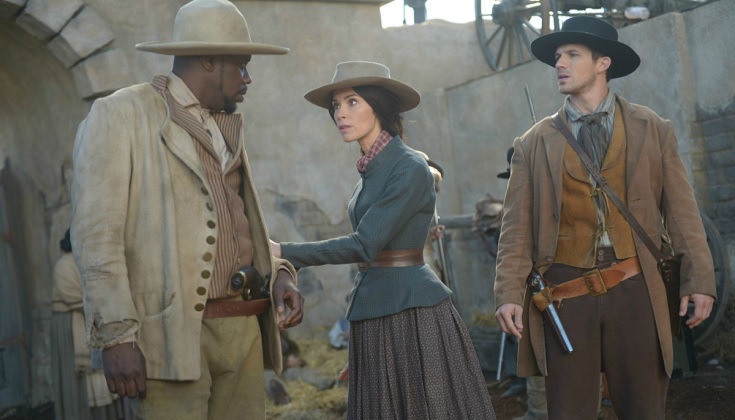 Where Timeless really drives home its commitment to diversity and strong female characters, though, is in the missions to the past. It's unfortunately far too common in time-travel fiction for storytellers to default to retelling the same legends about the same key figures in history, most of whom – because history is written by the victors – are white men. Timeless avoids this mistake, and to great effect. Instead of JFK, the 1962 mission centers on his mistress, Judith Campbell, a key player in the palace intrigue of Camelot and crime families of the day. The 1969 mission to save the moon landing revolves around Katherine Johnson, the "human computer" also featured in the upcoming movie Hidden Figures. The 1836 heroes of the Alamo were more diverse than simply the recollection of the most famous white men, Jim Bowie and Davy Crockett, who died there. In 1754's French and Indian War, the mission avoids George Washington and other pre-revolutionary icons in favor of Nonhelema, leader of the Shawnee. In 1972, Mark Felt's Deep Throat is an aside; the real core of the mission is protecting "the Doc," a black woman with a Ph.D. in history from the University of Chicago, from capture by Flynn or murder by Rittenhouse. And it transpires with help from the Black Liberation Army, assured only by Rufus' knowledge of the organization's history and personnel – information that Lucy, who earned her American history Ph.D. under the same advisor as the Doc, tellingly has not learned.
In addition to these real-life historical individuals, Timeless uses its hero trio to remind the audience of the nature of the past, too. Wyatt is a soldier, and that is a role he can slip into in almost any time period, from the eighteenth to the twentieth century. Lucy and Rufus are not so fortunate. To stay incognito, Lucy must conceal herself as a waitress, secretary, seamstress, or the like. Only in 1969, close enough to the prominence of the feminist movement, does she risk a cathartic verbal smackdown of a sexist NASA engineer. Rufus faces even more limited prospects: though he could portray a black soldier in 1865's Washington, D.C., more often he must play the role of a waiter, janitor, or even presumed slave. After one early outburst, he realizes he must contain his outrage at the injustices of the day in order to maintain his cover.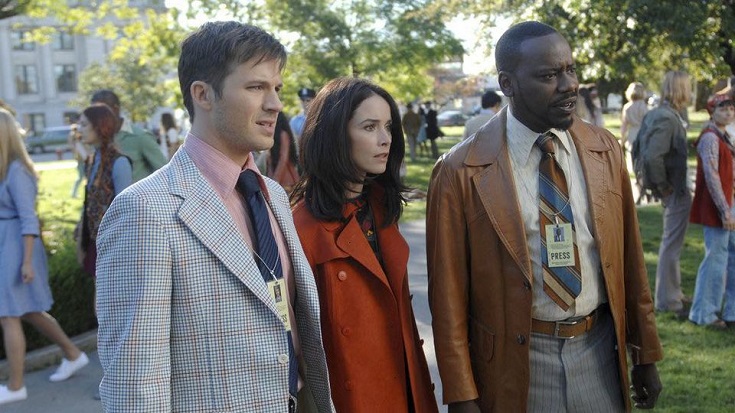 Without top-notch writing, though, these dynamics would not be enough to carry the series. Fortunately the writing on Timeless has been consistently strong, under the guidance of Kripke and co-creator Shawn Ryan, and not merely in the carefully crafted reveals of puzzle pieces to the show's overarching mysteries. Themes of teamwork, family, and trust weave through the episodes. Instead of the time travel and its conceits dominating the story, as often occurs, Timeless is telling character-driven drama that happens to be taking place in the context of a time-travel sci-fi adventure. Wyatt is haunted by the death of his wife before he ever became involved in the project; Lucy by the loss of her sister after their first mission to the Hindenburg disaster made the slightest of shifts in the past. Rufus is torn between his indebtedness to Connor and Anthony and his fear of Rittenhouse; Flynn's pursuit of vengeance against Rittenhouse seeks nothing less than wiping them from history. In Timeless history is the set-dressing of their drama, not its engine, and this gives the writers the ability to hand-wave the sci-fi technology and focus on the characterization. That decision is paying huge dividends.
That said, Timeless does not play fast and loose with its history, either. Costumes and technology are kept realistic to the past. References to pop culture, news, and politics, particularly in the twentieth century, are clearly carefully researched. The twists upon the past, too, often are derived from actual history. The Alamo letter and Nixon's speech upon a failed moon landing, for example, are real-life writings, and the Allied capture of Werner von Braun and General Grant's invitation to Ford's Theater are real-life events. The 2000 book Almost History compiles many documents along these lines, and Lana Cho, one of the show's producers and writers, confirmed my suspicion that the show's creative team – which has included three episodes written by women, and one woman director, in the first eight episodes – uses it as a reference. Fans interested in speculating on future missions may want to take a peek between its covers.
If you haven't watched Timeless yet, FANgirl gives it our strong recommendation. Timeless airs at 10:00pm ET/PT on Mondays on NBC.
---
The Timeless team is very active on social media. Follow them on Twitter: