2014 Oscars Provide More Incentive For Diversity
Each year Hollywood dresses up and celebrates the Academy Awards. Movies are made on an incentive basis. Often that incentive is money, but the golden statue called Oscar can become the treasure sought after by filmmakers, too. This year's Oscars ceremony really drove home that, in the words of Cate Blanchett, "the world is round" and comprised of all types of people who have many varying stories to be told. Hopefully the ceremony put a few new twinkles in the eyes of producers, directors, and actors to step beyond their comfort zone and create more diverse stories. Here are ten ways the Oscars might help shift the prevailing wisdom in Hollywood:
1. Celebrating Heroes. The theme of this year's Academy Awards telecast was A Celebration of Movie Heroes, including the fictional characters and real-world creators. One segment was a montage featuring a wide variety of movie heroes. Although I would have liked to see more heroines in the mix, I did notice a large number of science fiction and superhero characters.
Considering that scifi, fantasy, and superhero movies usually fare poorly in the nominations, much less the wins, for the major awards, it was good to see the Academy acknowledging their importance. Perhaps the box office significance of The Avengers, The Hunger Games and Catching Fire, and Iron Man 3, among others, is helping to show that high-grossing movies can also be well-crafted artistic achievements, too.
2. Honoring Diversity. This year's Oscars marked the most visible recognition of diversity in Hollywood. The telecast's host, longtime television celebrity Ellen DeGeneres, has been openly lesbian for over fifteen years and married to her partner, Portia DeGeneres, for over five years. The current president of the Academy, Cheryl Boone Isaacs, is the first African-American to lead the organization, and only the third woman. For 12 Years a Slave, British director and producer Steve McQueen became the first black director to win Best Picture. Alfonso Cuaron won Best Director for Gravity, the first Latino to win that award. Matthew McConaughey and Jared Leto won Best Actor and Supporting Actor for Dallas Buyers Club, a movie about the early years of the AIDS epidemic, homophobia, friendship, tolerance and acceptance; Leto was honored for his portrayal of a transgender woman.
3. Cate Blanchett Speaks Out. In her acceptance speech for her Best Actress win for Blue Jasmine, Cate Blanchett included these powerful remarks:
And thank you to Sony Classics, to Michael and Tom, for their extraordinary support, for so bravely and intelligently distributing the film. And to the audiences who went to see it. And perhaps those of us in the industry who are still foolishly clinging to the idea that female films with women at the center are niche experiences. They are not. Audiences want to see them and, in fact, they earn money. The world is round, people.
4. Gravity Soars. Science-fiction blockbuster Gravity won seven Oscars: in addition to Cuaron's for directing, it claimed Best Visual Effects, Sound Mixing, Sound Editing, Cinematography, Editing, and Musical Score. The sixth highest-grossing movie of 2013, Gravity also featured Sandra Bullock onscreen for an astounding 87% of the film's total minutes.
5. Frozen Triumphs. Surprising no one, Disney's tale of two sisters – and the third highest-grossing movie of 2013 – took home the Oscars for Best Animated Feature and Best Original Song. Following on the heels of the Oscar wins, Variety reported that Frozen surpassed the $1 billion mark at the global box office, putting director Jennifer Lee in elite company as the only women to be part of the billion-dollar director club.
6. Celebration of Mom. It's evident from Best Supporting Actor Jared Leto's speech that his mother is his hero. Later in the press room he said, "I thanked my mother because she is everything. She's inspired me in ways that I could talk about for days. You have an opportunity when you stand on the stage — you can make it about yourself or you can hold up a mirror and shine a light. And that's what I chose to do tonight." Heroism takes many forms, and so in a night that celebrated superheroes it was nice for Leto to remind the audience of that.
7. 1939: The Year of Leading Ladies. Two notable movies share their 75th Anniversary this year: Gone With The Wind and The Wizard of Oz. Scarlet O'Hara clearly fits as an anti-heroine to Dorothy's hero, although for both it was home that served as the catalyst for their quests. So it was fitting that Dorothy's story was honored during the ceremony by a beautiful rendition of "Over The Rainbow" by singer/songwriter P!nk. You can watch all the musical performances here.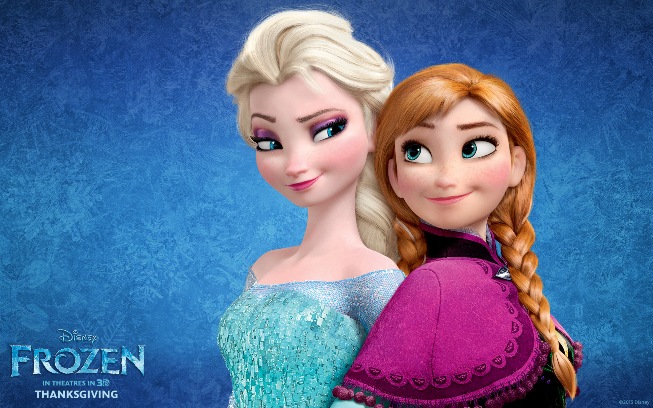 8. "Let It Go." While the ceremony chose to showcase a song meant for kids until late in the broadcast, the performance by Idina Menzel was stunning and the acceptance speech by Kristen Anderson-Lopez and Richard Lopez was witty and charming with its rhymes. Then they went and reminded their daughters to embrace their individuality, and I found I had something in my eye. This is a song for girl empowerment and essentially challenges the ways the entertainment business and media strips young women of confidence while encouraging women to pursue their dreams.  You can watch Entertainment Weekly's best acceptance speeches here.
9. Hollywood's New It Girl. Lupita Nyong'o has dazzled Hollywood with her stunning looks through awards season, but that's not what you need to know about her. Born in Mexico because her father had been banished from their home country, Kenya, for his political views, her family returned to Kenya and Nyong'o went on to study drama at Yale. The Kenyan president called her the "pride of Africa." He goes on to say, "Excellence inspires and deserves emulation. Lupita reminds us of all that is possible for the youth of this nation when they set their hearts and minds to a great task — in her own words, 'No matter where you're from, your dreams are valid.' We, their parents, must take these words to heart; ours is to help our young people fulfill their potential." (via ABC News) The women in Africa have extra hurdles in education and opportunities we don't face in America, so it's thrilling to see a real life heroine rise up to inspire them.
10. Dreams Do Come True: Dreams don't always happen overnight, which singer Darlene Love can attest to. Achieving her dream she wanted to share the emotion of the moment of the world, and did so with song. She might otherwise have been a non-memorable moment when a documentary received its Oscar, but Love made she we would all remember her. Her story on the way to fame as a singer is one of endurance and perseverance. I encourage you to check it out.
---
For updates on all things FANgirl follow @FANgirlcantina on Twitter or like FANgirl Zone on Facebook. At times she tries the Tumblr.