REVIEW: Fate of the Jedi: Conviction by Aaron Allston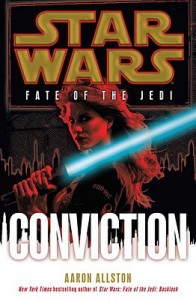 My overall reaction to Conviction is similar to what I felt about Vortex, and it echoes what others have said about this book, as well. On the one hand, standing purely on its own terms, Conviction has solid writing, good characterization, and some classic Allston hilarity. On the other hand, Conviction is seriously dragged down by the weakness and defects in the story design of the Fate of the Jedi series as a whole. Because Conviction is part of a series that refused to allow each book to stand as an individual story, it's simply not possible to separate out the review of Conviction as a book from its part in the series.
As I discuss in more detail in my full review, Allston does his best with the piece of the story that it's his turn to tell, but the elements he's given are so weak there's honestly very little he can do to turn the story into a success. Still, Conviction reaffirms Aaron Allston's place as a good Star Wars writer. His previous FotJ novel, Backlash, had been written while he was recovering from a near-fatal heart attack, and he understandably was not at the top of his writing game for that book. In Conviction, Allston's craft is back on par with his previous series work, such as Outcast, Fury, and Exile. His prose is crisp and clear, and fun to read. There's plenty of good Allston humor, from the sly wink or terrible pun to the laugh-out-loud comedic. At times the point-of-view will have a blip or a head-jump, but Allston has never worried about robotic precision in that area. The quality control is also high, with a text that is mostly error-free.
The other thing that has become clear to me as a reader is that Allston wanted to tell a different story than his two fellow authors.  From the start in Outcast, this series opened promising a completely different tone – and a much lighter one, at that – with strong indications that the EU books might actually allow different characters to finally take center stage.  Of course that hasn't happened, and what plays out throughout the series is Allston's vision for plot, characterization, and flow standing at odds with the rest of the team's.
Bottom Line
If you like Fate of the Jedi so far, you'll like this book. If you stand somewhere outside that zone, but you like Allston, then you have a choice to make – do you want a laugh-out-loud funny book that doesn't really go anywhere?  If that suits your bill, buy this book – or if you just want to show your mad love for Allston, buy this book.  For people who have stayed away from Fate of the Jedi and were hoping the new exciting "mini-trilogy" would turn things around, it's still too early to say.
Conviction is a difficult book to assess because of these two starkly contrasting elements. It's like getting a brownie sundae with tons of hot fudge swirled on top to mask the stale brownie and melty ice cream underneath. As a fun Allston book, it's an 8.5; for the Fate of the Jedi flaws, it's a 4. I like Allston, so I'll give the individual book score double weight.
7/10