Zeb Makes His Mark On Star Wars Rebels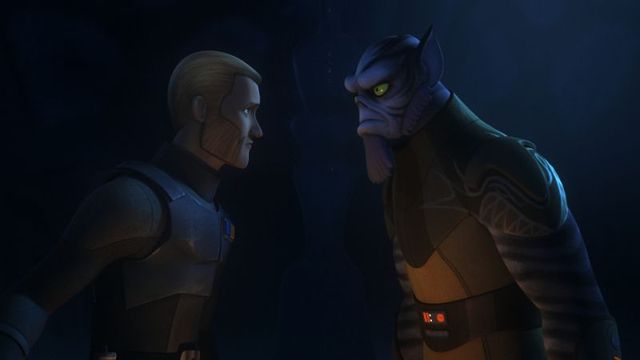 The histories and choices of all the Ghost's team have made an impact on Ezra's Hero's Journey this season on Star Wars Rebels. Tonight's episode, "The Honorable Ones," looks to do more of the same with a featured clip of Zeb and Agent Kallus. From the clip synopsis:
Zeb and Kallus, stranded on a Geonosian moon, debate their options for rescue and survival. But they soon find out that they're not alone…
Last week I stopped by Skywalking Through Neverland to discuss the music of the last episode of Star Wars Rebels to feature Zeb. From the show notes:
Impressions: The Music of Star Wars Rebels, where we analyze Kevin Kiner's score. On this episode we analyze "Legends of the Lasat" with our special guest, Tricia Barr (Fangirls Going Rogue, FANgirl Blog). This was the episode where our Ghost crew encountered an anomaly on the edge of known space, and had to use Zeb's leadership to get through. The music was so unusual and engaging, with those bare strings, we HAD to talk about it. (1:37:15)

Tricia Barr took her understanding of brand management and marketing, mixed it with a love of genre storytelling, and added a dash of social media flare to create FANgirl Blog, where she discusses Star Wars, fandom, and the intersection of women within Star Wars fandom. She is co-author of Ultimate Star Wars and Star Wars Visual Encyclopedia from DK Publishing, a featured writer for Star Wars Insider magazine with numerous articles on the Hero's Journey. Her FANgirl opinions can be heard on the podcasts Hyperspace Theories and Fangirls Going Rogue.

Tricia Barr's novel, Wynde, won the 2014 Independent Publisher Book Award Gold Medal for Best Science Fiction/Fantasy/Horror Ebook. She was also part of Silence in the Library's successful all-female creator science fiction and fantasy anthology Athena's Daughters, which is available now. For excerpts and tales of her adventures in creating a fictional universe, hop over to TriciaBarr.com.