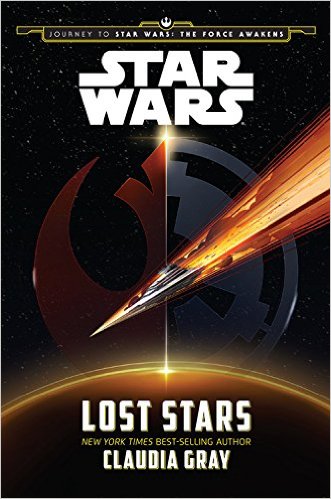 September is the start of the big merchandising push leading up to The Force Awakens in December. Friday, September 4, has been dubbed "Force Friday" because the first waves of toys and other products for the movie will go on sale at midnight. Various retailers around the country will be hosting midnight events, including all Toys R Us stores and participating Target and Walmart locations. Check with your local stores for details.
---
Force Friday Book Launch – In addition to toys, the Journey to The Force Awakens publishing line launches many of its titles on September 4. These include Chuck Wendig's post-Return of the Jedi novel Aftermath from Del Rey, as well as four books from Disney-Lucasfilm Press set principally during the Original Trilogy era: Claudia Gray's romance novel Lost Stars, the Leia novel Moving Target by Cecil Castelluci and Jason Fry, the Luke novel The Weapon of a Jedi also by Fry, and the Han novel Smuggler's Run by Greg Rucka. Later in the month Marvel begins Rucka's four-issue mini-series Shattered Empire, picking up right after the Battle of Endor. We'll have reviews of the books as we read them. In addition, this month's episode of Hyperspace Theories will include The Force Awakens speculation based on the clues revealed in these books.
---
Five Years for FANgirl – This month marks the five year anniversary of FANgirl Blog. We'll have posts celebrating the event, as well as the updated mission statement for the site.
---
Here are a few of the other things we're looking forward to in September:
New Star Wars Books
Aftermath by Chuck Wendig – September 4th
Lost Stars by Claudia Gray – September 4th
Moving Target by Cecil Castelluci and Jason Fry – September 4th

Smuggler's Run by Greg Rucka – September 4th
The Weapon of a Jedi by Jason Fry – September 4th
The Princess, the Scoundrel, and the Farm Boy by Alexandra Bracken – September 22nd
So You Want to be a Jedi? by Adam Gidwitz – September 22nd
Beware the Power of the Dark Side! by Tom Angleberger – September 22nd
New Star Wars Comics
Shattered Empire #1 – September 9th
Darth Vader #9 – September 9th
Star Wars #9 – September 16th
Lando #4 – September 16th
Kanan #6 – September 23rd
New Movies
Hotel Transylvania 2 – September 25th
Television Series Premieres
The Late Show with Stephen Colbert (series premiere) – September 8th (CBS)
Continuum – September 11th (Syfy)
Big Bang Theory – September 21st (CBS)
Minority Report (series premiere) – September 21st (Fox)
Blindspot (series premiere) – September 21st (NBC)
Castle – September 21st (ABC)
The Muppets (series premiere) – September 22nd (ABC)
Limitless (series premiere) – September 22nd (CBS)
Heroes Reborn (series premiere) – September 24th (NBC)
Once Upon a Time – September 27th (ABC)
Quantico (series premiere) – September 27th (ABC)
Agents of S.H.I.E.L.D. – September 29th (ABC)
Latest posts by Administrator
(see all)