At the beginning of every month, I'll post a brief preview of what's to come.  Here's my first glimpse of topics I plan to address in the month of October.
It's not just a cartoon for kids – Star Wars: The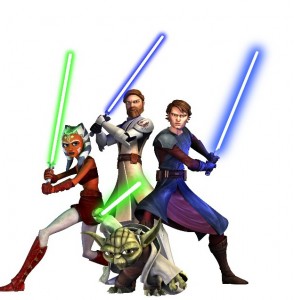 Clone Wars: Episode 304 (yeah, I know it's a mouthful) airs tonight at 9pm on the Cartoon Network. This week's episode is titled "Sphere of Influence." I've found the stories on TCW to be compelling and will discuss the reasons they've swayed this skeptical EU fangirl to watch.
Giving us Her Universe – Ashley Eckstein, the voice of TCW's Ahsoka, has used her enthusiasm for her character to reenergize fangirls everywhere.  With a new product line of geek chic and a new message boards, Her Universe is filling a gap fangirls have long been waiting for.
NaNoWriMo – National Novel Writer's Month kicks off November 1st. The goal is 50,000 words in 30 days – it's ambitious, and you can do it with your writing friends. I'll discuss tips for planning prior to embarking on a journey into your own imagination.
Knight Errant – The new Star Wars comic Knight Errant drops this month on October 16th. I'll give my take on the preview issue, and what we might expect in issues to follow.
Latest posts by Administrator
(see all)