Linda's Star Wars Celebration Anaheim Fan Interviews: FANgirl Staff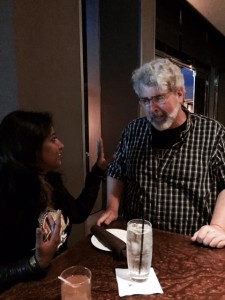 One of the questions Tricia asked the panelists during the From A Certain Point of View panel was what we most enjoyed about Star Wars. Before Celebration Anaheim, I had a fairly stock answer: the movies, of course, especially IV, V, VI; some of the EU novels, especially Timothy Zahn's; playing SW:TOR; and the interesting people I've met. What I realized at the convention was that really, truly, what I love most about Star Wars are the other fans.
So far, I have been interviewing mostly new people for this series, but I thought it would be fun to see the perspectives of the staff members of FANgirlblog. This time, I've asked everyone from the blog who was at Celebration Anaheim a few questions about their experiences. I started off with BJ, our Senior Editor, because he's been to many Celebrations. I asked Kay, our Staff Writer, about her experience cosplaying Rey. This was the first Celebration for Skylar, our Junior Contributor, so I asked her to share what was most exciting for her. For Tricia, this was a very busy Celebration; between podcasting, parties and book signings, she was a blur of action – I wanted to know what stood out the most for her. And just to round it out, I added a few of my thoughts about being at my second Celebration.
Join the FANgirlblog staff as we review SWCA from a very personal point of view.
---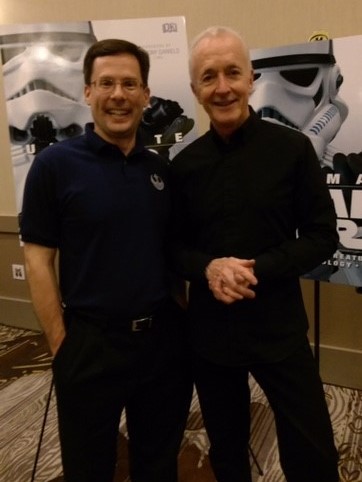 B.J.
Was this your first Celebration?
No, I'd been to four Celebrations prior to this one: III in Indianapolis, IV in Los Angeles, and V and VI in Orlando.
What made Celebration Anaheim different?
The excitement among the fans. With The Force Awakens coming up, the fandom is at a level of excitement we haven't seen in a long time. Even Celebration III, a month before Revenge of the Sith, wasn't comparable. The main characters were a given, many of the big plot points were compelled by A New Hope, so everyone knew basically where the story was headed. The novelization had already been released prior to the convention, so people who wanted spoilers knew the details. Everything is completely different this time around. All of the open questions about The Force Awakens really has everyone excited to see the future of Star Wars – including me!
Kay
What inspired you to cosplay Rey?
A small spark of insanity. I have great hopes for Rey as a character I'll want to cheer for and that many of us will want to be like. When we got that first glimpse of her in that first teaser trailer it was exciting. I knew I wanted to make a costume for Celebration Anaheim and I told myself that if I could find affordable boots that looked enough like what I could make out from that trailer, then Rey would be the costume I'd make.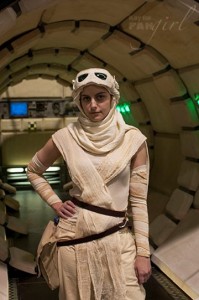 In a matter of weeks I was holding the boots and I began studying the rest of the whole two screenshots – unfortunately both from the same side – that I had as my reference. I wanted to get it as close to what I could see as possible. So in some ways I was inspired by the challenge, but mostly Rey was a symbol of my new hope in Star Wars.
Have you cosplayed before?
As far as at conventions, only one other time and that was comparatively more everyday-looking clothing than this, but I grew up acting (mainly in theatre) so I'm used to being in costume. From time to time I assisted with costuming on shows and I have a history of making and/or wearing elaborate Halloween costumes.
What was your experience of being Rey at Celebration Anaheim?
Magical. It felt like a great way to show enthusiasm for this new chapter in Star Wars. And now I have this first-hand experience of how people feel about Rey right now in this time before the movie. It served as a cool connection point that opened the door to a lot of fun conversations and wonderful opportunities. Stefan of the 501st invited me to sit on the replica of Rey's speeder that he built. All those hours staring at those screenshots and there I was in the costume on the speeder. I got to exchange tips and ideas with him and the Rey models about the costume. I found out later a few people thought mine was an official costume or that I was asked to wear it by Lucasfilm, which was a huge compliment but not the case. On a few occasions I was welcomed into the starwars.com Cantina set, which was fantastic. I got to see so many other costumes up close and Anthony Daniels complimenting my costume there did not hurt. I felt an instant bond to the First Order Stormtroopers and Kylo Ren I found on the show floor.
Skylar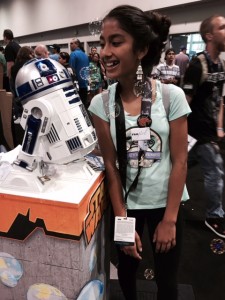 What was your most fun and least favorite experience of Celebration Anaheim?
The best experience I had at Celebration was almost all of it! I have never been to a convention for Star Wars this large. I enjoyed the little things that all combined to make a whole: witty comebacks at the FANgirl panel, standing in the elevator with Chewbacca, a random passerby handing me a free Star Wars shirt, mouse droid races, Boba Fett in the swimming pool-and more. The community of so many different people, young and old, men and women, all bonded together with a love for Star Wars.
My least favorite experience? The lines. But of course, the panels and exhibitions made it all worth the wait.
Tricia
What did you enjoy the most at Celebration Anaheim? The least?
I loved that Celebration Anaheim started off with a bang. Really, could it get any better than a panel where Kathleen Kennedy acknowledged Star Wars has great female characters but needs more? Then they introduced the new cast with Daisy Ridley, John Boyega, and Oscar Isaac. For obvious reasons, many were excited to see the returning cast, and if Harrison Ford couldn't be there, what better way to end the panel than "Chewie, we're home." The Force Awakens panel started the convention by drawing fans together as a family, and that vibe ran through the rest of the convention.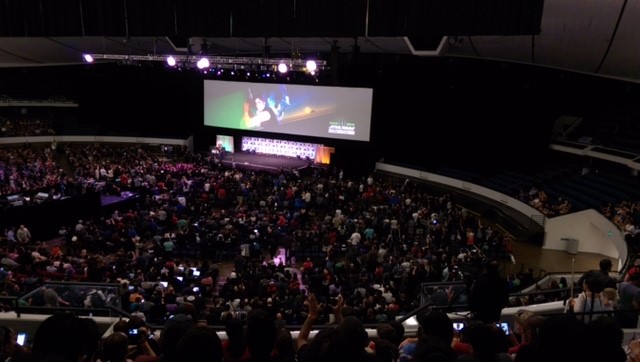 After that there were so many highlights: the Star Wars Rebels panel, asking the last question at the Star Wars Rebels press conference, the Fangirls Going Rogue podcast stage show and my panel on diversity in Star Wars, dancing with R2 at the 501st party and meeting everyone involved with Ultimate Star Wars. It's really hard to choose a favorite moment, but I do remember that all those great memories happened with friends by my side.
Of a wonderful experience, my only complaint was the store, but really that's the convention's loss on sales more than something that I feel I missed out on. I wanted to get in there and buy a Hera shirt, and it didn't happen. After the store lines at Celebration III, it seemed like that had that issue resolved. So I hope they revisit that for the next convention.
In years past, fans have been disappointed that they have missed something at the convention, whether it were a panel or a favorite author. StarWars.com's coverage helped solve those missing moments and bring the convention experience to everyone. Honestly, I'm still catching up on all their coverage.
Linda
Is it totally weird to participate in your own interview?
I loved Celebration Anaheim partly because I was busy meeting old and new friends and looking for material for these posts. It was exciting to be a panelist, it forced me to think critically about Star Wars and express my opinions succinctly. Plus, my name was on the website near Luke Skywalker himself, Mark Hamill. There was a definite optimistic energy and a lot of laid back fun to be had at unexpected moments. Like Skylar, I enjoyed the surreal moment of sharing an elevator with Chewie after hanging out at the Marriot pool.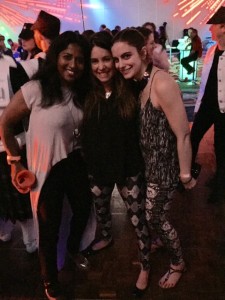 Dancing with Artoo at the 501st party and my light up Sith shot glass. Learning about the patch and coin trading was fascinating. I was even able to augment my outside of Star Wars reading, discovering I infinitely prefer the quiet grace of David Whyte to the cynicism of Charles Bukowski.
I'm impatient by nature – hence my yoga and meditation practices – and I don't really love crowds, so the lines were a bummer. When I was able to hang out with friends and/or family I enjoyed it more.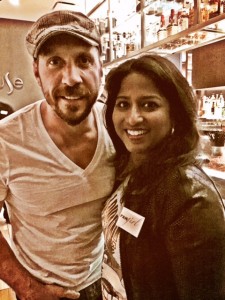 Waiting four hours to see the costumes from The Force Awakens was a time I questioned my call.
The absolute highlight for me was the evening I met Ray Park. Ray summed up the best lesson of Celebration Anaheim when he offhandedly said, "Choose wisely, Padawan." Every decision precludes doing something potentially as much or maybe even more fun, so at times it was difficult for me to decide what to do. At Celebration, though, I felt all my options were good and all the choices I made were worthwhile, even if it meant enduring a long wait. I don't regret any of my selections. I'm only sad there wasn't time for more! How many times in life does one get to say that?
---
Linda has been a Star Wars fan from the time she saw Episode IV in the theatre with her parents and insisted on being Han Solo while playing with the neighborhood kids. She's now a fangirl who splits her time learning to twirl a bo staff like Ray Park, jumping horses, writing fanfic she dreams up on her commute to work, and spending time with her husband and their own feisty Padawan version of Ahsoka. She can be reached at Linda.HansenRaj@gmail.com and on Twitter.