…and thankfully we're all living in it. If you watch TCW on Cartoon Network, you might recognize the name Ashley Eckstein as the voice of Ahsoka Tano.  If you're a fangirl – or a guy who likes a fangirl – and you're not quite familiar with the name, then here's why you should be her biggest fan.
In the beginning I didn't want to like Snips – as Ahsoka was quickly dubbed by Anakin. As I've previously described, I was initially quite skeptical of her sudden appearance in the Star Wars canon. Somehow, though, this spunky, back-talking, Jedi-in-training has managed to win over many fans, including me, and I think her success is emblematic of what TCW has done for the fans – both old and new.
When you see Ashley and her fellow actors, artists, and production staff at work, whether it's a convention panel, a meet-and-greet at Disney's Star Wars Weekend, or doing general press, what sticks out is their own dedication to the franchise. This isn't just a job to them, and they all seem to embrace the love and enthusiasm that has and will continue to bolster the Star Wars franchise – because just like us, they're fans too.
For the fangirls, though, it is Ashley's charge forward into product areas in an underutilized demographic group that has rallied a base that the Powers That Be have previously failed to recognize. Realizing that female fans were stuck, for the most part, with buying apparel designed and fitted for their male counterparts, Ashley showed where Ahsoka gets her spunk and created Her Universe, a first of its kind line of female apparel for Star Wars fans. If there was any doubt that she was stepping into an empty market, the success of her booth at this year's Celebration V proved otherwise. By the end of the weekend, Her Universe bags washed the convention center in a sea of purple, and hundreds of fangirls paraded around in their colorful Star Wars burnouts and Padmé Nouveaus. Yet the ladies' versions of the standard, boring old t-shirts from the main convention store still hung in large numbers. Why? They lacked the more feminine flair found in the Her Universe line.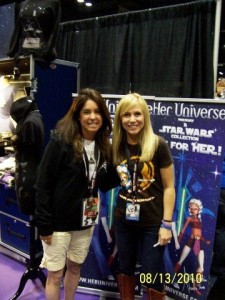 Having previously spent limited money on Star Wars merchandise other than books, comics, collector pins, and a few sculptures and toys related to my favorite EU characters, I've suddenly found myself the proud owner of the "I Know" t-shirt, the Star Wars hoodie (pictured), and a limited edition Celebration V necklace (pictured). Sure, these items were higher on the price scale, but none of the Her Universe products skimp on quality, and each offers unique art catered to a more feminine sensibility. The Her Universe brand has teamed with some notable artists to bring different and exciting apparel to the female fan, and seems poised to continue bringing their geek chic flair in a newly announced joint venture with SyFy. From recent posts in Ashley's blog, it sounds like we fangirls will be guaranteed fun merchandise for the coming holiday shopping season.  Future plans even mention an upcoming Mara Jade shirt, and I hope other strong female EU characters like Jaina Solo, Tenel Ka Djo and Tahiri Veila get similar consideration. 
Of course that depends on how the fans react.  From what I've seen, though, Her Universe is just what the ladies needed. I, for one, will certainly continue to support Ashley's endeavor, including emailing the Her Universe Shop link to all my family and friends with my Christmas Wishlist attached..
What items do you have on your wishlist?
Check out everything in Ashley's universe at www.heruniverse.com