Daisy Ridley Roundup: April 28 – May 27, 2015

Flicks and The City posted a fun interview with John Boyega, Daisy Ridley, and Oscar Isaac talking about the Celebration Anaheim panel and the importance of family in the story. (h/t to Geek Kay)
On April 30th, Kathleen Kennedy and Daisy Ridley kicked off the Japanese press for The Force Awakens in Tokyo. Gigazine has video and photos. (via Daisy Ridley Daily)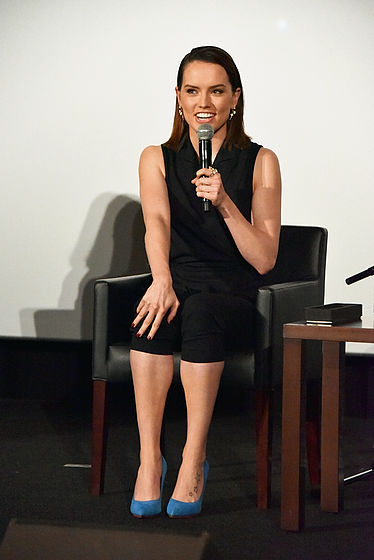 The UK's Daily Mail reported on her family's creative roots, including a great-uncle who acted on the comedy Dad's Army. In one clip, Kennedy notes that Ridley "talking about her family, her mom, her sisters" revealed that Ridley shared commonalities with the character Rey. Ridley dances deftly around a direct question about her character's parents, but does offer a Star Wars-worthy pun in her clue, saying "I've said that I'm solitary." (h/t to Uproxx)
For May the Fourth Vanity Fair began teasing images from their The Force Awakens cover feature. Famed photographer Annie Leibovitz shot the images on set. Daisy Ridley as Rey sits front and center in the cockpit of the Millennium Falcon with Harrison Ford as Han Solo on her left and John Boyega as Finn on her right; Chewbacca and BB-8 round out the photo.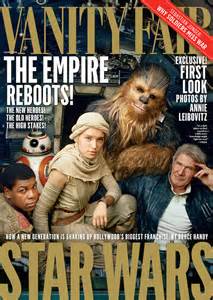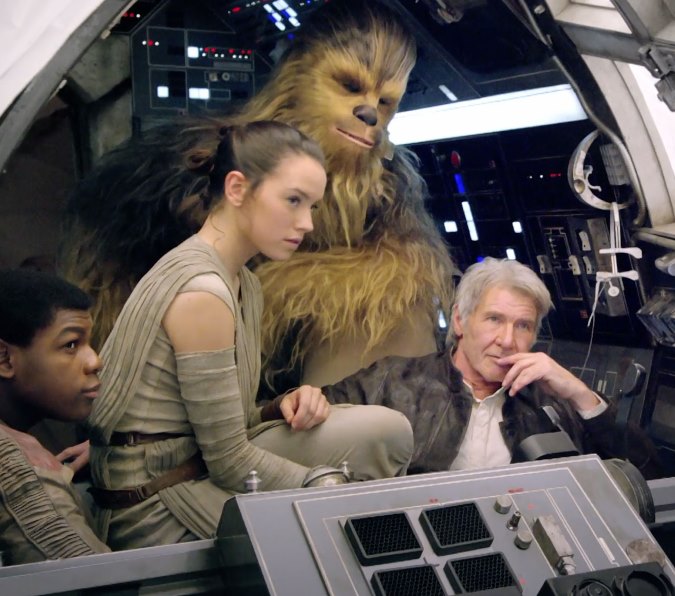 In the short video about the photo shoot, Ridley says of Star Wars, "It's a journey people can relate to." The video reveals that Ridley was photographed with and without the headdress. The headdress might be meant to provide visual cues to young Tatooine native Anakin Skywalker; Leia Organa and Padmé Amidala both also appear with their head covered at various points across the saga. It is also possible there is still an effort to downplay the fact that the central character in the new saga is a woman. We will hope for the former as opposed to the latter.
Vanity Fair is now available on newsstands. The online images don't do justice to Leibovitz's photographs. You can read the full article online as well.
IGN's Rebel Base compiles the information from the last month and speculates on Rey's character. The discussion is solid, but the hosts fail to consider Rey having agency when it comes to her "solitary" life on Jakku. Time after time, speculation has suggested Rey has been put on the desert planet. In my article Agent of My Own Destiny I explain the difference between agency and misfortune falling upon a character. Currently there is enough information floating around the web to indicate Rey has agency from the onset of the movie. We'll talk about that on June's episode of Hyperspace Theories.
On the last Daisy Ridley Roundup I speculated Daisy Ridley might show up at the Met Gala on May the Fourth. Instead Lupita Nyong'o, John Boyega, and Domhnall Gleeson made appearances. Boyega wore Burberry. Ridley wore a piece from their line in April to a label event. Harry Potter star Emma Watson has also represented the fashion company.
Despite their Japanese press tour being held in April, it really took toward the middle of May to uncover some of the interesting news from that event. Star Wars 7 News used the Kotaku.jp interview to determine the answers to the questions.
Kennedy: Daisy trained with the swordfight choreographer of Game of Thrones.

Kotaku: She did a lot of training in swordfighting as well?

Kennedy: She learned the bojutsu fighting style. Rey uses the staff she has in the trailer to fight. Daisy's gotten to be so good at bojutsu that even grown men on the set fear it. [Laughs]
Back in May of last year, FANgirl predicted Chloe Bruce was Rey's stunt double and provided video of her fighting in several styles, including with a staff.
Finally, Rey seems to be inspiring art from professionals like Lawrence Noble, who sculpted this beautiful piece, to Craig Drake, the Celebration Anaheim badge artist, as well as some awesome fanart.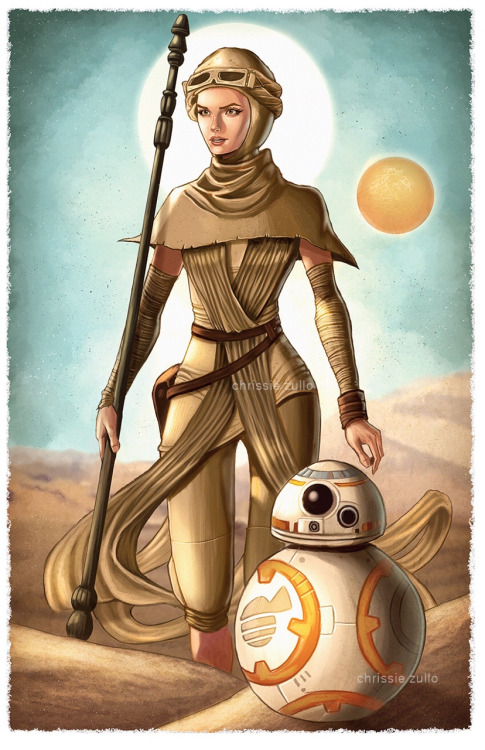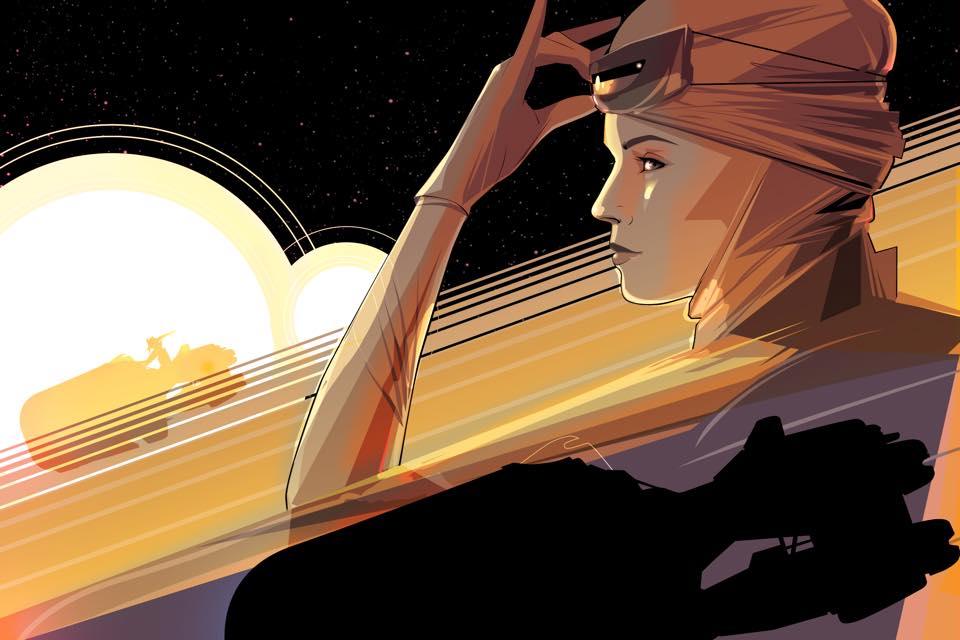 ---
For updates on all things FANgirl follow @FANgirlcantina on Twitter or like FANgirl Zone on Facebook. At times she tries the Tumblr.

Tricia Barr took her understanding of brand management and marketing, mixed it with a love of genre storytelling, and added a dash of social media flare to create FANgirl Blog, where she discusses Star Wars, fandom, and the intersection of women within Star Wars fandom. She is co-author of Ultimate Star Wars and Star Wars Visual Encyclopedia from DK Publishing, a featured writer for Star Wars Insider magazine with numerous articles on the Hero's Journey. Her FANgirl opinions can be heard on the podcasts Hyperspace Theories and Fangirls Going Rogue.

Tricia Barr's novel, Wynde, won the 2014 Independent Publisher Book Award Gold Medal for Best Science Fiction/Fantasy/Horror Ebook. She was also part of Silence in the Library's successful all-female creator science fiction and fantasy anthology Athena's Daughters, which is available now. For excerpts and tales of her adventures in creating a fictional universe, hop over to TriciaBarr.com.