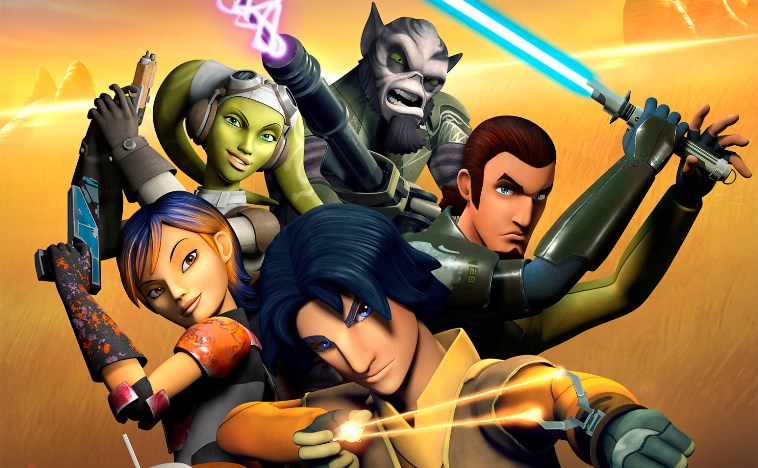 The big news this month speaks for itself: the launch of Lucasfilm's new animated series, Star Wars Rebels. Last month I had the privilege of attending a press screening, and I can't wait for everyone else to be able to experience the stories with Hera, Sabine, Kanan, Ezra, Zeb, and Chopper. Oh, and some pretty nasty villains, too.
---
Star Wars Rebels – On Friday, October 3, the hour-long premiere movie, Spark of Rebellion, airs on the Disney Channel at 9:00 p.m. Eastern. The episodic season premiere of Rebels takes place on Monday, October 13th, at 9:00 p.m. Eastern on DisneyXD, the regular timeslot for episodes. [Update: Disney also announced a special rebroadcast of Spark of Rebellion at 7:00 p.m. Eastern on ABC on Sunday, October 26, with a special addition scene featuring Darth Vader – voiced by James Earl Jones.]
---
GeekGirlCon Recaps – In Seattle on October 11-12, FANgirl contributors will be participating in the convention panels on Star Wars and the Heroine's Journey panel. We'll be sure to post recaps as soon as we have them.
---
Fangirls Going Rogue – The theme of this month's episode is "Star Wars is for Everyone," and we'll also have highlights from GeekGirlCon, New York Comic Con, Fanboy Expo, and more. In addition, look for a written interview with concept artist Amy Beth Christenson, whose work for Lucasfilm includes The Force Unleashed, The Clone Wars, and Star Wars Rebels.
---
Here are a few of the other things we're looking forward to in October:
New Star Wars Books
Star Wars: The Adventures of Luke Skywalker, Jedi Knight (by Tony Diterlizzi, art by Ralph McQuarrie) – October 7th
Star Wars Art: Posters – October 14th
Star Wars Rebels: Servants of the Empire: Edge of the Galaxy (by Jason Fry) – October 21st
Star Wars Art: Costumes – October 28th
New Movies
Television Premieres & Returning Series
The Vampire Diaries – October 2nd
Star Wars Rebels: Spark of Rebellion – October 3rd (Disney Channel premiere)
Reign – October 2nd
The Flash – October 7th (series premiere)
Supernatural – October 7th
Arrow – October 8th
Star Wars Rebels – October 13th (DisneyXD regular timeslot premiere)
The 100 – October 22nd
Grimm – October 24th
Constantine – October 24th (series premiere)
Elementary – October 30th
Latest posts by Administrator
(see all)