Fangirls Going Rogue Episode 12: Star Wars is for Everyone!
On this month's episode of Fangirls Going Rogue, Teresa Delgado and Tricia Barr report back on their convention trips, including interviews with Steve Blum (Zeb) and Greg Ellis (Baron Ruhdor) from Star Wars Rebels. Plus we unveil a new logo courtesy of RebelForce Radio's Jimmy Mac and artist Chris Amorim.
Listener emails always make us smile, and we've received even more mail this month from fanboys who love the show. Star Wars truly is for everyone! One email led to a discussion of ways to give back beyond the costuming fan organizations. Our suggestions include Force For the Cure and Cat Taber's Games for Soldiers, which we highlighted in our first episode.
The opening of ILM's studio in London gave us a chance to talk about a couple of important women leading Lucasfilm into the future: Kathleen Kennedy and Lynwen Brennan. Kathleen Kennedy mentioned during the opening that Episode VII filming was nearing its conclusion, which is exciting, and also gave us a chance to talk about spoiler etiquette in the age of social media.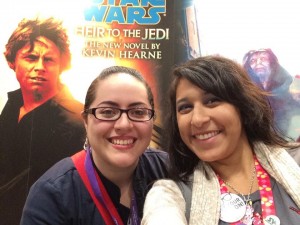 In addition to Teresa's awesome interviews from Fanboy Expo with the voices of Zeb and Baron Ruhdor, Steve Blum and Greg Ellis, we did a written interview with Star Wars Rebels artist extraordinaire Amy Beth Christenson. She is a lifelong fangirl who was inspired to draw Star Wars by her aunt. We hope you'll check out her full interview either at FANgirl or Jedi News. Amy Beth Christenson won the Judge's Choice for the Her Universe San Diego Comic-Con Fashion Show, which was just released on Nerdist.com.
The closing character discussion was admittedly a bit of a lovefest, since it featured a favorite character for both hosts: Ahsoka Tano.
You can find Steve Blum and Greg Ellis on Twitter. Send them a tweet to let them know how much you love Star Wars Rebels and the interview.
Where to find us:
Fangirls Going Rogue: @FGGoingRogue
Tricia: @fangirlcantina
Teresa: @icecoldpenguin
Email: fangirlsgoingrogue@gmail.com
Facebook: Fangirls Going Rogue
Tumblr: fangirlsgoingrogue.tumblr.com
Instagram: @FGGoingRogue
Voicemail: 331-21 Ewoks or 331-213-9657
Please go like Rebel Force Radio on itunes and leave a positive review, and in your review mention how much you like Fangirls Going Rogue
Until next time: Yub Yub!

Tricia Barr took her understanding of brand management and marketing, mixed it with a love of genre storytelling, and added a dash of social media flare to create FANgirl Blog, where she discusses Star Wars, fandom, and the intersection of women within Star Wars fandom. She is co-author of Ultimate Star Wars and Star Wars Visual Encyclopedia from DK Publishing, a featured writer for Star Wars Insider magazine with numerous articles on the Hero's Journey. Her FANgirl opinions can be heard on the podcasts Hyperspace Theories and Fangirls Going Rogue.

Tricia Barr's novel, Wynde, won the 2014 Independent Publisher Book Award Gold Medal for Best Science Fiction/Fantasy/Horror Ebook. She was also part of Silence in the Library's successful all-female creator science fiction and fantasy anthology Athena's Daughters, which is available now. For excerpts and tales of her adventures in creating a fictional universe, hop over to TriciaBarr.com.