Dave Filoni and Pablo Hidalgo Join RebelForce Radio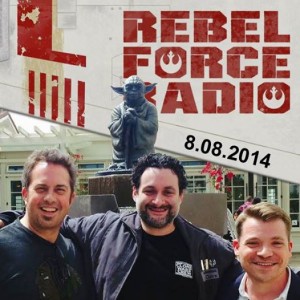 The latest episode of RebelForce Radio is a must-listen for Star Wars fans as the hosts take a trip to Rancho Obi-Wan. Star Wars Rebels executive producer Dave Filoni and Story Group's Pablo Hidalgo join the show for great conversations about the franchise's future. Some highlights from the episode:
Dave Filoni talks about how awesome Rancho Obi-Wan is, especially for its fan-made exclusives.
He acknowledges podcasts as a legitimate source of news and information, with major props to RebelForce Radio for their quality and production value.
He discusses the growing pains for creating a CG show like The Clone Wars and how Netflix has helped broaden its reach.
The Star Wars Rebels executive producer believes that if you tell stories right, Star Wars can be for kids and adults. Jason and Jimmy Mac were impressed with the footage they saw on Ezra.
Filoni mentions Kiri Hart, Head of Story, in talking about character development for Star Wars Rebels and creating a generational saga.
In discussing canon, Filoni feels like nothing has changed for him as a Star Wars storyteller, but that the greater pressure is now on the books and comics. He sat on the Del Rey panel at San Diego Comic-Con as a show of support for the publishing side of the franchise.
At the end of their interview, Jason and Jimmy Mac thank Filoni for engaging with the fandom as he creates Star Wars stories.
Later, Pablo Hidalgo joins the show to offer advice for hosting the Behind The Scenes stage at Celebration Anaheim.
Hidalgo also provides a neat perspective on revealing movie news back in the Prequel Trilogy era versus the rollout for the upcoming movies.
Jimmy Mac and Jason learn about Star Wars roleplaying games from Hidalgo. He clarifies it's not a game about winning but rather a way for fans to tell collaborative stories (fan fiction) in the galaxy far far away. Sounds like an introduction to RPGs might be a perfect panel topic for Celebration.
---
For updates on all things FANgirl follow @FANgirlcantina on Twitter or like FANgirl Zone on Facebook. At times she tries the Tumblr.

Tricia Barr took her understanding of brand management and marketing, mixed it with a love of genre storytelling, and added a dash of social media flare to create FANgirl Blog, where she discusses Star Wars, fandom, and the intersection of women within Star Wars fandom. She is co-author of Ultimate Star Wars and Star Wars Visual Encyclopedia from DK Publishing, a featured writer for Star Wars Insider magazine with numerous articles on the Hero's Journey. Her FANgirl opinions can be heard on the podcasts Hyperspace Theories and Fangirls Going Rogue.

Tricia Barr's novel, Wynde, won the 2014 Independent Publisher Book Award Gold Medal for Best Science Fiction/Fantasy/Horror Ebook. She was also part of Silence in the Library's successful all-female creator science fiction and fantasy anthology Athena's Daughters, which is available now. For excerpts and tales of her adventures in creating a fictional universe, hop over to TriciaBarr.com.