Harry Potter's Leading Ladies
Last week, shortly after Emma Watson was announced a Goodwill Ambassador, the United Nations server crashed from the response. From the announcement
UN Women, the United Nations organization dedicated to gender equality and the empowerment of women, today announced the appointment of British Actress, Emma Watson, as Goodwill Ambassador.

Best known for her role as Hermione Granger in the 'Harry Potter' film series, the accomplished actress, humanitarian, and recent graduate of Ivy League institution Brown University, will dedicate her efforts as UN Women Goodwill Ambassador towards the empowerment of young women and will serve as an advocate for UN Women's HeForShe campaign in promoting gender equality.

"We are thrilled and honoured to work with Emma, whom we believe embodies the values of UN Women," stated Phumzile Mlambo-Ngcuka, Under-Secretary-General and Executive Director, UN Women. "The engagement of young people is critical for the advancement of gender equality in the 21st century, and I am convinced that Emma's intellect and passion will enable UN Women's messages to reach the hearts and minds of young people globally," added Ms. Mlambo-Ngcuka.
"We apologize & hope to be back up soon," the UN entity tweeted.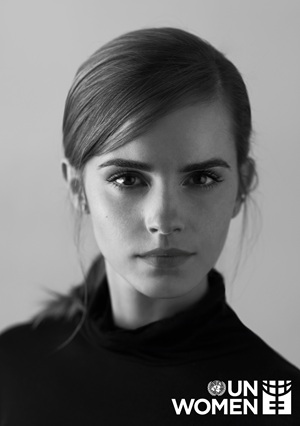 The same day as the UN announcement, Harry Potter creator J.K. Rowling released a new story and inspired comparisons to George Lucas in a Salon article. Also that day, fans poured into Diagon Alley at Universal Studios during its official opening.
While Salon suggests Rowling is leaning toward Lucas in her tendency to tinker, it seems Lucas' franchise Star Wars will need to aspire to become the next socially savvy fandom in the vein of Harry Potter, with its 78 million Facebook fans. Despite its place in pop culture, Star Wars lags behind at roughly 12 million. Over the past year, the StarWars.com team has been developing its social media capabilities. According to Pew Research Center, women outpace men in use of social media, and analytics make it much easier for a franchise's demographics to be assessed, compared to ten years ago when licensing decisions were made in a bubble of information. Marvel's outreach to women consumers happened because they recognized potential for growth. I suspect in the next few months we see more and more of these open-arms gestures.
At io9, Lauren Davis proposes Rowling should follow in Lucas's footsteps in another way: open up her franchise to more storytellers. In making her point, she cites how fresh voices can enhance the mythos and uses Dave Filoni's contributions to Star Wars as an example:
Sometimes, when new creators step into a universe, they create works that both critique and deepen the original creation. I look at Dave Filoni, whose Clone Wars TV series takes a hard look at the Star Wars universe, and the way that the various Star Wars video games, books, and comics have helped the franchise endure, not just as a story, but as a part of our cultural mythos.
About UN Women
UN Women is the UN organization dedicated to gender equality and the empowerment of women. A global champion for women and girls, UN Women was established to accelerate progress on meeting their needs worldwide. For more information, visit www.unwomen.org. UN Women, 220 East 42nd Street, New York, NY 10017, New York. Tel: +1 646 781-4400. Fax: +1 646 781-4496.
About UN Women's HeForShe Campaign
HeForShe is a solidarity movement which calls upon men and boys to stand up against the persisting inequalities faced by women and girls globally. The campaign strengthens the support for women's rights as human rights by enlisting the support of men and exhorting them to put themselves forward as advocates for gender equality. www.heforshe.org
---
For updates on all things FANgirl follow @FANgirlcantina on Twitter or like FANgirl Zone on Facebook. At times she tries the Tumblr.