Kay Reviews X-Men: Days of Future Past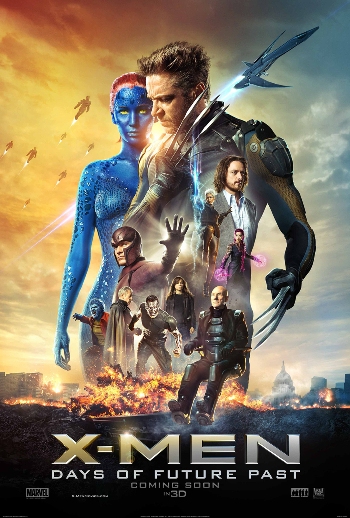 When I bought my ticket for X-Men: Days of Future Past, the guy at the counter asked if I was a big X-Men fan. When I replied that I am he told me that I would love this movie.
He was right.
Like Star Wars, X-Men is a fandom that's stayed with me from childhood. I couldn't tell you the names of the all comics I read or the episodes of the cartoon I watched, but I liked the characters because they weren't "normal" and that was okay (well it wasn't always okay but you know what I mean). So of course when the movies started coming out, I started watching them. By The Last Stand I was wavering. Then along came X-Men: First Class and my interest in the movies was revived.
And with this one? Well, I may have started crying a little towards the end because I was so happy to see what I was seeing. The movie is an intense ride with bunches of winks, nods, and salutes to deeper X-Men history for those who recognize them to enjoy without getting in the way of understanding the movie for those who don't.
Days of Future Past starts in the future. Giant, unstoppable robots called Sentinels are wiping out mutants, anyone who might become or produce a mutant, and anyone who has helped a mutant. A group of X-Men are caught in a complex, unsustainable game of hide and seek when Kitty Pride (Ellen Page) decides to try using her powers to send someone's consciousness back in time to stop the Sentinel program from advancing. Logan/Wolverine (Hugh Jackman) is chosen to go back to 1973 to get the help of a shattered and disillusioned Charles Xavier (James McAvoy) and the movie takes off from there.
Now the original comic book story sent Kitty Pride/Shadowcat back in time and I would have loved to see that honored here. It's obvious in the movie that we're only getting a glimpse of what Ellen Page could have done with the character. But as writer/producer Simon Kinberg mentioned in his Den of Geek interview Page isn't old enough in the future of the movie to be very useful in the '70s. Kinberg says she'd be -20, whereas in the comics she's around 13 in the past. Also the studio has invested their stock in Hugh Jackman. He's been in every X-Men movie. They've found he's appealing and recognizable. And the movie did a decent job explaining why it had to be Wolverine while keeping Kitty integral to the plot.
This leaves Jennifer Lawrence as Raven/Mystique to carry the screen time for the women – although as a shape-shifter about a third of the time she was actually appearing as a man. She's pivotal to the plot as well though as its ultimately her action that determines whether the future is changed. Mystique is a strong physical fighter and incredibly determined, but there's also a susceptibility to her as well. Lawrence plays her with a rebellious teenage mentality with only a fragment of awareness of the effect she's actually going to have on the world.
This is only a fraction of what's going on in Days of Future Past though. We haven't even arrived at the fact that Bolivar Trask (Peter Dinklage) may be an antagonist but he's also an anti-villain. A lot of characters are in play here and many are impactful. There are cheeky moments and humor (thank you, Quicksilver). There are deep messages and gravitas (hello, eight Oscar-nominees). There's actually so much going on in this movie it's borderline ridiculous. Lucky for us it stays just on the sane side of the border.
Is this a flawless movie? No. The climax leaves a lot of questions about what kind of future is created. I'm sure repeat viewings will further magnify a few quickly-glimpsed holes. And I can't decide if the Sentinels of the future are a slick design or if they're too much of a cross between the thing Loki sent to Earth in Thor and Michael Christian's Koilos sculpture. Regardless, they're nasty machines to have to fight and all the props to the X-Men who repeatedly tried to fight them.
As the credits rolled, it was without a doubt a fulfilling movie-watching experience. Days of Future Past was a great way to get the best of both worlds. Casting groups from the early X-Men movies as well as First Class got a chance to play. The series made some course-corrections while moving forward. And it ended, for me at least, in a happy place.
X-Men: Days of Future Past was part of my Top Ten Movies to See in 2014 aka Only Grand Captain Mockingjays of Future Tomorrow.
---
Kay grew up wanting to be an astronaut. After seeing Star Wars, she wanted to be Princess Leia, Han Solo, and an astronaut. Life's taken her on a bit of a different path for now, but she's still a Star Wars fangirl at heart who enjoys surprising people with how geeky she really is. A photographer and voice actor who also consults on communications and marketing, Kay spends any free time reading, learning, getting outside and, of course, making pew pew noises. You can follow her on Twitter.