Dooku: Jedi Lost Star Wars Audiobook Review
I've been away from audiobooks for so long and a new Star Wars story that's only available as an audiobook is definitely one way to bring me back. Dooku: Jedi Lost by Cavan Scott promises to shed light on this prequel trilogy era character's descent into the dark and that it does to a degree. It's a series of events that take us from Dooku's time as a padawan through and past his time with his two apprentices and on to closing the thread that strings all the events depicted in this story together. It's not quite an exhaustive history like the Jyn Erso book Rebel Rising, but it does cover a lot of ground.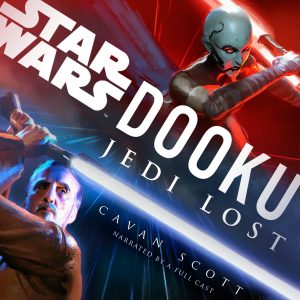 Honestly I've never wondered much about Dooku beyond a passing mild curiosity as to how he could have thought Palpatine would keep him around forever. Jedi Lost makes it abundantly clear the answer to that is his arrogance. From the get-go Dooku holds himself in high regard but when that's combined with a feeling of wanting to be the best but never being enough, it gets really dangerous.
His whole story in Jedi Lost is an uncomfortable one. The vignettes told here move along a larger story but when you're in the thick of it you really get the impression that Dooku just seems to move from one conflicting time in his life to the next.
Jedi Lost definitely has a Harry Potter/Hogwarts vibe during Dooku's time as a youngling and padawan. And if you needed more reasons to be disappointed in the Jedi Order in this era – this story will give you plenty. (That's not a knock on the story; it's a knock on the Order.) Their approach to prophecies, visions, how padawans are chosen, and how they treat the dark side are all here. It's a treasure trove for that kind of info. It is also a companion piece to the recently released novel Master and Apprentice with character appearances and a little bit more of indirect insight into why Dooku might have chosen at least one of his padawans.
The audiobook itself comes to life with a full voice cast, sound effects, and some familiar Star Wars music, which makes for a rich experience. Those who are familiar with the voices in The Clone Wars TV series or even just Sir Christopher Lee's timber from Attack of the Clones and Revenge of the Sith might require a little adjustment time. Out of all the pre-existing voiced characters Orlagh Cassidy hits the mark with a really great Asajj Ventress though. Ventress is a dynamic character in this and along with Cassidy's performance, I found myself wishing there was even more of her – even though she is significant and this story's title could be applied to her too.
There is no single narrator in Jedi Lost. Instead Scott's story hops around through various perspectives and uses various devices to explain actions with varying smoothness. Overall it's not bad but I feel like it did lend to the discombobulation I experienced from time to time trying to figure out which character was talking and remember who they were. The listing for the audiobook includes a cast list but there were definitely times I wished I had more reference material as to who everyone was. There were sections I would have re-read if it was a written book and there were a couple parts that made me a little drowsy.
Overall Dooku: Lost Jedi will take you on a trip. It's a believable journey albeit sometimes a frustrating one too with plenty of new info to dive into from that galaxy far, far away.
Dooku: Jedi Lost (Star Wars) is out today from Random House in audiobook format.
(And if the links on where to buy it aren't working there, check out this one.)
The publisher provided FANgirl with a copy of the book for review. As usual opinions are my own.
Find this review helpful? Say thanks and help power more books reviews by leaving a tip of a coffee on Ko-Fi.