Fangirls Going Rogue June 2014: Vanessa Marshall Flails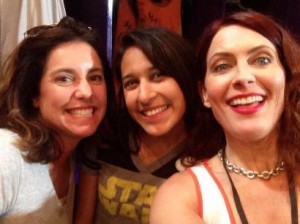 The title of this month's episode of Fangirls Going Rogue pretty much says it all: Vanessa Marshall and The Fangirls are B.F.F.s! Teresa and I interview the voice of Hera Syndulla, the Twi'lek pilot from Star Wars Rebels. We talk about Star Wars Weekends and connecting with fans. We both had a chance to meet Vanessa in person at Weekend One, and watched how engaged she was interacting with fans at her signings. Her passion for Star Wars, and her enthusiasm for the franchise as a fellow longtime fan, was infectious at the Behind the Force stage show, as well. And of course we made sure to include a fangirl flail in our conversation!
After our interview with Vanessa, Bethany Blanton from Star Wars Report joins us to break down the Sabine and Ezra clips from the Behind the Force shows at Weekends Two and Three, respectively. Bethany attended Weekend Two, dropping by for the RebelForce Radio meet-up and the group ride on Star Tours, so we had much to discuss. In addition, Teresa shares how much fun she had seeing "A Conversation With Mark Hamill" on Weekend Four.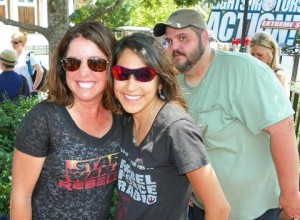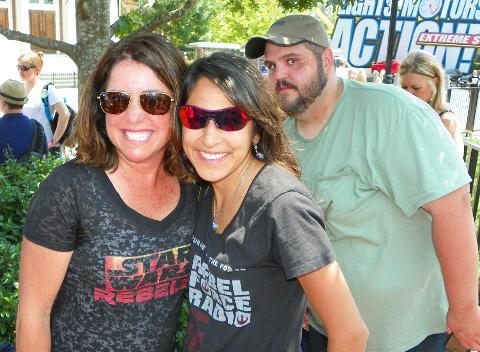 Be sure not to miss our Fangirl Chat with Bethany about Star Wars Weekends or the Star Wars Report episode recapping their adventure. The RebelForce Radio episode with Jimmy Mac's extensive report from Weekend Two's meet-up is a ton of fun to listen. See if you can catch the fangirl flail in the background about halfway through.
Star Wars Weekends wasn't our only topic of discussion this month, though. Shortly before we recorded came the news of the casting of Lupita Nyong'o and Gwendoline Christie in Episode VII. We express our excitement about the addition of two talented, high-profile actresses to the cast, and also share our perspectives about how fans engage with Episode VII speculation and spoilers. Here's the FANgirl Ridley Roundup with video of stunt actress Chloe Bruce, in case you want to see what got Tricia so excited.
Finally, this month's character discussion features the Jedi Order. Is the Jedi Order a character unto itself within the franchise? Tune into the episode to find out.
Special thanks to Tracy Cannobbio at Lucasfilm.
---
Below are the many ways to provide feedback to the show:
Twitter: Fangirls Going Rogue: @FGGoingRogue Tricia: @fangirlcantina Teresa: @icecoldpenguin
Email: fangirlsgoingrogue@gmail.com
Facebook: search for Fangirls Going Rogue
Tumblr: fangirlsgoingrogue.tumblr.com
Instagram: @FGGoingRogue
Voicemail: 331-21 Ewoks or 331-213-9657
Please go like RebelForce Radio on iTunes and leave a positive review, and in your review mention how much you like Fangirls Going Rogue.
Until next month – Yub Yub!

Tricia Barr took her understanding of brand management and marketing, mixed it with a love of genre storytelling, and added a dash of social media flare to create FANgirl Blog, where she discusses Star Wars, fandom, and the intersection of women within Star Wars fandom. She is co-author of Ultimate Star Wars and Star Wars Visual Encyclopedia from DK Publishing, a featured writer for Star Wars Insider magazine with numerous articles on the Hero's Journey. Her FANgirl opinions can be heard on the podcasts Hyperspace Theories and Fangirls Going Rogue.

Tricia Barr's novel, Wynde, won the 2014 Independent Publisher Book Award Gold Medal for Best Science Fiction/Fantasy/Horror Ebook. She was also part of Silence in the Library's successful all-female creator science fiction and fantasy anthology Athena's Daughters, which is available now. For excerpts and tales of her adventures in creating a fictional universe, hop over to TriciaBarr.com.