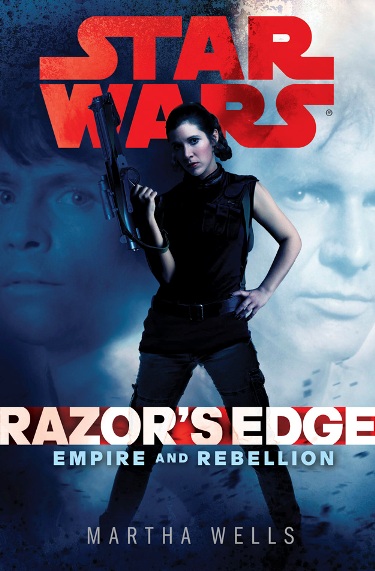 Have you picked up your copy of Star Wars: Empire and Rebellion: Razor's Edge yet?
Times are desperate for the Rebel Alliance. Harassment by the Empire and a shortage of vital supplies are hindering completion of a new secret base on the ice planet Hoth. So when Mid Rim merchants offer much-needed materials for sale, Princess Leia Organa and Han Solo lead an Alliance delegation to negotiate a deal.
But when treachery forces the rebel ship to flee into territory controlled by pirates, Leia makes a shocking discovery: the fierce marauders come from Leia's homeworld of Alderaan, recently destroyed by the Death Star. These refugees have turned to pillaging and plundering to survive—and they are in debt to a pirate armada, which will gladly ransom the princess to the vengeful Empire . . . if they find out her true identity.
Struggling with intense feelings of guilt, loyalty, and betrayal, Leia is determined to help her wayward kinspeople, even as Imperial forces are closing in on her own crippled ship. Trapped between lethal cutthroats and brutal oppressors, Leia and Han, along with Luke, Chewbacca, and a battle-ready crew, must defy death—or embrace it—to keep the rebellion alive.
A new excerpt is available on io9, featuring some of the fabulous Han-Leia banter from the novel. Entertainment Weekly released a video trailer along with an audio excerpt read by actress Catherine Taber, who voiced Padmé Amidala in The Clone Wars and Leia in The Force Unleashed videogames and the perpetually on-hold Detours, and produced my JimmyMac of RebelForce Radio.
At the Star Wars Blog I shared my thoughts on why Martha Wells' characterization of Leia works for me. As always it's a pretty big thrill to get a piece posted on the official site. The same day, the Star Wars.com Team posted their Top Ten starfighters. You know what was Number One, right?
X-wings do rule, but I'm holding out hope one day to see an updated release with clawcraft on it. Here's a screencap of the StarWars.com page from Tuesday night. Between Agents of SHIELD and spotting this, I was semi-speechless for the better part of a day.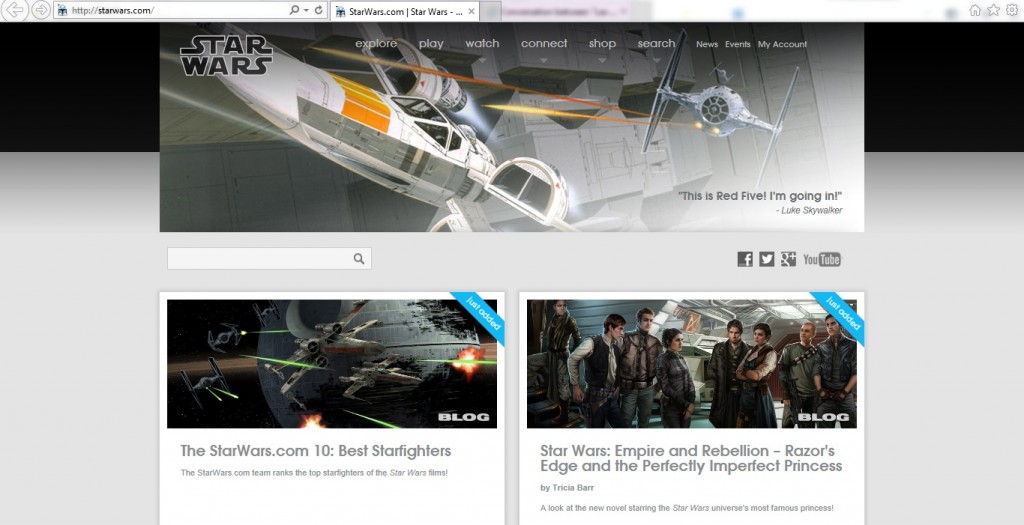 ---
For updates on all things FANgirl follow @FANgirlcantina on Twitter or like FANgirl Zone on Facebook. At times she tries the Tumblr.

Tricia Barr took her understanding of brand management and marketing, mixed it with a love of genre storytelling, and added a dash of social media flare to create FANgirl Blog, where she discusses Star Wars, fandom, and the intersection of women within Star Wars fandom. She is co-author of Ultimate Star Wars and Star Wars Visual Encyclopedia from DK Publishing, a featured writer for Star Wars Insider magazine with numerous articles on the Hero's Journey. Her FANgirl opinions can be heard on the podcasts Hyperspace Theories and Fangirls Going Rogue.

Tricia Barr's novel, Wynde, won the 2014 Independent Publisher Book Award Gold Medal for Best Science Fiction/Fantasy/Horror Ebook. She was also part of Silence in the Library's successful all-female creator science fiction and fantasy anthology Athena's Daughters, which is available now. For excerpts and tales of her adventures in creating a fictional universe, hop over to TriciaBarr.com.