Target Is Poised to Bring Their Rey Game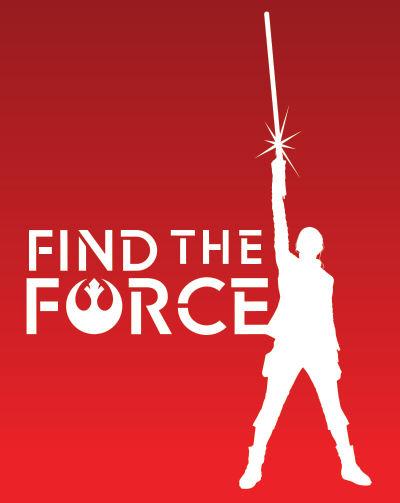 After the first Force Friday left many Star Wars fans asking "Where's Rey?" (see here, here, and here for examples from this site) hope still prevailed that the next time around there would not only be more merchandise options but that it would be plenty of it to go around as well.
Force Friday II marks the start of the merchandising affiliated with the next saga film, Star Wars: The Last Jedi. And Target, one of the retailers participating in the event, has released a video to inspire fans in preparation. In it, women and girls – some dressed as Rey and some not – strike resolute poses, prepare to do martial arts and gymnastics, twirl a staff, flip through the air, skateboard, fly in a barrel-rolling plane, and wield a lightsaber. There's even use of a profile of Rey in solid red as a sort of logo for the event. The icing on top from Target and their agency, Deutsch L.A., is the tagline "Bring your Rey game." It's inspiring, exciting, and a solid reminder of how Rey has struck a chord with women – including the one writing this article.
After seeing it, I immediately went to Twitter to share it – knowing many friends there would be happy to see it. What followed was 48 hours (and still going as of writing this) of notifications as people shared their excitement. I was sent photos of a little girl in a Rey costume, got word from a father who showed it to his daughters who immediately demanded to watch it again, and saw many many people admit the ad made them teary-eyed. There was even at least one instance of someone saying that they hadn't planned on going to Force Friday at Target but they were now. All in all, it's been pretty great to witness.
OH MY GOODNESS THE @Target REY-CENTRIC FORCE FRIDAY AD #bringyourreygame pic.twitter.com/RzVKwYTjMO

— Kay ???? (@Geek_Kay) August 25, 2017
As someone who started gathering materials for her first Rey costume in late 2014, I've spent over two and half years now talking to people of all different ages, ethnicities, and genders about this character. So I've known and I know many other fans have known of her widespread appeal for some time now. It's fantastic to see the retail end on board too.
Merchandise being in-line with the messaging the movies send out, not only enhances the overall story being told but allows for tangible, everyday interaction with it. Tricia, the founder of this site, is fond of the phrase "If you can see it, you can be it." Usually Star Wars merchandise prominently features helmeted characters, who are often the villains, at least in part because it's easier to render that on various packaging and signage with consistency and immediate recognition than a human face. So having an outline of Rey be a symbol for Force Friday as well as the packaging that'll feature the faces of Rey, Finn, and Poe, it'll be easier than ever to identify with our latest generation of heroes.
Olympians, astronauts, female presidents. Who grew up wanting to be Rey. #BringYourReyGame is no joke.

— Eleven-ThirtyEight (@eleventhirtyate) August 27, 2017
We'll still be keeping an eye out to see if Rey does in fact become more accessible in the merchandising but for now, this is a really good start. #HeresRey

She grew up wanting to be an astronaut. After seeing Star Wars, she wanted to be Princess Leia, Han Solo, and an astronaut. Life's taken her on a bit of a different path, but she's okay with that.

Kay is FANgirl's resident geek fashion expert and co-host of the Hyperspace Theories podcast. She reviews books and movies for the site with a heart for storytelling and a mind that likes to analyze. Kay's been a guest on various podcasts sharing her love and knowledge of storytelling, film-making, fashion, and of course, Star Wars.

Most days are filled with her work as a creative services professional - designing websites & branding, photographing, voice acting, editing, and more. Kay spends the little bit of free time she has reading, costuming, and, of course, making pew pew noises. She would pick up more jobs and hobbies if she was a Time Lord.