Fangirls Around the Web: October 2, 2013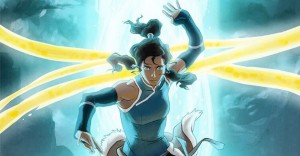 Plenty of fangirl and heroine spottings around the web the past couple of weeks. Here's what we found:
The Future Audience for Genre Stories
Libby Copeland wrote an article at Slate which tackles the current mindset that boys won't watch girls shows. Apparently Disney's Doc McStuffins and Sofia the First and Nickelodeon's The Legend of Korra and Dora the Explorer are engaging boys and girls.
Superheroines
ComicBook.com reports that Gail Simone's Women in Refrigerators made Mental Floss's Internet Power List.
Comics Alliance reports Lynda Carter wants woman to write Wonder Woman movie.
Natalie Portman teamed with Marvel to announce the search for the next "Jane Foster." For that she earns real life superhero status. (via Geek Mom)
Natalie Portman, in addition to being an Oscar-winning actress, graduated from Harvard and often professes her love of science. In Thor and the upcoming Thor: The Dark World, Portman portrays astrophysicist Jane Foster, and Portman and Marvel recently announced the search for the "next Jane Foster" with the Ultimate Mentor Adventure.

Marvel is looking for girls in grades 9-12 (age 14 and up) to talk to women in science, technology, engineering, and mathematics about their careers and how others can study and work in those fields. High school girls participating in the challenge will be given a map of mentors in their area, along with contact and interview tips to get the conversation started. Once they've learned about their chosen field, entrants will create a five minute, unedited video about themselves and what they've discovered.
Charlie Jane Anders shares 8 Ways to Make a Movie About a Female Superhero Happen.
2) Take some liberties with an existing comic book character

Wonder Woman's origin story either involves Nazis, or the Amazons deciding to pick their best warrior and send her as an ambassador of peace and love. But Marvel has shown that decades-old heroes usually need a tweak to their origins to make it onto the big screen. Look at what Marvel did with Iron Man and Thor, both of whom make a fatal error in their origin movies that isn't quite in the comics, as such. But one key lesson to learn from Marvel: Don't make heroes more generic, make them more unique. When Marvel changes a hero's origin story, it's usually to create something more distinctive that works with that particular hero's world. Changing characters to make them more like every other heroic character is the kiss of death.
Dunc at ClubJade reports Marvel is developing Agent Carter for television.
Check out the new posters of Lady Sif and Jane from Thor: The Dark World at Superhero Hype.
Fairy Tales
/Film has a First Look: Lily James As Kenneth Branagh's 'Cinderella', which has begun filming.
The trailer for Disney's Frozen, starring Kristen Bell, is here. Instead of global warning, there is global cooling and quite a bit of humor.
In The Big Leagues Now!
Congrats to Charlie Jane Anders, Deadline reports her short story has been picked up for development into a procedural on NBC. Anders's list of Successful Action Movies Starring Women was one of my favorite posts over at io9 the past few weeks and should be taped to the front doors of a few production studios.
Movers and Shakers In The Entertainment Business
The title of Bustle's article speaks for itself: Friday Night Lights Producers Are Bringing You a Female Buddy Cop Show – Start Getting Excited. Deadline shares that Nicole Kidman may replace Naomi Bell in Queen of the Desert and also reports that Warner Brothers is teaming with J.K. Rowling for new movies inspired by the Harry Potter universe. Deadline confirmed its earlier report that Julianne Moore will play President Coin in Mockingjay.
Michelle Rodriguez speaks her mind in the latest issue of Entertainment Weekly. (I love what she's brought to her characters that she inspired a character in my novel Wynde.)
"Female empowerment became my torch to bear," she says. "I won't ever bend on what I believe in. I don't care who you are — you can be the best director on the planet. If you don't get what I do, what I'm good at, I will not bend for you." She tosses her hair back, taps her fingers along the table. "People don't understand how important symbolism is. Seeing an image up on that screen can make a difference to somebody. It can make a difference."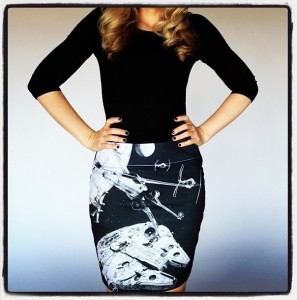 Year of the Fangirl
Ashley Eckstein shared a photo of a new Millennium Falcon dress from Her Universe. Don't miss the latest Ask Ellen column. The latest additions to the Fangirls of the Day are: Anastasia, Tori, Diane, Kim, Julie, Elizabeth, Crystal, Joella, Claire, Brittney, Lisa, Julie, Andrea, Autumn, Jana, Berlin, Ingrid, Annisse, Elizabeth, Liza, Connor, Briann, Sylvia, Lauren, Stacey, Jennifer, and Rin. And what is this I've spotted here? A pink lightsaber in the picture of Fangirl of the Day Berlin.
At White Hot Room, Bria shares great pictures of her Winter Celchu costume. Victoria has a great picture of her engagement ring.
And just so everyone has a chance to tell their side of the story, the cosplayers portrayed as the villains in the season finale of Heroes of Cosplay tell their side of the story on Tumblr.
Women In Publication
Author Rainbow Rowell, whose new novel Fangirl was just published, wrote a blog post at Tor.com titled "Geeking Out in a Vacuum: Life Before Fandom."
Suvudu interviews Shelly Shapiro, Del Rey's editor-at-large for Star Wars books.
The ForceCast chats with Jennifer Heddle, senior editor at LucasBooks.
Jaime Murray of Defiance Wins The Awesome Award.
Rachael Berkey at Hello Giggles interviews the Defiance actress' Jaime Murray.
I was a really good girl.

Maybe that's why it was sort of good for me to play so many bad characters because I was really high achieving Little Miss Perfectionist, and I just wanted to please my mom and dad. I went to a convent school, and I had my sex education from nuns, and I used to have to go to bed at 9 pm at night. I grew up in quite a structured environment, and I really love my parents, but I think it was very liberating for me when I left home to study philosophy and psychology. Leaving home and making that break, I suddenly realized I wasn't just a daughter. As much as I would do anything to make them happy, I couldn't spend my whole life trying to make them happy and wake up at 45 or 50 or whatever age it is when you look back on your life and realize that it wasn't really your life that you lived. You were living the life to please others, and I think that this is quite a female issue in some ways.

I think that young boys experience it as well, to be fair, but I think that the curse of being lovely and being a people-pleaser is quite a female trait in many ways. I think that you don't have to be a bitch, but you do have to kind take something back at some point and be an individual and realize that this is your life and you gotta live it. You have to make mistakes and you have to fail, and it's better to fail spectacularly at something you love doing than never try and then regret the fact that you don't know what would have happened.

So I realized that. I still read psychology books now. I think it was as close as I could get to acting without acting. It was the academic version for me – psychology and philosophy. I love history and art and English as well, which are all very closely connected. But I think that I really did have a yearning to be an actress, and I think that leaving home and going to LSE and having that little bit of space made me realize that I needed to be a grown up and make my own choices.
---
Tricia Barr took her understanding of brand management and marketing, mixed it with a love of genre storytelling, and added a dash of social media flare to create FANgirl Blog, where she discusses Star Wars, fandom, and strong female characters. She also writes about Star Wars for Random House's science fiction and fantasy blog Suvudu.com and Star Wars Insider magazine and is a contributor for Her Universe's Year of the Fangirl.
Tricia is putting the finishing touches on her first novel, Wynde – a military science fiction with a fantastical twist that features heroines Vespa and Gemini. For excerpts and tales of her adventures in creating a fictional universe, hop over to TriciaBarr.com.
For updates on all things FANgirl follow @FANgirlcantina on Twitter or like FANgirl Zone on Facebook. At times she tries the Tumblr.