Fangirls Around the Web: September 11, 2013
Life got you stressed? We've all been there, right? Amy Ratcliffe uses geek mantras to calm down. When I hit panic mode, it's usually "What would Leia do?" What's your geeky mantra?
You might need that mantra after reading these…
John Scalzi kicked off the last week in August by calling out The Dudebro Who Thinks He's Insulting Me by Calling Me a Feminist and George Takei followed suit with this viral Tumblr post that reminds geek guys that it's never wise to ass-u-me too much.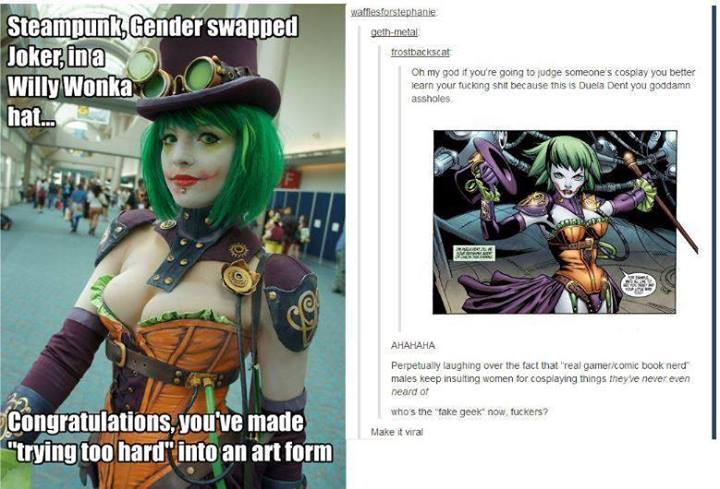 According to the New York Times, former President Jimmy Carter is shopping around a book proposal on the unequal global treatment of women.
"I am convinced that discrimination against women and girls is one of the world's most serious, all-pervasive and largely ignored violations of basic human rights," Mr. Carter, 88, wrote in the proposal, adding: "It is disturbing to realize that women are treated most equally in some countries that are atheistic or where governments are strictly separated from religion."
Armanda Marcotte debunks some myths in her piece, "Washington Post This Weekend: Teenage Girls Are Asking to Be Raped." Please note the pattern here of shaming women, and it's not just men who do it.
Science Fiction writer Madeline Ashby wrote a spectacular column on the Fake Geek Girl myth, explaining the underlying sentiments that still affect women as consumers. The whole piece is worth a read, and she doesn't mince words. You've been warned.
YA is what Clayton Christensen would call a "disruptive innovation," a product that addresses the needs of a neglected customer segment not being served by the dominant incumbents in power. That some of the fiction isn't terribly innovative doesn't matter. What was innovative was treating teens like the serious market demographic that they are: a tightly-connected, actively social group in possession of disposable income who want books about the characters that nervous agents and major publishers won't touch, like queer characters, non-white characters, and girls. This is what happens when a generation grows up reading fanfiction written by their friends about characters developed in other countries, like Japan and Korea, and not books with shitty T&A covers about women who get wet when their fathers give them vaginal exams. They start going to anime cons, or gaming cons, or media cons. They go to DragonCon and PAX and FanExpo and AnimeExpo and Comic Con. Not because those cons are "less literary," but because those cons are gatherings of communities who share enthusiasm about the characters and worlds they actually give a shit about.
Superheroines
Our first superheroine is as real as they get. Hollywood, make her movie. *puts my money on the table* Malala Yousafzai, the Pakistani teen shot by the Taliban for going to school, opened a library in Birmingham with these words (via The Independent):
"Pens and books are the weapons that defeat terrorism. I truly believe the only way we can create global peace is through educating not only our minds, but our hearts and our souls."
Hollywood.com listed the six superheroines who deserve their own movies. So we wonder what female superheroine you would like to see headlining a movie? Apparently speculation of Katee Sackhoff in a Captain Marvel feature was premature – there's still "a lot of checking of availability for the first quarter of next year." But there is at least one other superhero tale slated for production that time of year for the Mouse House… (via MTV, Comic Book Movie, Schmoes Know)
Natalie Portman is making the interview rounds in advance of Thor: The Dark World. Natalie talked about why she enjoys science fiction/fantasy as a medium, her role models in the industry and blowing her chance to be a superhero. (via Static Media)
Will you be part of the next Star Wars project?

No. I died.

But you never know. As a ghost…

I know. That's true. No one has asked me about those either, but I am really excited about them. But I would be open to it. (laughs)
With the possibility that Ellen Page will play Queen and Country's Tara Chace, Atlantic Wire discusses the rationale that keeps a female comic book character out of the running to lead a movie, and wonders why the logic doesn't apply to Ant-Man. (Thanks to Kay for passing along the link.)
Toys
Spotted at The Mary Sue, Professor C. Bodin, who is the first female minifigure scientist. "[S]he's responsible for breakthroughs that allow the swapping of body parts from one Lego person to another, allowing minifigs everywhere to experience various forms of locomotion." Toys News reports that after meeting with Let Toys Be Toys, the UK division of Toys R Us is dropping gender labels for toys.
DragonCon and Star Wars
Amy Ratcliffe went to the annual Atlanta fan-run convention for the first time and shared her experience over at Geek With Curves. She contributed a second post about the great cosplay she spotted there on the Star Wars Blog in her column Fully Operational Fandom. Also at the Star Wars Blog, Holly Frey showcased parade details from the convention. It looks like a blast!
Johnamarie at The Wookiee Gunner put her detective hat on. Using clues from the Rebels pin given away at Celebration Europe II, she uncovered a couple of backdated posts at the Star Wars Blog.
Do you read Club Jade's weekly tweet roundup? Well, you should. It will make you laugh.
Women Who Write
Zadie Smith's 10 Rules of Writing is a must read for any one with the fiction bug. My favorite is #3 – "Don't romanticise your 'vocation'. You can either write good sentences or you can't. There is no 'writer's lifestyle'. All that matters is what you leave on the page."
Finally, we lost a special member of the science fiction fantasy community last week when Ann Crispin passed away. Known best for her tie-in novels for franchises like Star Wars and Star Trek, Charlie Jane Anders reminded us all that Ann Crispin really was a real-life hero:
You couldn't really be an aspiring writer of science fiction or fantasy and not be aware of the amazing work Ann Crispin was doing on your behalf. For years now, she and Victoria Strauss have been fighting the good fight against scammers, predatory operators and slimy agents who tried to violate the maxim that the money always flows to the writer.

And even if you weren't aware of their efforts, you benefited from them — even if you only read books and have no desire to write them, your reading material is better because authors were being treated fairly. Crispin also served as Vice President of SFWA, where she likewise went to bat for authors' rights on many occasions.
---
For updates on all things FANgirl follow @FANgirlcantina on Twitter or like FANgirl Zone on Facebook. At times she tries the Tumblr.