REVIEW: Draw Star Wars: The Clone Wars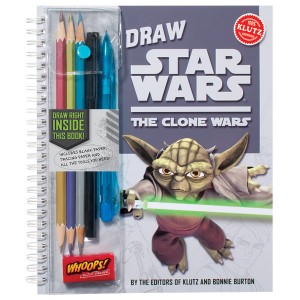 Guest review by Skylar
[FANgirl Note: Skylar, our intrepid junior contributor, is back with book reviews. Linda follows up with Mom input.]
First of all, thank you to Dan Letchworth at Klutz for sending me this book, Draw Star Wars: The Clone Wars, to review!
It was a bit harder than I expected, but still fun. It included many Clone Wars characters, like droidekas and Viceroy Nute Gunray. I enjoyed drawing my favorite character, Ahsoka Tano. I traced characters on special tracing paper that is attached to the book so you can trace right over the picture of the character. That was the easiest part.
The book teaches you to free-hand draw the characters is a good way. First, start with a stick figure, then shapes, followed by basic forms, then lastly the fine details. Most of my initial Star Wars drawings end up looking like a random person holding a L-shaped thing-a-ma-jig, but my Padmé turned out really well using this method! I wish, though, they had explained some concepts, like overlines, better. I struggled with that.
Like most Klutz books, this book comes with its own supplies: colored pencils, a pencil, an eraser, and a black marker to go over your work. The pencil didn't work that well, so I would recommend using a different one. I switched to a pencil from my art class. I wish the supplies included a pencil sharpener.
Overall, this book is not bad. Although the age recommendation is 8+, I would recommend this book for slightly older kids, as I'm eleven and found it hard. I didn't enjoy this book as much as other books, but I learned some very helpful skills from it.
Rating: 5 out of 10
Mom Notes: Overall, I enjoy the Klutz books as gifts and entertainment for Skye because they give me a chance to do projects with her. It's even more of a bonus when it includes Star Wars. This book was a harder than some of the others, even for an artistically inclined kid. Some of the characters I also found challenging. This book requires some patience to master the drawings.
---
Linda has been a Star Wars fan from the time she saw Episode IV in the theatre with her parents and insisted on being Han Solo while playing with the neighborhood kids. She's now a fangirl who splits her time learning to twirl a bo staff like Ray Park, jumping horses, writing fanfic she dreams up on her commute to work, and spending time with her husband and their own feisty Padawan version of Ahsoka. She can be reached at Linda.HansenRaj@gmail.com and on Twitter.