Fangirls Around the Web 2013 San Diego Comic-Con Edition: Part Two – Marvel vs DC
In the first part of our Fangirls Around the Web 2013 San Diego Comic-Con Edition I covered all things Star Wars. Today I'll review the convention news from the Big Two of the comics industry: DC and Marvel. Their upcoming plans bear out how Hollywood is reacting to the changes in fandom.
The yearly mecca for geeks wouldn't be complete without the superhero movie square-off. Earlier this week, I discussed The Hollywood Reporter's Winner and Losers wrap-up of SDCC 2013, with the DC heroes Batman and Superman taking the top winning position and the DC heroines, particularly Wonder Woman, coming in at the top losing position. Marvel falls behind the George Clooney and Sandra Bullock space drama Gravity for the third winning spot.
At this stage, Marvel can do no wrong. The company could stage a reading of the Magna Carta and it would still be crowned king of Con. It gave fans quite a show, and it also gave them plenty to chew on, even as the company kept to its corporate mantra of keeping as many secrets as possible. Best example? Marvel made fans forget the rumors of Vin Diesel's impending casting for a mystery role by showing footage from the just-began-production Guardians of the Galaxy and revealed the title and villain of the sequel to The Avengers. Having Tom Hiddleston on site as Loki didn't hurt either.
While DC might have won the fanboy heart attack moment – although I thought there were arguably more hearts a-Twitter during the Marvel movie panel than during the DC movie panel – the skeptics for DC's long-term success emerged pretty quickly. Even THR seems to imply that while DC won the con, they might be on their way to losing the war of comics franchise supremacy. The criticism of DC's plan, though, started well before San Diego.
Last month, io9's Rob Bricken was asked if "DC has a Chris Nolan problem?" He writes, "But — in my opinion — what they fail to realize is that Nolan's "vision" only works for Batman. Nolan likes gritty, realistic films, even if they have fantastic elements in them, like The Prestige and Inception. This works well for the non-superpowered Batman, who is the most realistic character of the DC universe, but it's a disaster for everybody else." At the same site, Charlie Jane Anders covered the "Zack Snyder problem" with "capturing real emotions" and "female characters, because his love for pulp imagery leads him to explore women as fetish objects." Recently I've discussed my problems with Man of Steel as a superhero movie and its failure to create a true strong female heroine in Lois Lane. Her penis-measuring in Act One gives way to a stripping of all her of all agency in Act Two, which leads to Lois becoming nothing more than a plot device in Act Three.
Even fans of Man of Steel like Matt Patches of Film.com are concerned that the box office glaze fooled DC into a short-sighted move that will tarnish their most valuable assets: their characters.
Warner Bros. wants to bring characters we know and love to the big screen in epic fashion. Instead, their plans make it seem as though they're opting out of bringing any "character" into the equation. That's a problem — the possibilities of who Superman and Batman can punch are more limited than the obstacles of their own lives.
Scott Mendelson at Forbes calls Batman DC's crutch. He says the movie news shows Warner Brothers' "lack of confidence in creating workable franchises out of their big properties." "Both in the live-action venue and in the animated world," Mendelson says, "they are seemingly unwilling to truly explore the DC universe beyond variations on Batman, Superman, and/or Justice League adventures focusing on Batman or occasionally Superman."
In a THR interview prior to the con, DC Entertainment's president Diane Nelson said:
Our job has to be, let's have great success with Batman, Superman, Wonder Woman, Flash and Aquaman but then build on that to expand the universe for the broad populace.
According to THR's sources, the movie plans for the DC Universe look like this: Superman/Batman in 2015, a Flash movie in 2016, and Justice League in 2017. If you're looking for Justice League action between now and then, the LEGO Movie was announced at SDCC, slated for next year. Cobie Smulders – who plays agent Maria Hill in Marvel's The Avengers and the pilot episode of Agents of S.H.I.E.L.D. – will be voicing Wonder Woman.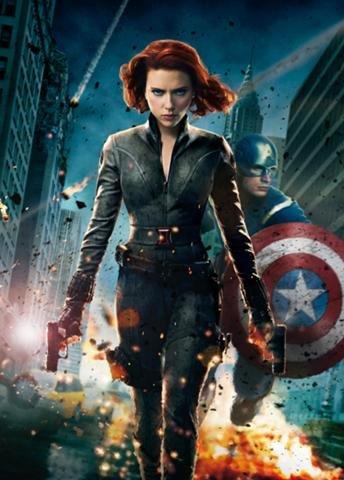 The Marvel news, by contrast, paints an entirely different picture of their plans for the franchise and the fandom. This is especially interesting because Marvel's actions potentially shed light on how Star Wars, also owned by Disney, might be handled going forward. At the recent Licensing Expo in Las Vegas, Disney called Marvel's Avengers their "mega boys franchise." Star Wars is generally thought of as a boys' franchise in the broader public consciousness, yet in the same statement from the Licensing Expo, Disney had the following to say: "This outstanding line of content presents stellar licensing opportunities and deepens Disney's portfolio across consumer segments, particularly with boys and collectors, but also opens up the Star Wars world to new fans." With Marvel considered the mega-boys audience and Star Wars opening up to new fans, some likely conclusions can be drawn from Marvel's approach to the female fans at San Diego Comic-Con.
Continuing the trend from the last couple of years, Marvel's approach to female fans juxtaposes DC's with panels like the Women of Marvel and tweets from Marvel Entertainment aimed at women creators. In advance of San Diego Comic-Con Marvel unveiled their new web series Earth's Mightiest Show. The show is hosted by former G4TV's Attack of the Show contributor Blair Butler, a young woman who has plenty of comics geek cred.
At io9, Charlie Jane Anders' early recap of the "glorious madness" of the Marvel main movie panel was one of my favorites. A full video of the panel is now available at /Film.
After the success of Black Widow in The Avengers, she will be a central character in Captain America: The Winter Soldier, which also introduces Emily VanCamp (ABC's Revenge) as Agent 13/Sharon Carter. VanCamp talked geeking out with MovieFone and Scarlett Johansson discussed the female characters in Marvel's universe with Movie Viral.
The Marvel universe has such strong female characters. How does it feel to represent that presence in superhero movies?

Johansson: Well, most superheroine films are simply not really good. They're just not well made. They fall back on this hair-flipping, posey, hands-on-hips thing. We do a little bit of that, of course, because it's important that it looks good, but I've really had a great opportunity. Joss really set the bar in The Avengers to really celebrate these female characters that are usually bookends or ornaments in the film, to sell the sex appeal. He was such a pioneer in really flushing out these characters, starting with Black Widow, and really making her a character that could get punched in the face and could deliver the blow, and was an intelligent, complex, really strong female character for this series. It's been a real pleasure for me to play those multi-layers and to really be able to act, and not just pose. Our characters have some real storylines here. We're not just the romantic interest, and thank god for that. It makes our jobs interesting, and interesting to watch, too.
During the Marvel panel, Chris Evans and Johansson discussed the working relationship between their characters, who approach life from different senses of morality. Remarkably, that dynamic might sound familiar to Star Wars fans, where that chord has been played successfully with Han and Leia in the movies, Luke and Mara in the early Expanded Universe, and later for Jaina and Jag.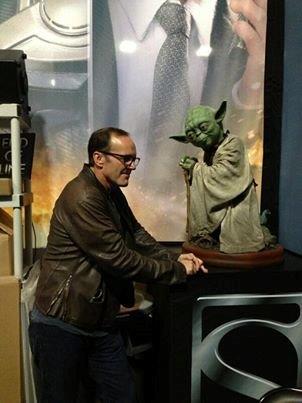 If you want space opera, Marvel has that, too. In the middle of shooting, the Guardians of the Galaxy cast was flown from London to the convention, and fans were even treated to footage, which io9's Anders calls "Star Wars on crack." If you want to enjoy the panel mayhem for yourself, you can find it here. The screening suggests Star Wars fans reasonably might have the same expectations of viewing pleasure, with a healthy dose of misdirection. Both Star Trek Into Darkness and The Clone Wars have used altered footage to keep fans chasing their tails on spoilers. Just yesterday, Variety announced Glenn Close is joining the cast as Nova Prime, joining science fiction regulars Zoe Saldana (Star Trek, Avatar) as Gamora and Karen Gillan (Dr. Who) as Nebula. Gillan probably made the boldest statement at the Marvel panel when she unveiled her shaved head.
On the television front, the Agents of S.H.I.E.L.D. pilot was screened, with Agent Maria Hill opening the episode. If you want more of the standout ladies from the Captain America movies, a Peggy Carter short will be included in the Iron Man 3 Blu-ray release.
Age of Ultron director and Marvel story consultant Joss Whedon is known for his strong, relatable female characters. Obviously, Whedon's credentials have helped Marvel immensely. He made the rounds at the convention and talked to multiple outlets about storytelling and creating strong female characters of all types. Without a doubt The Avengers' success can be linked to its ability to draw in the female fans to the box office. When asked by io9's Annalee Newitz about his own Buffy the Vampire Slayer comics from Dark Horse, Whedon said, "You always want to write for everybody — I don't want to exclude anybody from the party."
Unlike DC, Marvel is embracing an audience outside their typical comic-book-centric fanbase.  Marvel's parent company Disney has to be pleased with the franchise's success. It's hard to say whether the willingness to write for everybody is more from Whedon's influence, Disney's, or perhaps a synergist combination of the two. With that said, if Marvel is the mega-boys franchise, that bodes well for Star Wars, the franchise Disney has already stated is aimed "across consumer segments."
One of the biggest questions about the upcoming Star Wars movies revolves around how the Expanded Universe will be incorporated into the new storytelling framework. Last week I noted the increased exposure of female characters, particularly Mara Jade and Jaina Solo, prior to and during San Diego Comic-Con. In its coverage of the convention, Blastr reported on what fans should expect from Ultron's origins in the Avengers sequel.
At Saturday's epic Marvel Studios Comic-Con panel, Whedon revealed little more than the title of his sequel to The Avengers, and when it was announced that the flick would be called Avengers: Age of Ultron, fans immediately started speculating that a few things were almost guaranteed to happen. First, it was speculated that the film would, at least in some way, be adapted from the 2013 Marvel Comics event Age of Ultron, the story of a handful of battered heroes making a last-ditch effort to overthrow Ultron after he's already taken over Earth. Both Whedon and Marvel Studios head Kevin Feige have now dismissed that, clarifying that though the title is the same, the film will be a story all its own.
This parallels a previous statement from J.J. Abrams, in which he explained that Episode VII would be "honoring but not revering what came before." The announcement of the character Ultron's inclusion in the next Avengers movie generated excitement from the existing fanbase, but the film will not approach the character with a sense of reverence that will prevent the storytellers from creating something new and exciting for the fans. It is likely we will see a similar approach from Star Wars.
Up next on Fangirls Around the Web SDCC 2013 Edition: Part Three, I'll spotlight new heroines to come in the movies and television plus fangirls who made a statement this year from the convention.
---
Tricia Barr took her understanding of brand management and marketing, mixed it with a love of genre storytelling, and added a dash of social media flare to create FANgirl Blog, where she discusses Star Wars, fandom, and strong female characters. She also writes about Star Wars for Random House's science fiction and fantasy blog Suvudu.com and Star Wars Insider magazine and is a contributor for Her Universe's Year of the Fangirl. She has recently joined Beyond the Screens podcast as a regular contributor.
Tricia is putting the finishing touches on her first novel, Wynde – a military science fiction with a fantastical twist that features heroines Vespa Wynde and Gemini Reed. For excerpts and tales of her adventures in creating a fictional universe, hop over to TriciaBarr.com.
For updates on all things FANgirl follow @FANgirlcantina on Twitter or like FANgirl Zone on Facebook.