Fangirls Around The Web: April 7, 2013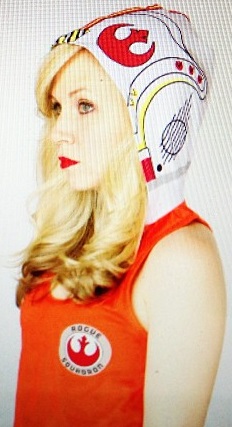 Another edition of Fangirls Around the Web, another round of Her Universe news to report. On Friday, Ashley Eckstein tweeted a teaser picture of the upcoming Rogue Squadron tank. I can't wait to get my hands on this one!
The Year of the Fangirl continues to feature amazing women and girls. Recently highlighted fangirls include Kea, Scout, Alyona, Kaitlin, Stephanie, Michelle, Ashley, Destiny, Alexandra, Helen, Tali, Anyah, and Glory.
At the official Star Wars Blog, the founder of the 501st Legion, Albin Johnson, wrote a terrific blog post about the role of women in the fandom.
In other Star Wars news, StarWars.com posted a fun teaser video for the upcoming Vader's Little Princess book by Jeffrey Brown. GeekMom featured an incredible Star Wars nursery; kudos to Savanna for her excellent photography. Roqoo Depot shared an interview with Carolyn Golledge, who wrote short fiction for the West End Games edition of the Star Wars roleplaying game. Corrina Bechko, co-writer on the new Legacy comic series, has been tapped to write a tie-in graphic novel for Once Upon a Time. FANgirl contributor Megan reviews issue #1 of Legacy at her blog, comparing the beginning of Ania Solo's journey to Luke Skywalker's in A New Hope.
As part of their feature on J.J. Abrams, Empire Online posted new images from Star Trek Into Darkness, including a fantastic shot of Uhura.
IGN has a fun video interview with Seychelle Gabrielle, the voice of Asami from The Legend of Korra. While fans are still awaiting the Season 1 DVDs, the cast is already at work recording Season 3.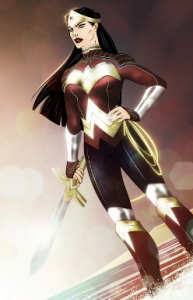 The title of io9's post says it all: "The New York Times fails miserably in its obituary for rocket scientist Yvonne Brill." It just goes to show the ongoing challenges to professional women having it all. And the Wall Street Journal featured Sheryl Sandberg and her new book in an article titled "The Economics of Leaning In."
The L.A. Times Hero Complex asks whether it's time for Wonder Woman to finally have her own movie. And Colin Alexander shared this amazing art of Wonder Woman.
Finally, at Tor.com M.K. Reed and Jonathan Hill present an hysterical webcomic, The Titular Hero, poking fun at the sometimes ridiculous attire of female characters in fantasy stories.
It's so hard to find fantasy with realistic women in it, even in fantasy that contains realistic women! (Our kingdom for SENSIBLE FEMALE ARMOR.)
Fans of Terry Pratchett, the quirkier bits of The Hobbit, and tongue-in-cheek fantasy should take a peek at this original short comic by M.K. Reed and illustrator Jonathan Hill, the authors of the recently released graphic novel Americus.
(And not because it also contains the latest issue of Lady Bosoms….)
---
Tricia Barr took her understanding of brand management and marketing, mixed it with a love of genre storytelling, and added a dash of social media flare to create FANgirl Blog, where she discusses Star Wars, fandom, and strong female characters. She also writes about Star Wars for Random House's science fiction and fantasy blog Suvudu.com and Star Wars Insider magazine and is a contributor for Her Universe's Year of the Fangirl.
In her spare time, Tricia puts the finishing touches on her first novel, Wynde. For excerpts and tales of her adventures in creating a fictional universe, hop over to TriciaBarr.com.
For updates on all things FANgirl follow @FANgirlcantina on Twitter or like FANgirl Zone on Facebook.