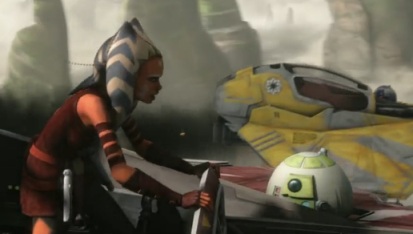 February returns, and so will a new Valentine's Day post over at Suvudu. But I can't spoil it yet, or it'll ruin the surprise. Be sure not to miss it, though.
---
Ahsoka and Hitchcock on The Clone Wars – Season Five's concluding four-part arc features Ahsoka Tano, Asajj Ventress, and episode titles inspired by four famous Alfred Hitchcock films. Back at Celebration VI, Dave Filoni raved about these episodes, so the season is sure to conclude with a flourish.
---
Episode VII developments – Fresh off the announcement that J.J. Abrams has signed on to direct, more revelations about Episode VII are sure to follow. We're ready to share our analysis and comments of the news about characters, era, and other aspects of the story.
---
Another Surprise – A very cool project is in the works that I'm very excited to be a part of. Look for the press release later this month.
---
Here are a few of the other things we're looking forward to in February:
New Star Wars Books
The Last Jedi – February 26th
New Star Wars Comics
Star Wars #2 – February 16th
Dawn of the Jedi: Prisoner of Bogan #3 – February 27th
Agent of the Empire: Hard Targets #5 – February 27th
New Movies
Warm Bodies – February 1st
Beautiful Creatures – February 14th
A Good Day to Die Hard – February 14th
New and Returning Television Series
Smash – Tuesday, February 5th at 8:00 p.m. on NBC
Battlestar Galactica: Blood & Chrome – Sunday, February 10th at 9:00 p.m. on Syfy
The Walking Dead – Sunday, February 10th at 9:00 p.m. on AMC
Zero Hour – Thursday, February 14th at 8:00 p.m. on ABC
Cult – Tuesday, February 19th at 9:00 p.m. on The CW
Robot Combat League – Tuesday, February 26th at 10:00 p.m. on Syfy
New Releases on DVD
Skyfall – February 12th
Games of Thrones: The Complete Second Season – February 19th
Argo – February 19th
Top Gun [Blu-ray] – February 19th
Battlestar Galactica: Blood & Chrome – February 19th
Latest posts by Administrator
(see all)