The Clone Wars Joins the Circus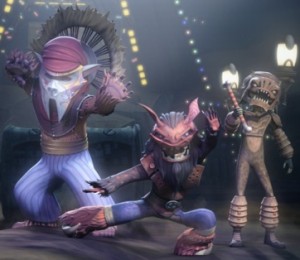 This week's episode of The Clone Wars, "Bound for Rescue," ran the gamut: a space battle and a lightsaber duel, a gruesome killing by Grievous and a sneaky trick by Obi-Wan, Jedi showing off their serenity and their creativity, and Hondo Ohnaka's pirates displaying their drunken bawdiness and chilling ruthlessness. But the highlight was the most unexpected part: the traveling circus journeying to the pirate base to entertain. The Jedi younglings join them to launch their rescue operation to spring Ahsoka from Hondo's clutches – and mayhem and hilarity ensues. Not to mention the unforgettable visual of a Gamorrean keyboardist face-painted as a sad clown.
The circus made an impression on The Clone Wars reviewer Megan Crouse.
There were some great images in this episode, mostly around the circus: Hondo hugging the nose of the big reptilian creature the circus uses in the place of an elephant, or Aleena performers juggling balls against a drum to make a beat.A very drunken Hondo provides some comic relief and also some black humor, as one of his minions holds up the skull of a performer who displeased him.
Click onward to read Megan's review.