George Lucas Loves WeLoveFine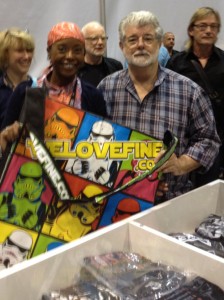 Some of the best moments of Celebration VI weren't in the program or listed in the mobile app. Jenn Fujikawa of WeLoveFine shared with me their convention moment – a visit from George Lucas! The Star Wars creator chose a few tees to make his own. Check out the WeLoveFine blog for a peek at all his favorites.
Every time I passed by their booth in the exhibitor hall, WeLoveFine was mobbed. Customers received a surprise gift with their purchase at Celebration: a new oversized Star Wars bag with rockin' Vader on one side and pop-art Stormtroopers on the other. Every online order that includes a Star Wars item and is over $50 gets the bag free too!
The bags were so popular they were also turned into shirts.
.
.