"Oh yeah, Leia is an X-Wing pilot."
On Tuesday, Dark Horse revealed a new ongoing comic series titled simply Star Wars, written by Brian Wood and debuting in January 2013. In his interview with io9, Dark Horse editor Randy Stradley explained its goal:
[W]e're trying very had to keep everything fresh — as if Episode IV had just come out in theaters. … This is the beginning of the adventures of Luke, Leia, Han, and Chewie. … Brian Wood is exploring aspects of the characters and their relationships that have, in many ways, been glossed over in the past, or shoved aside in favor of big action set pieces. Don't get me wrong, this series has plenty of action, but all of it is informed by, or springs out of, the characters' reactions to events in A New Hope.
That alone has me interested, but I also liked these additional comments by Randy:
This is the Star Wars series for everyone who has loved the films, but has never delved into any of the comics or novels. There is no vast continuity that a reader needs to know beyond the events in A New Hope. … Brian is the kind of writer I welcome on Star Wars. He's a longtime fan of the films, but he's not steeped in the continuity or the minutiae of the Expanded Universe. He's not afraid to do his research, but he's also not driven to draw connecting lines between between everything he's writing and some previously established piece of Star Wars history. An approach like that, in my opinion, leads to the kind of impenetrable continuity that scares new readers away from Star Wars. Brian, I'm happy to say, is more interested in telling good stories.
Brian Wood shared more in an interview with Comic Book Resources yesterday:
My plan is to pretend that nothing else exists other than 'A New Hope.' At least in the minds of the characters. … I have to remember who the characters are at this point in time. To not write the Luke and the Han that I know, but write who they were in 1977. To stay in character. That's harder than you might think since so much of who they are as characters developed in those later films.
In her recent interview with EUCantina, LFL Senior Editor Jen Heddle mentioned that several upcoming projects would include more focus on Leia. This comment from Brian Wood on his Tumblr, confirming what the teaser art included in the io9 article appeared to show, seems to indicate the new Star Wars comic series will be one of them:
Oh yeah, Leia's an X-Wing pilot.
In his CBR interview he added:
Leia is not going to be sitting around in a gown attending a lot of meetings — she has her blaster and an X-wing and is out there with Luke and Wedge working on building the Alliance back up after losing so much. I really wanted to put Leia into the mix, holding her own in battle.
I think I have a new fangirl crush.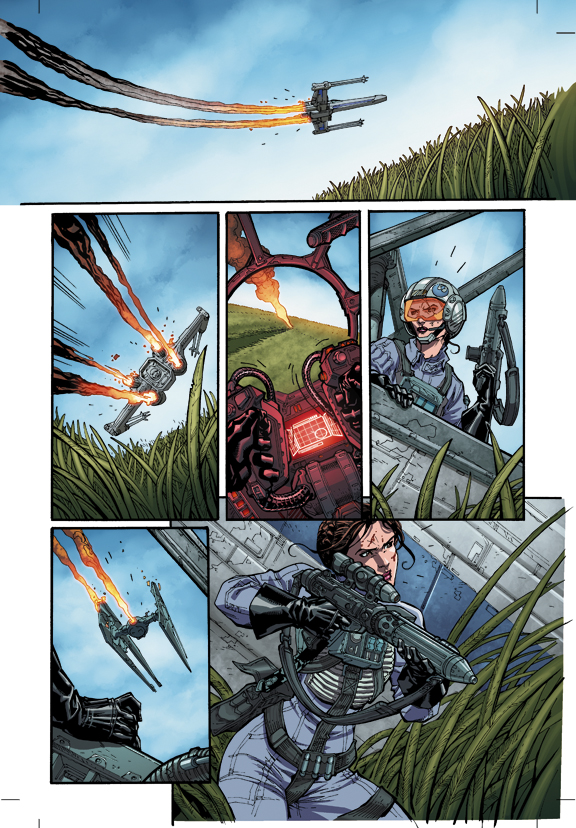 ---
Tricia Barr took her understanding of brand management and marketing, mixed it with a love of genre storytelling, and added a dash of social media flare to create FANgirl Blog, where she discusses Star Wars, fandom, and strong female characters. She also writes about Star Wars for Random House's science fiction and fantasy blog Suvudu.com. Her interview with X-Wing: Mercy Kill author Aaron Allston can be found in this month's Star Wars Insider Issue 135.
In her spare time, Tricia puts the finishing touches on her first novel, Wynde. For excerpts and tales of her adventures in creating a fictional universe, hop over to TriciaBarr.com.
For updates on all things FANgirl follow @FANgirlcantina on Twitter or like FANgirl Zone on Facebook.