Her Universe for all Geek Girl Kind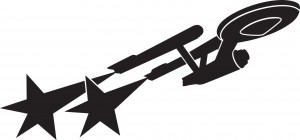 With Her Universe, Ashley Eckstein has brought geek chic out of the dark ages, first for Star Wars fans and more recently fans of Syfy shows like Battlestar Galactica and Warehouse 13. In addition to adding new products to those existing lines, Her Universe announced this week deals with two new franchises: Dr. Who and Star Trek. Specialized logos for each franchise add a great stylized touch.
San Diego Comic-Con has announced their schedule for this year, and Saturday July 14 includes the Her Universe panel. This fashion-oriented panel will be covered by MTV Geek and gives aspiring geek trendsetters the chance to show off their unique styles. Information about the panel and some of my favorite new shirts from Her Universe are featured below.
---
6:00-7:00 Are You a Geek Girl Trendsetter? Show Off Your Style to the Fashion Experts and Win Prizes!—Inspired by the NBC television show Fashion Star, Her Universe founder Ashley Eckstein (voice of Ahsoka Tano from Star Wars:  The Clone Wars) wants to give geek girl trendsetters the opportunity to show their unique style and original designs to the experts! Comic-Con is full of geek girls who create, design, and construct their own fashions, and what better way to get feedback than to show your trendsetting creations to this panel of fashion professionals. Girls are asked to attend in their own custom-made everyday geek/sci-fi inspired outfits and accessories. A select number of girls in the audience will be chosen for a chance to present their look in front of the panel to get their feedback and advice. Each panelist will choose one girl who truly impressed them with their overall design and flair, and those girls will receive a special prize. The panel is made up of fashion buyers, designers, stylists, and actresses from the sci-fi world who will also give their advice on how to create your own geek style and look. MTV Geek will be filming the panel for their Comic-Con coverage. Room 25ABC

Update: The judges were announced yesterday and they include: Tarina Tarantino (World renowned jewelry designer), Ed Labay (Senior Buyer/Licensed Apparel for  Hot Topic), Courtney Lear (Social Media Manager for Hot Topic), Clare Grant (Team Unicorn), and Bonnie Burton (Star Wars Craft Book) with co-host Catherine Taber (The Clone Wars). via TFN.