Star Wars Weekends 2012: Opening Day
This year I was able to make it to Hollywood Studios for the opening day of Star Wars Weekends. As always, it was great fun! I hope to have reports from several of the subsequent weekends, too. For today, here's a recap of my highlights from the first day.
Fabulous Fan Fun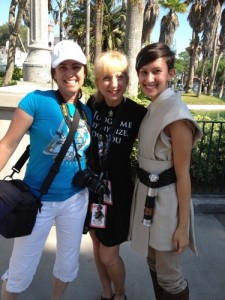 My Friday started off with the perfect fangirl touch: I tracked down Consetta Parker standing (publicist's) guard over James Arnold Taylor's autograph session near Echo Lake. After trading tweets and emails, it was great to finally meet her. Coincidentally, cosplayer CadBanesChick – dressed as a Jedi, not a bounty hunter – happened to find Consetta at the same time, and the three of us got a picture together. It made my morning.
As always, riding Star Tours was awesome fun. During Star Wars Weekends, though, there is a much higher percentage of diehard Star Wars fans among the riders compared to usual, and many of them are riding it for the first time. Watching and hearing their reactions really makes the experience. On one trip, the lady sitting next to me was overwhelmed with excitement that she was wiping tears of giddiness off her face. The amazing thing is that having ridden Star Tours twenty times, I still see new things every time!
TRICIA'S TIP: The back row of Star Tours is definitely bumpier. If you're nervous about the motion, ask an attendant for front-row seats.
The younglings among the Star Wars fans in attendance were in for a treat, too. The Jedi Training Academy was running quite a few more times per day than usual, which opened up a lot more slots for participants. I also noticed that many of the sessions appeared to be double sessions: one set of Padawans on the stage and a second group on the ground in front of it, along with extra Masters and assistant trainers on the Jedi side and an extra villain on the dark side. I'm sure this allowed a lot more children to participate – kudos to Disney for making it happen.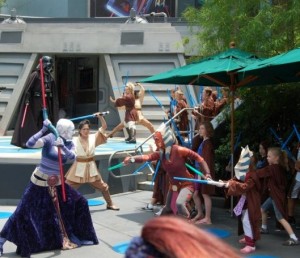 I also caught one session of the Padawan Mind Challenge on the Sorcerer's Hat main stage. The trivia questions came from The Clone Wars, perfect for the young participants. I was impressed with how many of them got the questions right, even as they got trickier as the challenge progressed. For the adults in the audience, the hosts liberally sprinkled their script with numerous hilariously terrible Star Wars puns. I think my favorite was that the Wookiee Cookies were too chewy. (Rimshot!)
To end the day, the Hyperspace Hoopla lived up to its previous hilarious standards, too. Some of my particular favorites included Chewbacca dancing to LMFAO's "Sexy and I Know It," Padmé taunting Vader with Adele's "Rolling in the Deep," and Vader and Boba Fett rocking out to Michael Jackson's "Smooth Criminal" ("Annie, are you okay?"). A couple of winks to Robot Chicken Star Wars returned from last year, too. But the absolute pinnacle was the Gamorrean's backside bump-and-grind with the lady characters to the tunes of Enrique Iglesias' "Tonight (I'm Loving You)." Although my retinas may never recover, I have to wonder if the creators of the Hoopla were inspired by Aaron Allston's hilarious opening chapter of X-Wing: Mercy Kill, included as the preview excerpt in the March release of Fate of the Jedi: Apocalypse.
Stage Shows in the Premier Theater
Just like in previous years, the appearances of Star Wars VIPs on the Premier Theater stage are not to be missed. The lines may look long, but at each of the shows I attended everyone who arrived by the start time got a seat.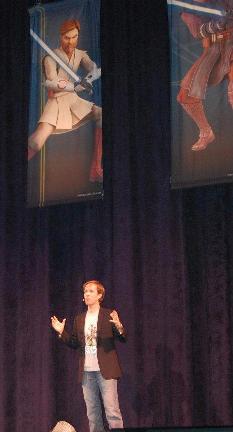 I've previously raved about James Arnold Taylor's one-man show called Obi-Wan and Beyond, and I made sure to see it again. Apparently a perfectionist, James made a few adjustments to the show that I really liked. And when it comes to inspiring you to live your dreams, you won't find anyone more enthusiastic and supportive than James.
James also hosted the Stars of the Saga with Episode I special guests Andy Secombe, the voice of Watto, and Ray Park, who played Darth Maul. It was very clear how much both men still appreciate the opportunity they had to work on The Phantom Menace, and the fortuity that brought them their roles. I couldn't stop laughing at the "Inside the Ackbar's Studio" portion of the show, played by all three with just the right level of irreverence. I especially liked the answers to James' question asking what job their characters would have had if their lives had gone in a different direction. Ray thought Maul would have been a hibachi chef, and Andy suggested Watto would envision himself – given his fabulous profile – as a supermodel. Before the actors took the stage, though, was the annual stormtrooper unit sketch. This year's was literally laugh out loud funny, especially when the troopers revealed that their torso buttons activated their iPods.
Ashley Eckstein again hosted The Clone Wars: Behind the Force, joined this weekend by the amazingly energetic Dee Bradley Baker. Assisted by video appearances from Dave Filoni, they explained how an episode of The Clone Wars is made, then involved the audience in creating some "crowd walla" sound effects and reading dialogue from a "missing scene" from the Kiros episode in Season Four. James joined them onstage to talk about additional dialogue recording (ADR), and the three of them dubbed an hysterical fake ADR involving Obi-Wan, Ahsoka, and several clones fretting over getting invited to a dance.
Holding form, the Behind the Force show ended with the The Clone Wars Season Five trailer. The clips shown appear to come from three separate story arcs in Season Five:
A "rebels" story involving a planet under attack by the Separatists as it tries to ally with the Republic with aid from the Jedi. Lux and Ahsoka look to play a major role in helping the rebels; Lux has a new, aged-up character model. The planet's inhabitants are humans or highly similar humanoids. I was struck by the amount of the diversity among the rebels: one of their leaders is a dark-skinned woman, and there was a lot of ethnic and gender diversity among the other characters, too. I noticed a quick homage to the flying dragon scene from James Cameron's Avatar, and a seemingly brief but hilarious cameo by narcissistic pirate Hondo Ohnaka.
The Death Watch commandos attempting to retake control of Mandalore politically and culturally. Shots included Pre Viszla addressing a massive rally and wielding his darksaber in combat, an appearance by his lieutenant Bo Katan, commandos flying into combat with their jetpacks, and several different fight sequences.
A continuation of the machinations of brothers Darth Maul and Savage Opress. At one point, Maul refers to Dooku as a "Sith pretender," which no doubt will annoy the Count. Another scene shows Savage throwing his spinning, double-bladed lightsaber at a table of alien nobles. It also appears that the bounties on Maul and Savage have not been lifted, because several bounty hunters appear to be fighting them – including one sequence of Savage fighting Embo, which I fear may not end well for the big guy with the big hat.
---
Check back later this week for more coverage of the big presence of fangirls of all ages at Disney, as well as my merchandise haul.

Tricia Barr took her understanding of brand management and marketing, mixed it with a love of genre storytelling, and added a dash of social media flare to create FANgirl Blog, where she discusses Star Wars, fandom, and the intersection of women within Star Wars fandom. She is co-author of Ultimate Star Wars and Star Wars Visual Encyclopedia from DK Publishing, a featured writer for Star Wars Insider magazine with numerous articles on the Hero's Journey. Her FANgirl opinions can be heard on the podcasts Hyperspace Theories and Fangirls Going Rogue.

Tricia Barr's novel, Wynde, won the 2014 Independent Publisher Book Award Gold Medal for Best Science Fiction/Fantasy/Horror Ebook. She was also part of Silence in the Library's successful all-female creator science fiction and fantasy anthology Athena's Daughters, which is available now. For excerpts and tales of her adventures in creating a fictional universe, hop over to TriciaBarr.com.