Fangirls Around the Web: May 29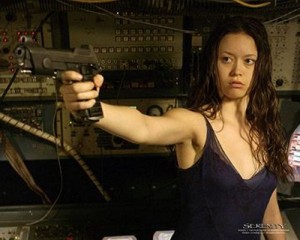 The fangirls were out in force this past week, and based on what's coming this week, there should be plenty more fangirl news in the days to follow.
Course of the Force, an Olympic-style lightsaber relay set for July, announced Ashley Eckstein as a co-host. The Nerdist Industries is teaming with Lucasfilm, Octagon, and Machinima to raise money for the Make-A-Wish foundation.
Action Flick Chick Katrina Hill reported on the Q&A session with Summer Glau (Firefly, Terminator: The Sarah Connor Chronicles) from Dallas Comic-Con.
How about some ladies with lightsabers – or just pens, which are mightier than the sword – talking Star Wars? Erin Amos coordinated an interview with Lucasfilm Senior Editor Jennifer Heddle on behalf of EUCantina. Fans of Leia should be excited by Heddle's response when asked about the potential for the movie heroines in the EU.
EUC: Any chance a Leia or [Padmé] novel will be published anytime soon?

JH: There are a couple different plans in the works to focus a bit more on Leia (in both the novels and the comic books). There's nothing planned for [Padmé] at this time, but never say never.
While a Padmé-centric story isn't on the horizon, Heddle's answer didn't rule it out, either. Hopefully, the fans of the Prequel Trilogy's heroine will continue to voice their support for a Padmé novel. Darth Plagueis was a long time coming and, from all accounts, a passion project for author James Luceno. The fans' enthusiasm  apparently helped keep that project moving forward. In the meantime, I know a lot of fans will be excited to read more about the original Star Wars heroine.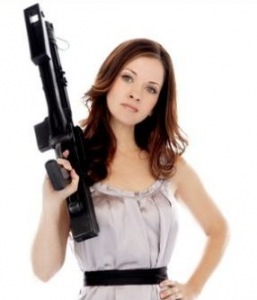 While we're talking Padmé, don't forget that Cat Taber will be appearing at Disney's Star Wars Weekends this Friday to Sunday.
Over at TheFandomPost, Maria Selke posted her Good To Be a Fangirl edition for Star Wars Thursday. Lots of fangirls were name-dropped, and there was talk about pink lightsabers…
Club Jade spearheaded the discussion earlier this month about gender and Star Wars, and continues to point out relevant parallels from other fandoms, including the piece On Shipping and Fanboys on the PatheticFangirl Tumblr.
Finally, tomorrow Suvudu is hosting my next Seeking Strong Female Heroines post, where I'll talk about a fan favorite Tyria Sarkin Tainer, Jedi Knight and member of Wraith Squadron. Aaron Allston, author of the upcoming Star Wars novel X-Wing: Mercy Kill, also shares his insight into her character, and Star Wars artist Chris Scalf adds a great visual of the kick-ass heroine fighting alongside Jaina Solo to share with fans.
For some reason, I was detecting a theme when picking the images while pulling together this post. Might have had something to do with my trip to the movies this weekend.