Follow-up to Ladies Rule the Day at Comic-Con Thursday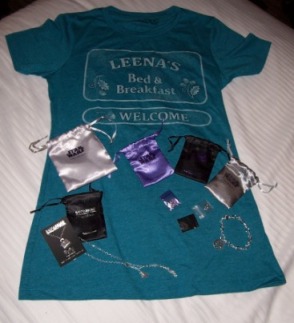 Ladies Rule the Day at Comic-Con Thursday is one of the most-viewed posts on the blog. In part that popularity is due to the recent spotlight on portrayals of female characters in books and comics. While fans attending SDCC did their best to report back what we saw and heard, it's even better when the panels are recorded.  Ashley Eckstein of Her Universe posted a blog last week updating her new products that debuted at the convention, and it included video of the panel she hosted – What Women Want In Their Female Sci-Fi Heroes. 
Here's your chance to see what the best in the business have to say about creating relatable and accessible female characters. The panelists included Chris Sanagustin (Warehouse 13), Bryan Q. Miller (Smallville), Betsy Mitchell (Del Rey editor-in-chief), Gail Simone (DC comics writer, including Wonder Woman and Batgirl), Melinda Hsu Taylor (Medium, Lost), Dave Filoni (The Clone Wars) and surprise panelist Alison Scagliotti (Claudia on Warehouse 13).  I hope everyone checks out the video, and also Her Universe's wonderful line of female-oriented geek apparel.
Upcoming blogs will continue to highlight existing strong female heroines in fiction.
---
A graduate of Duke University, Tricia is a registered Professional Engineer who designs transportation systems as a consultant. In her free time, she shows horses and maintains a website for Star Wars EU fans that creates a safe place for women and men to discuss literature and all things pertaining to geek culture. She is currently writing her first full-length original novel, a space opera based around the heroic journey of a young woman who finds herself in the middle of a deadly terrorist attack by an invading alien force.  For information on the book, please check out TriciaBarr.com.

Tricia Barr took her understanding of brand management and marketing, mixed it with a love of genre storytelling, and added a dash of social media flare to create FANgirl Blog, where she discusses Star Wars, fandom, and the intersection of women within Star Wars fandom. She is co-author of Ultimate Star Wars and Star Wars Visual Encyclopedia from DK Publishing, a featured writer for Star Wars Insider magazine with numerous articles on the Hero's Journey. Her FANgirl opinions can be heard on the podcasts Hyperspace Theories and Fangirls Going Rogue.

Tricia Barr's novel, Wynde, won the 2014 Independent Publisher Book Award Gold Medal for Best Science Fiction/Fantasy/Horror Ebook. She was also part of Silence in the Library's successful all-female creator science fiction and fantasy anthology Athena's Daughters, which is available now. For excerpts and tales of her adventures in creating a fictional universe, hop over to TriciaBarr.com.