Tonight marks the big summer return of three scifi series on Syfy.
First, at 8:00 p.m., is the Season 4.5 premiere of Eureka.
Carter lands in an awkward situation after S.A.R.A.H. and Andy's nuptials hit a snag; Zane keeps harassing Jo for details; an unscheduled launch presents trouble for the gang.
At 9:00 p.m. comes the Season 3 premiere of Warehouse 13. As Aaron Ashmore (Smallville) joins the cast, hopefully we'll find out quickly whether Myka is really gone for good from the team. But I suspect she'll be back sooner rather than later, because I doubt the showrunners will risk losing a big part of what made the show so fangirl-friendly from the start.
A rock legend's guitar becomes a menace in Jersey City, N.J., and Artie and Claudia run into an ATF agent who has a knack for knowing when people are lying in the Season 3 premiere.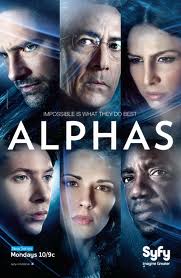 Finally, the new series Alphas premieres at 10:00 p.m. with a special hour-and-a-half pilot episode. Fresh off the storytelling success of X-Men: First Class at the box office, the premise of a fatherly figure leading a group of heroes with special powers has a chance to tap into that same kind of fascination for fans of heroic storytelling.
Ominous messages steer a man to a building's rooftop, where he executes an improbable shooting in the opener of the series following a team of people with extraordinary abilities who investigate crimes linked to others like them.

Tricia Barr took her understanding of brand management and marketing, mixed it with a love of genre storytelling, and added a dash of social media flare to create FANgirl Blog, where she discusses Star Wars, fandom, and the intersection of women within Star Wars fandom. She is co-author of Ultimate Star Wars and Star Wars Visual Encyclopedia from DK Publishing, a featured writer for Star Wars Insider magazine with numerous articles on the Hero's Journey. Her FANgirl opinions can be heard on the podcasts Hyperspace Theories and Fangirls Going Rogue.

Tricia Barr's novel, Wynde, won the 2014 Independent Publisher Book Award Gold Medal for Best Science Fiction/Fantasy/Horror Ebook. She was also part of Silence in the Library's successful all-female creator science fiction and fantasy anthology Athena's Daughters, which is available now. For excerpts and tales of her adventures in creating a fictional universe, hop over to TriciaBarr.com.