Tonight marks the big summer return of three scifi series on Syfy.
First, at 8:00 p.m., is the Season 4.5 premiere of Eureka.
Carter lands in an awkward situation after S.A.R.A.H. and Andy's nuptials hit a snag; Zane keeps harassing Jo for details; an unscheduled launch presents trouble for the gang.
At 9:00 p.m. comes the Season 3 premiere of Warehouse 13. As Aaron Ashmore (Smallville) joins the cast, hopefully we'll find out quickly whether Myka is really gone for good from the team. But I suspect she'll be back sooner rather than later, because I doubt the showrunners will risk losing a big part of what made the show so fangirl-friendly from the start.
A rock legend's guitar becomes a menace in Jersey City, N.J., and Artie and Claudia run into an ATF agent who has a knack for knowing when people are lying in the Season 3 premiere.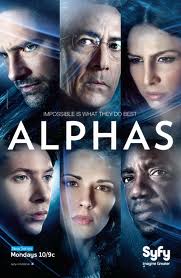 Finally, the new series Alphas premieres at 10:00 p.m. with a special hour-and-a-half pilot episode. Fresh off the storytelling success of X-Men: First Class at the box office, the premise of a fatherly figure leading a group of heroes with special powers has a chance to tap into that same kind of fascination for fans of heroic storytelling.
Ominous messages steer a man to a building's rooftop, where he executes an improbable shooting in the opener of the series following a team of people with extraordinary abilities who investigate crimes linked to others like them.